The Garden Themed Bedroom
There are countless ways that you can personalize a room and make it your own. Everything in a room from the wall color and furniture to the carpet and knick-knacks on a shelf all make the room unique and individualized.

When decorating a bedroom, many people prefer to choose a theme for the room.
Creating a themed room will give everything within that area a sense of unity, and by decorating in a theme you can accomplish a put-together appearance.
Depending on the theme you choose to go with, you will need to consider furniture, paint colors, decorations, window treatments, rugs, and more to go together in a theme.
There are many wonderful

bedroom themes

to choose from, but one of the most beautiful is the

garden theme

.
A

garden bedroom

gives you the feel of being surrounded by plants and flowers in a lovely outdoor setting, and this theme gives your room a fresh and exciting look.
Decorating a garden bedroom doesn't have to be very complicated or expensive, either.
To start your garden bedroom, you will first want to pick which colors you will focus on.
You can use inspiration from the garden to get you started.
Do you want to use colors from a particular flower, a type of tree, or garden leaves?
Popular colors for a garden bedroom include shades of

green

,

pinks

,

purples

, and

browns

.
Paint the walls a light or neutral tone.
A tan, light peach, or subtle green color can look great as a base to your garden decorating.
If you are feeling artistic, you can paint flowers on the walls or use stick-on decals to decorate.
Choose furniture that looks garden-inspired and elegant for the room.
Decorating with flowers is another option for the garden bedroom.
Take care not to overdo it, though—a ton of fake flowers around the room could end up looking tacky

.
Choose a few nice arrangements to display in the room on a shelf or table, and think about using some live plants as well near windows.
You can also choose a floral-pattern bedspread or green, leaf-inspired bedding.
Other garden-like pieces, like a flower-shaped pillow or vines wound around windows or bedposts, can help add to the effect of an outdoor garden atmosphere.
___________________________
The Perfect Marti Gras Cocktails
Hurricane
2 oz light rum
3 oz dark rum
6 oz passion fruit juice
6 oz orange juice
2 tbsp grenadine
2 orange slices
2 maraschino cherries
In a large liquid measuring cup, mix first 5 ingredients.
Pour over ice filled glass.
Garnish each glass with an orange slice and a maraschino cherry.
Mardi Gras Mango-Rita
1 cup crushed ice
1 large ripe mango, peeled, pitted and diced
1/2 cup Tequila
2 tablespoons freshly squeezed lime juice (reserve one squeezed lime half to moisten glass rims)
Coarse salt
Instructions
:
Combine ice, mango, tequila and lime juice in a blender and puree until smooth.
Moisten rims of 2 margarita glasses with reserved lime half and dip each glass rim in coarse salt.
Pour Mango-rita into margarita glasses.
Peach Bellini
1.25 oz CÎROC Peach
.25 oz champagne
In a flute glass or champagne, combine peach vodka with champagne of your choosing.
Classic Strawberry Daiquiri
(makes 2 servings)
4 oz. light rum
1/2 c. fresh strawberries
1/2 c. frozen strawberries
Juice of 1 lime
Lime slices for garnish
Add rum, fresh and frozen strawberries, and lime juice to a blender
and blend until smooth.
Pour into two margarita glasses and garnish with lime slices.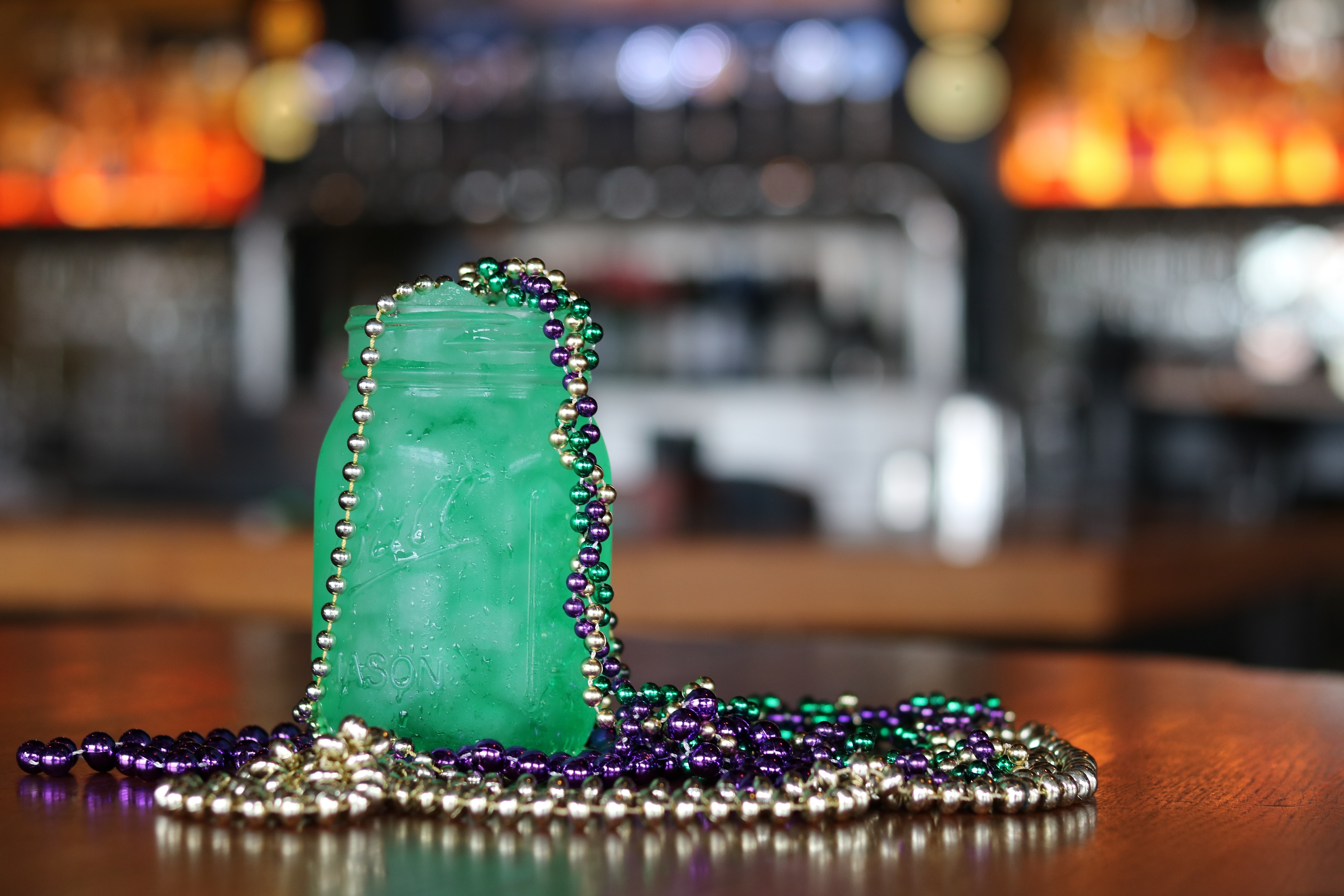 .75 oz Vodka
.75 oz Blue Curacao
.75 oz Melon Liqueur (Midori)
.75 oz Peach Schnapps
.75 oz Lime Juice
Top w/ Sprite
Combine ingredients except sprite in shaker.
Pour into large glass with ice.
Wiz Fizz
1.5 oz Aviation Gin
.5 oz Cynar
.75 oz lemon juice
.75 oz vanilla syrup
1 oz heavy cream
1 egg white
Root beer
Nutmeg
Shake Gin, Cynar, lemon, vanilla and egg white dry for 30 seconds.
Add in cream and shake again without ice.
Add ice and shake vigorously (for a while).
Pour out drink into a tin and shake again without ice (dry shake).
In a highball glass, add 2 ounces of root beer and pour the drink over the top.
Allow it to settle and pour a bit more root beer on top to make the head of it rise.
Cidre Cherry Pom Pomme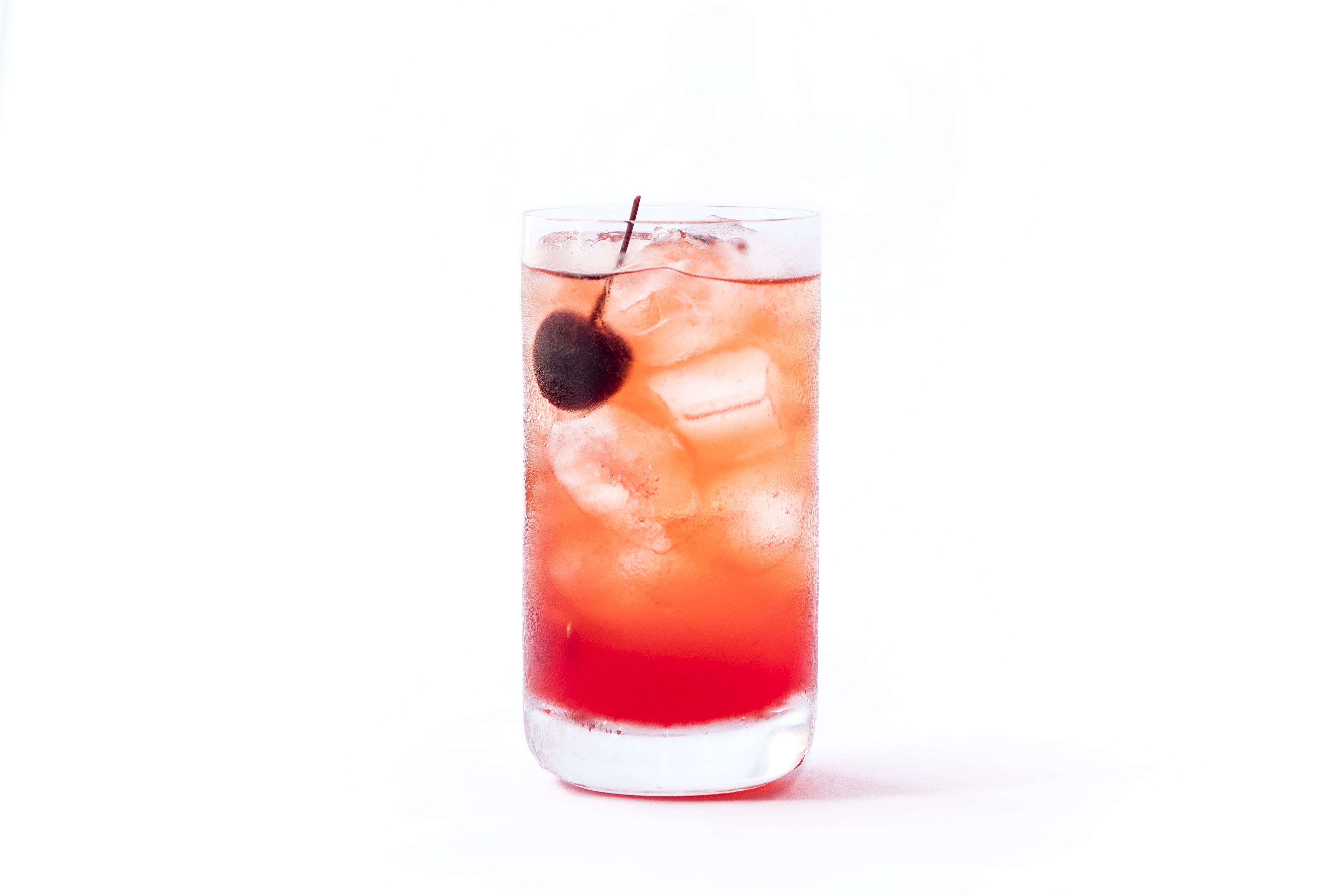 .5 oz. grenadine
.5 oz. lemon juice
Stella Artois Cidre
Brandied cherry for garnish
Instructions
:
Mix ½ oz. grenadine and ½ oz. lemon juice.
Pour into a highball glass and top with Stella Artois Cidre.
Garnish with a brandied cherry skewer.
Orange & Pineapple Punch
(Makes 4 servings)
2 cups pineapple juice
2 cups orange juice
4 maraschino cherries, plus 1/2 cup juice
1/2 orange, cut into 4 slices
4 ounces dark rum
In a pitcher, stir together the pineapple juice, orange juice, and cherry juice. Fill a tall glass with ice, pour over the juice mixture, garnish with a cherry and a slice of orange.
For the adults, add 1 ounce dark rum to each drink.
_____________________________
Removing Deodorant Stains from Your Clothes
_____________________________
_____________________________
Maximizing Closet Space...Using Aluminum Cans
Maximize closet space by looping tabs from soda cans over coat hangers.
Each tab has 2 holes, and as a result, each can be used to hang another hanger.
This is a great way to keep suits and other sets together.
Check out these videos:
____________________________

There are as many different methods and styles for decorating a home as there are people in the world. Different people have different tastes.


What one person finds attractive, another person is going to find absolutely repulsive. The only person who counts is you in your decorating endeavors.
The best way to succeed is to explore all your options.


Below is a brief description of some different styles for decorating your home. This list is in no way complete, or all encompassing. This list however does list some of the different themes that can be used in home decorating.
Cottage



Some would say that this particular style isn't so much a style as a way of life. The reason for this is that this style is actually more a frame of mind.
Since cottages are usually decorated using old, secondhand hand-me downs with no real rules other than consistency.


Be consistent in what you use and how you use it. When getting the furniture and decorations the primary thing that you are going to want to think about is comfort.


If it is comfortable to you, then go ahead and use it.
Country



Country style is, believe it or not, based off of multicultural influences from throughout the world.


When the word "country" is used, most people think of farms. So, when you are decorating, use things that evoke a feeling of being in a farm setting.
When doing this be consistent in your use of color and to not be afraid of using bright and vibrant colors.


Heartland



The heartland style is very similar in nature to that of the country style, though with a slight difference.


That difference is that everything is toned down just a bit more than it is when using country style.


When deciding to use this style, use the same criteria as you would when decorating with the country style, just keep in mind that subtlety is the key.
Here are some videos to show you the differences in decorating ideas.