Lifestyle Committee Chairman
Unethical Biased Emails
It just doesn't stop...the interference from committees who have pledged to be neutral, yet have been shown to be guilty of bias in Sun City Anthem.
Have you noticed that

almost all

of those who oppose the Board Member Removal are coming from "

the machine

"...and from an overwhelming number of

controlling political hacks

who are

a part of that

"

machine

"?
It all started when a group of former members of the Sun City Anthem Board ...all of which were either designers or descendants of "

the machine

" and whose decisions were responsible for the worst in financial incompetence with continuous infusions of WASTED RESIDENT FUNDS in restaurant after restaurant, Liberty Center negligence, and encouraging a self-management system engineered by a General Manager whose income of $270,000 plus benefits...
...sent out a letter to residents telling them how wonderful the governance of Sun City Anthem was under their direction.
That was debunked step by step as to the accuracy of their boasts

.
A few days ago, we uncovered emails sent from Vice Chairman

Joan Roth

and co-member of the

Lifestyle Committee

Robert Goldfried

to many in the Sun City Anthem community stating their opposition to the removal election.
Then... Election Committee member

Linda Krivec

sounded off calling residents supporting the removal

IGNORANT

.
Next up..the Lifestyle Committee...

again

..this time from

Chairman

,

Patricia Carrell

.
She has now joined them in sending such emails (although in the guise of a "private resident"), yet makes sure it's known she has been associated with official committees.
Stated

Carrell

in her email:
"
I will vote a strong NO on the recall ballot for the following reasons.
First, I have known and worked with all three of these individuals for several years, starting before they were elected to the Board of Directors. I worked with Tom Nissan, Rex Weddle and Aletta Waterhouse when we were all serving on various standing committees.


I have only the highest regard and respect for these community servants.
I know them to be people of integrity, intelligence and commitment to the good of SCA. While some may disagree with some of the decisions they have made as BOD members, I believe they were exercising prudent judgment and had the good of the entire SCA community in mind.


Second, the charges against them have been vague and misleading. Claims about secret BOD executive sessions, mismanagement of the relationship with the Foundation Assisting Seniors (FAS), not acting in a timely manner with respect to the restaurant space, violations of NRS and CC&Rs, are without substance.


Third, some of the changes that have come about through the
transition to self-management have uncovered legal requirements and insurance issues which the Association should have been following all along, but were not when we were under external management.


Self-management has brought these failures to light. As a result, management has instituted requirements that were previously not enforced and have caused some to over react and blame self-management, and hence the BOD. This has led the proponents of the recall to claim mismanagement of clubs and their activities with arbitrary and capricious changes. The changes regarding business licenses and insurance requirements for clubs are definitely not arbitrary and capricious changes.
Finally, forcing a community to hold expensive and unnecessary recall elections is not the way to effect change in community leadership.


If anyone is so unhappy with the leadership of these BOD members, they can run for the BOD themselves and/or at the very least vote them out of office at the next regularly scheduled BOD elections

."
Does that sound like a broken record or what ???
But of course, this action was approved by our association attorney...you know, the guy who made sure Nona Tobin was axed showing the "

tender lovin' care

" he's now become famous for exhibiting...
So...we're all supposed to believe all this

bias

is somehow

A-OK

?
We shall see about that !
Well now,

in the minds of

ETHICAL

individuals,

Patricia Carrell

's "extracurricular activity" was nothing more than a further attempt by a member of an Official Sun City Anthem committee, to continue the corrupt "machine" she was appointed by, and has been an active part of for years

.
Looking at

Carrell

, she has been known to be

rude

and

intrusive

to many who attend Lifestyle Committee meetings, demonstrating total loyalty to those who were responsible for her appointment...
...previous Lifestyle Committee Chairman

Rex Weddle

and

Aletta Waterhouse

...
...while making life miserable on a number of clubs demanding they march to her whims.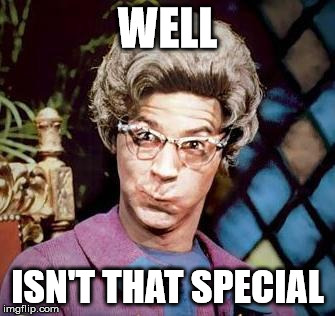 Of course, this person, along with her committee which is

STUFFED

with "

machine cronies

", makes decisions that affect your lifestyle.
They are obviously "

in the pocket

" of those who who appointed them and support a General Manager's decisions, despite that woman incurring the wrath of

836

unit owners to sign petitions of "

no confidence

."
This...is your how

a CORRUPT BOARD

maintains a

CORRUPT SYSTEM

...
...appointing

"

their kind

"

to positions who have acted in a manner that maintains that CORRUPTION year in and year out

...
...and leaves little doubt this woman, her committee, and so many appointed by the CORRUPT members of this and previous Boards, are nothing more than a BUREAUCRATIC

"

MACHINE"

that has been allowed to seep into the lives of those who arrived here in good faith, and now...

through that lack of concern for their surroundings...
...
continue to experience fewer freedoms

,

increasing demands from cronies on how to live their lives

, and an

expensive future of increased assessments which will undoubtedly will take place as a result of their continued incompetent guidance

.
Now...this

UNETHICAL

group has been joined by Removal "honoree"...

Aletta Waterhouse

.
This is now appearing in front of her home...an old campaign sign, the bottom of which is covered in gray electrical tape !
Is this an attempt to influence owners?
Is this election interference?
Another act of the OSCAR "machine" at work?
Or total desperation from a person who can't face people in person and relies on emails and signs to disguise her INCOMPETENCE?
Let's not forget SHE WAS AN ACTIVE PARTICIPANT IN THE VOTE TO REMOVE NONA TOBIN as well

.
What's next in the "

Let's Justify Unethical Behavior

" campaign?
...

the only

blogger spinning corrupt half-truth tales behind the wheel, suppressing full disclosure while

supporting these

UNETHICAL

actions

...
...along with OSCAR and his band of rancid "machine" wieners !
Isn't it rather strange that these

BUREAUCRATS

who support the system "
to the death"
(

and are an active part in it

) have

NEVER

made a single com
ment as to the manner in which the

DECEPTIVE BALLOTS

were sent to owners?
Of course not, only

ETHICAL

people with a

CONSCIENCE

desiring

FAIR PLAY

would !
If you have

ETHICS

...and a desire to maintain Sun City Anthem as a premier community where "

political hacks

" no longer have a place to promote their CORRUPTION and INEPT FINANCIAL DECISIONS...

AT YOUR EXPENSE

...