CLS (Community Lifestyle Committee) Integrity
Does it Exist in Sun City Anthem?
This is an article I never wanted to write because it casts doubt on the

integrity of the Sun City Anthem Committee system

, a system we have always wanted to believe, had the best of intentions.
We've learned that...
Joan Roth

, vice president of the CLC (

Community Lifestyle Commitee

) may be disguising her opposition to the removal election through email correspondence.
We received a copy of the following email sent by

Roth

, to various members of the Sun City Anthem community:
"
I am passing along this email from a colleague of mine for those of you who may not have good information about the impending recall vote.
Bob is a member of my Community Lifestyle Committee
, President of the Chicago Club as well as an attorney. He is well respected and makes some good points for you to think about. If you agree with Bob's assumptions, I urge you to pass this information on to others who also may not have the correct information. Thanks
."
What email was Roth sending?
This is the email forward by Roth:
...from a man named

Bob Godfried

,

who also happens to be a member of the CLC

(

Community Lifestyle Commitee

) and President of the Chicago Club.
"Dear Folks:
Early next week you are going to receive a ballot in the mail regarding a recall of three SCA HOA board members. During the four years that I've lived in Sun City Anthem, it has become apparent to me that our HOA board members are elected in free and fair elections, open to any candidate who decides to run. We have an election every year, in May, alternately for three or four of the seven board member positions. If homeowners do not support current board members, those homeowners have been, and continue to be, free to find candidates who they do support, and to vote for those candidates, in duly held regularly scheduled annual elections. For that reason alone I am opposed to the recall, quite independent of who is currently on the board.
Moreover, the recall petitions do not allege any criminal conduct, fraud or other dishonesty, or gross abuse of discretion on the part of the three board members. While the law does not seem to require such culpable conduct as a prerequisite for recall, shouldn't we, as responsible, mature people, require evidence of criminal conduct, fraud or other dishonesty, or gross abuse of discretion, before we take the extraordinary step of recalling fairly elected board members? Or are our annual elections simply a charade, a waste of time, subject to being reversed at the will of a dissatisfied minority, regardless of the merit of their claims?


Indeed, the overwhelming bulk of the allegations against the board members seem to me to be emotional in nature, phrased in vague language, with no examples given or facts cited in support. What the allegations reveal to me is that there are some people who live in Sun City Anthem who simply disagree with decisions made by some board members, or who simply do not like some board members. I don't agree with all of the decisions made by the board. But, in my view, that is simply an insufficient basis to overturn the results of free and fair elections, results that the supporters of recall are apparently unable to achieve through the election process.
A successful recall election could be expected to chill the willingness of qualified residents to serve on committees and boards. Why would anyone want to do so, knowing that they will be subject to personal attacks and vilification? Would you want to serve under such conditions? People who serve on the board and on SCA committees are our neighbors, and in some cases our friends. They are all volunteers. They freely devote substantial amounts of their time to our community. I believe that they act in what they honestly believe are the best interests of the SCA community, as a whole. I have seen no evidence to suggest otherwise. Are they perfect human beings, incapable of making a mistake on an issue? No more or less than any of us. Why then are they being portrayed in such an abusive manner?
A successful recall would also likely have a negative effect on all of our property values, since potential buyers who research SCA on the internet will become aware of the turmoil and instability that a successful recall would no doubt generate. Would you want to buy a house in such a community? I wouldn't.
If you believe, as I do, that the recall should be defeated

, I urge you to cast your vote promptly, by carefully following the instructions you will receive along with the ballot. We cannot take the chance that the recall might succeed. I view it as vital to the continuing wellbeing of SCA to defeat the recall, and to do so resoundingly. A successful recall would set a dangerous precedent for our community. We would then be likely to see recall elections after every board election, because no one candidate is going to satisfy everyone all of the time. Chaos would result. That doesn't make for a community that I, for one, would want to continue to live in. Would you?
If you are unsure how you are going to vote, or if you support the recall effort, and there are any questions that you have about it, please do not hesitate to contact me. I may be able to provide you with facts that you don't already have. I would welcome the opportunity to at least discuss the issues with you.


Best regards,


- - - - - - - - - - - - - - - - -
This is where the questions

BEGIN

and

REQUIRE EXPLANATION

.
Whereas another blogger looks at this as some form of acceptable behavior to be commended, we consider it
UNETHICAL
and just another example of
ELECTION
INTERFERENCE
when conveyed to others while a member of a standing committee.
Therein lies a basic difference between the two philosophies: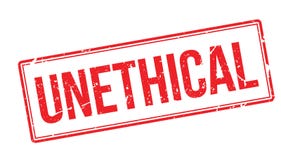 You decide which camp you wish be included.
If "
unethical
" is your answer, we now have "

Anthem...gate

" to deal with in our community.
First

,

the contents of email verbiage are literally identical to the BERMAN & OSCAR playbooks

.
Second

,

we believe Goldfried's emails, as a member of an official Community Committee, are inappropriate, leave an unethical taint on that committee, and were intended to interfere with the removal election.
Third

, as of this writing we are now aware that

at least 6 Club Presidents have received the Roth and Goldfried emails

, and we want to know if EITHER Roth's or Goldfried's emails were received by other CLUB PRESIDENTS?
Fourth

,

since in at least 6 cases this information has now been confirmed, both ROTH and GOLDFRIED must resign from the CLC (Community Lifestyle Committee) IMMEDIATELY to retain any semblance of integrity and avoid a permanent TAINT on a committee supposedly pledged toward neutrality

.
Fifth
,
Mr. Goldfried might wish to explain WHY this aspect of his email...didn't apply to the removal of Nona Tobin
?
"Or are our annual elections simply a charade, a waste of time, subject to being reversed at the will of a dissatisfied minority, regardless of the merit of their claims?"
This is all to similar to the debacle created by Activities Director,

Danielle Bartle

, that if neither RESIGN, requires IMMEDIATE REMOVAL pending a THOROUGH investigation.
Bartle's email is now the subject of several formal complaints before the Nevada Real Estate Division against General Manager, Sandy Seddon, and soon to be gone, Community Association Manager, Lori Martin.
If you or any individual are a Club president or a member of a Club in which you were forwarded EITHER of the above emails, we want to know.
This is not a witch hunt

, but a demand for

HONESTY

,

INTEGRITY

, and

NEUTRALITY

this committee and its members have committed to upholding, yet appear to have violated the confidence of the community.
We also want to know if you or any member of the community has experienced any form of

BIAS

from CLC (Community Lifestyle Committee) Chairperson,

Pat Carroll

.
Make no mistake,

this situation constitutes one of the saddest and perhaps the most scandalous moments in Sun City Anthem history

, and these individuals

MUST

either remove themselves from CLC or be removed by a Board if either the Sun City Anthem Board or CLC Committee wish to maintain the confidence of a community.
We want your comments on this discovery.
Do the actions of these emails constitute unethical behavior and require their removal?
Should

Goldfried

and

Roth

resign?
Must the Board act immediately?
Should Chairperson

Pat Carroll

also resign as the individual who is responsible for the actions of that committee?