Sun City Anthem Association Attorney
It comes as no surprise that Sun City Anthem's newest Association Attorney,

Adam Clarkson

, made his "mark" on Sun City Anthem history by stating his opinion that Director

Nona Tobin

be removed from the Sun City Anthem Board.
The reports of his arrogance at the Board meeting in which Nona was removed have since shocked the Sun City Anthem community in the manner which she was "

blindsided

" by the Sun City Anthem Board and cruelly "

fired

".
When Ms. Tobin was given her "

hit the road

" letter
by attorney Clarkson
as she entered the Board meeting a few weeks ago,

Rana Goodman of Anthem Today

asked Clarkson which Nevada statute he was citing that allowed the Board to remove her.
...and his response was startling.
His answer was merely "

talk to Nona

".
According to Nevada statutes, it appears such "action" taken by a Homeowners Association Board is

ILLEGAL

; that such action

DEMANDS that the individual being removed have an opportunity of defending oneself BEFORE THE NEVADA REAL ESTATE DIVISION

.
No such opportunity was afforded

Nona Tobin

and the matter is now the subject of a formal complaint filed with the Nevada Real Estate Division.
Following that disgraceful act, the deceptive ballots were mailed; however, when a unit owner sent an email to General Manager,

Sandy Seddon

, asking for a substitute ballot due to his not having received forwarded mail, he received this response from her....which, according to this email,

represented advice from the Clarkson law firm

.
"As we discussed SCA is not managing the recall election.
The decision was made to have a 3rd party handle all aspects of the election.
In speaking with the attorney he provided me the comments below

:
NRS 116.31036(3)(a)requires the ballots to be mailed by USPS and does not provide/allow for in person pick up.
The owners should not be directed to Ovist & Howard or your office.
We will direct Ovist & Howard not to communicate or respond with owners

.
Owners are responsible to maintain their current mailing address with the Association, which is where their ballots will be mailed pursuant to the mailing list provided by your office.
If owners will be out of town they may go online for mail forwarding.
If owners will be out of town and do not believe they will be able to set up mail forwarding then that is their choice, but they are not entitled to alternative arrangements.
So, I understand your concerns and desire to vote in the recall election.
I provided the direct language to you so that you would understand that I have no alternative for you

."
This response was then brought to the attention of the Ombudsman, who we believe,

REVERSED the letter's contents

by allowing individuals who had not received their ballots TO CONTACT the CPA FIRM DIRECTLY, for a substitute ballot to be forwarded.
Just who is our new association attorney, Adam Clarkson

?
We did a bit of research on

Mr. Clarkson

and found out where he may have learned his "

eloquent

" manner of communication.
Once we opened the link, we scrolled down the summary a
nd learned an interesting tidbit about Mr. Clarkson's past employment.
Turns out that Clarkson was a former associate in the law firm of:
"

Quon
Bruce Christiansen

"
For you readers who weren't around back in 2008 and 2009, we had a

massive FBI investigation regarding widespread homeowners association FRAUD

; and during that investigation, a number of individuals that included attorneys and law enforcement officials, "coincidentally"

committed suicide

prior to "

facing the music

" !
"FOUR public figures - including a police chief and two lawyers - 'commit suicide' after probe into homeowners association fraud"


And one of those attorneys was a woman named: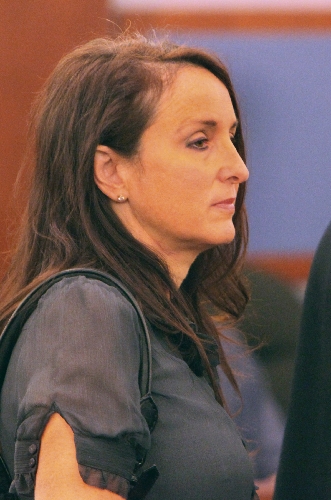 Want to know more about the homeowners association scandal?
Here are a few articles you might examine.
We are not accusing

Mr. Clarkson

of any wrongdoing and he was not charged with any crime, but we do wonder if this news was ever disclosed and/or discovered during his interview process when General Manager,

Sandy Seddon

,

HIGHLY RECOMMENDED HIM

and the Board merely went along with HER REQUEST.