TWO RESTAURANTS REOPEN AT SOUTH POINT
Primarily Prime Rib...
and
Baja Miguel's...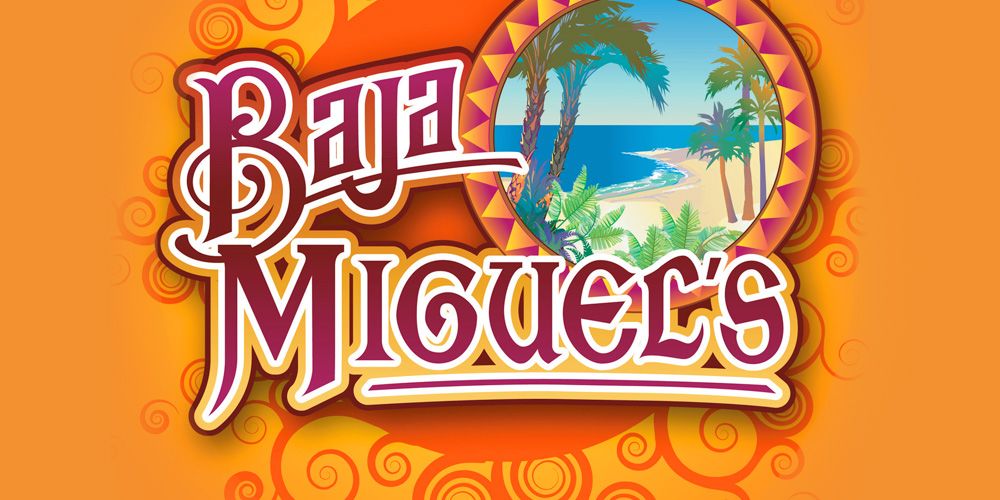 ... have reopened at South Point.
Primarily Prime Rib, which is tucked away from the casino, is debuting new menu items such as grilled crab cakes and coconut crusted shrimp. The most popular selection, the South Point Cut, is a 10-ounce cut for $19.95.
All entrees are served with a choice of salad or soup as a starter and seasonal vegetables and baked or mashed potatoes on the side.
Hours are Thursday–Sunday from 5–10 p.m.
Baja Miguel's is a lively cantina offering south-of-the-border favorites a variety of margaritas including picante, skinny, watermelon and more for $8.
Baja Miguel's hours are Thursday–Sunday from 4–10 p.m.
DIN TAI FUNG OPENS THIS MONTH AT ARIA
Din Tai Fung...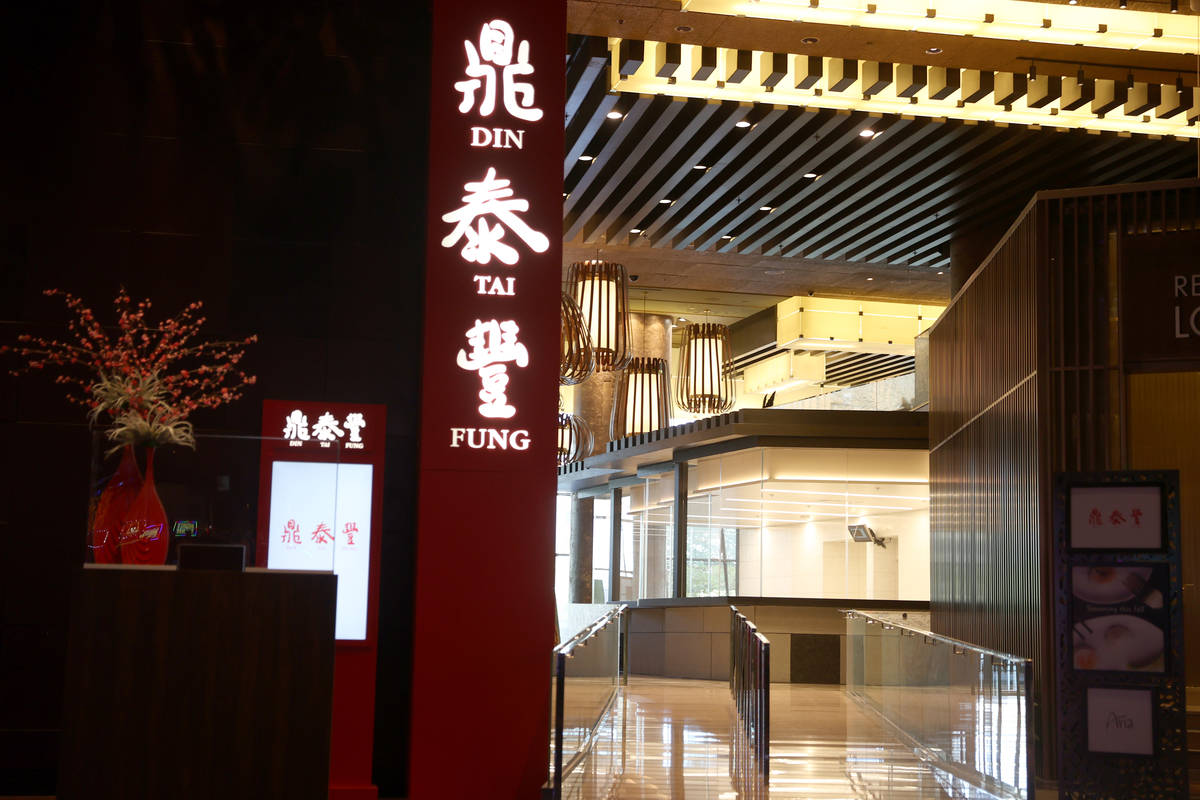 ... which last year announced it would open its first Las Vegas location, is set to open at Aria on Monday, Oct. 19.
The esteemed Taiwanese dumpling and noodle house specializing in Xiao Long Bao has more than 170 restaurants in 13 countries.
Din Tai Fung's Shanghai-style soup dumplings are filled with the highest quality Kurobuta pork and broth that bursts upon the first bite, fragranced with aromas of fresh ginger and green onion.
Originally Din Tai Fung was founded as a cooking oil retail business in 1958 and was reborn in 1972 as a steamed dumpling and noodle restaurant. In 1996, the first international location opened in Tokyo. In 2009, the Hong Kong branch was awarded one Michelin star.
_________________
GREEK RESTAURANT ESTIATORIO MILOS PLANS MOVE
TO THE VENETIAN
After nearly a decade, Estiatorio Milos, which debuted on Dec. 15, 2010, at The Cosmopolitan the day the resort opened on the Strip, is moving.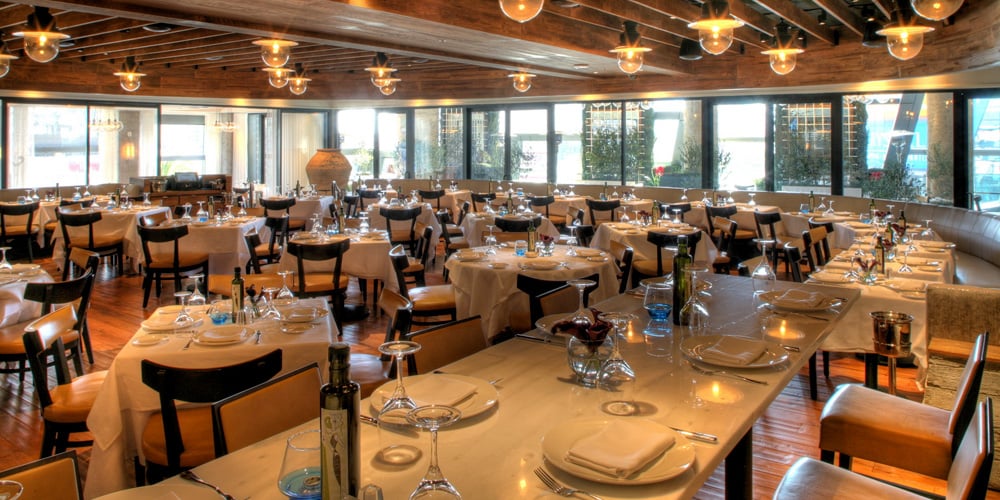 Now the Mediterranean seafood restaurant will bring the flavors of Greece to The Venetian Resort's restaurant row this year.
Using an estimated $10 million budget, the 13,624-square-foot space formerly occupied by seafood restaurant Aquaknox is being redesigned for a maximum occupancy of 434 inside.
_________________
JOY OF HOT DOG REOPENS DOWNTOWN
Joy of Hot Dog, Corner Bar Management's kitschy, neon-lit trailer serving over-the-top hot dogs, has reopened at 506 Fremont Street in the Fremont East Entertainment District.
The food trailer is serving several new flavor combinations and toppings, available Thursday–Saturday from 8 p.m. to 2 a.m.
The new dogs, priced at $8 each, include vegan offering A Walk in the Park, The Al Capone, Chihuahua Chick, The Hangover, and Elvis with banana and peanut butter.
All Joy of Hot Dog selections are crispy on the outside and moist on the inside and served on Hawaiian sweet rolls.
Each dog may be ordered with a 100% natural Patuxent Farms angus beef hot dog or Beyond Meat vegan Italian sausage.
A new added element is an art installation "Electric Dandelions."
The 30-foot dandelion sculptures, made of metal and acrylic, double as fireworks at night, coming to life with LED animations through a bright light show. Created by Liquid PXL, Electric Dandelions adds ambient lighting, with LED lights running throughout each sculpture to create firework effects.
_________________
TO BE FRANK SERVES HOT DOGS AND SAUSAGES IN
GHOST KITCHEN
To Be Frank, a new ghost kitchen serving specialty hot dogs and sausages, is open for delivery, takeout, and catering.
Hours are Monday through Saturday 5 p.m. to midnight at the downtown eatery Every Grain at 1430 E. Charleston Blvd., which has a lunch business and closes at 2:30 p.m.
To Be Frank's menu offers an array of carefully crafted dogs and sausages topped with artisan ingredients served on fresh, locally-baked buns.
Quality meats are used in all the menu items, with hot dogs sourced from third generation family company Nueske's and Isaan sausages all the way from Thailand.
Notable menu items include Thai Dog, Banh Mi, and Kimchi Dog.
Guests can add bacon lardons to any dog and choose from a variety of sides including coleslaw, German potato salad, chili, and Tim's Chips.
Desserts include banana pudding and a sugar cookie with raspberry curd dip.
Executive chef Trevor Garrett likes to support local purveyors whenever possible and shops for fresh ingredients every other day.
The buns are made fresh by a local baker.
_________________
WEEKLY FARMERS' AND ARTISAN MARKET RETURNS
TO TIVOLI VILLAGE
The weekly farmers' market started up again last Friday at Tivoli Village from 3 to 8 p.m.
In collaboration with Fresh52, the socially distanced farmers' and artisan market will be available every Friday and feature freshly picked local produce, handcrafted artisan goods and live music from 4 to 7 p.m., at the south entrance off Alta Drive at front of 420 S. Rampart Blvd.
Masks are required.
Featured produce vendor Picked Today Produce provides an assortment of fruits and vegetables harvested early each market day morning, ensuring freshness.
Additional vendors include local farmers selling fresh mushrooms, almonds, eggs, honey, olive oil and micro-greens, as well as artisan vendors offering baked goods, home-made pasta, salsa, hummus, vegan items, and hand-crafted jewelry.
_________________
OLIVE GARDEN AT SHOWCASE MALL
The eighth local expansion for Olive Garden restaurant will take over third-floor space at the Showcase Mall above the Target store on the Strip. Refurbishing cost will be $3.75 million.
Current Olive Garden owner Darden Restaurants also operates The Capital Grille at Fashion Show mall, Yard House at the LINQ Promenade, and Bahama Breeze at Hughes Center.
_________________
FERRARO'S NEXT "TASTE & LEARN" DINING
The next monthly Taste & Learn dining experience at Ferraro's Italian Restaurant & Wine Bar will be on
Saturday, Oct. 24
.
The first event of the fall season will be showcasing wines selected from the portfolio of Johnson Brothers of Nevada.
Cost is
$75
all inclusive.
THE LINQ PROMENADE OFFERS MEAT-FREE DINING
OPTIONS
With National Vegetarian Month being October and World Vegan Month following in November, The LINQ Promenade offers an expanded selection of vegan and vegetarian dishes at 10 of its signature restaurants.
For example, among Virgil's Real BBQ lunch and dinner specials, they include the vegan black bean burger prepared with grilled vegetables, black beans, herbs and spices, pico de gallo, chipotle sauce and avocado.
Combining Mexican and Japanese cuisine, Jaburritos features a wide selection of sushi burritos and bowls. Both vegans and vegetarians can partake of the Venice made with Gardein™ "steak" or tofu, sweet chili sauce, avocado, roasted corn, black beans, cucumber, romaine lettuce and pico de gallo.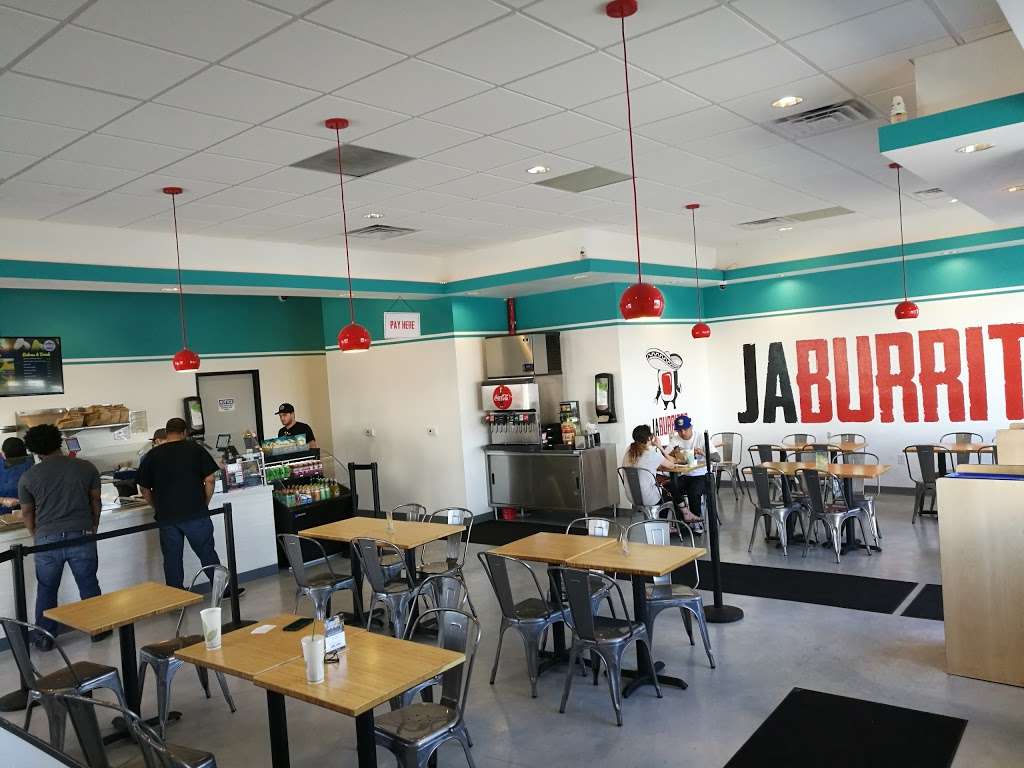 Side dishes include edamame, seaweed salad and miso soup. Serving a variety of vegetarian and vegan options, guests can enjoy classic Mexican dishes with a meat-free spin at Chayo Mexican Kitchen + Tequila Bar.
_________________________
PINKBOX DOUGHNUTS ACKNOWLEDGES HALLOWEEN
AND CANCER
With three 24-hour locations in the valley, Pinkbox Doughnuts is always creating novel doughnuts to celebrate special dates and issues.
Their "Doughnut of the Month" is the "Holy Cannoli," a chocolate frosted raised doughnut topped with cannoli filling, chocolate chips and powdered sugar, priced at $3.
In honor of Breast Cancer Awareness Month, Pinkbox is offering its "Pink Ribbon" doughnut through October.
The "Pink Ribbon" is a pink frosted ribbon raised shaped doughnut with pink sprinkles, also $3.
10% of every doughnut purchased will be donated to the Susan G. Koman for the Cure Foundation.
In celebration of Halloween from Thursday, Oct. 15 through Sunday, Nov. 1 an array of spooky treats will be available.
With creativity abounding there are creations such as "Purple People Eater," "Vampire Pooh," "The Vampire," "Creepy Crawler," "Vegan Mummy," and more.
____________________
FERRARO'S GETTING BACK TO NORMAL
Ferraro's Italian Restaurant & Wine Bar...
... has brought back dinner service and late night from 5 p.m. – 1 a.m. on Mondays in addition to the regular schedule.
Additionally, with the nice weather returning, dining al fresco is in high demand.
Ferraro's will hold its exclusive Italian wine and white truffle dinner event on Thursday, Nov. 19 at 6 p.m.
PLAZA COMMEMORATES BREAST CANCER
AWARENESS MONTH
Led by its CEO, Jonathan Jossel, the Plaza will commemorate October as Breast Cancer Awareness month with special offers at Oscar's and in its bingo room, the only one in downtown Las Vegas, to benefit the American Cancer Society (ACS).
Supporting breast cancer research is personal for Jossel...
... whose mother is a breast cancer survivor for more than 15 years.
Jossel is one of 25 local leaders raising money for the ACS Real Men Wear Pink campaign to support ACS' mission.
Oscar's steakhouse inside the Plaza's glass dome, will donate $3 to ACS for every cosmopolitan cocktail purchased in the lounge or dining room during the month of October.
Oscar's is currently open Thursday through Sunday, 5 to 10 p.m. and offers happy hour from 5 to 7 p.m.
The Plaza's bingo room, which has six daily bingo sessions, will sell commemorative pink capped daubers featuring various cancer awareness ribbons for $5 with 100% of the proceeds donated to ACS.
________________
SAVORY BITES & NEON LIGHTS IS DINING-AIR TOUR
COMBO
Maverick Helicopters and Lip Smacking Foodie Tours in partnership are offering the ultimate fine-dining and helicopter night flight experience with Savory Bites & Neon Lights.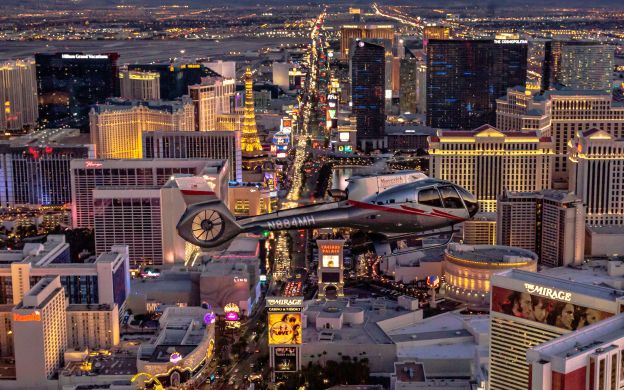 Foodies who book the Savory Bites & Neon Lights package will enjoy a culinary journey inside some of the Las Vegas' most renowned restaurants including The Cosmopolitan's innovative supper club experience, Rose Rabbit.
American fare at Blue Ribbon, inventive Asian cuisine at Momofuku, and romantic Italian ambiance at Scarpetta, as well as Mastro's Ocean Club inside The Shops at Crystals are also participating.
With reserved, VIP seating at each venue, attendees are treated to a variety of signature dishes and optional handcrafted cocktails.
The five-hour excursion begins at ARIA and includes a guided tour with insider stories and tips about Las Vegas along the way.
Following the epicurean portion, a limo coach transports guests to Maverick Helicopters' terminal for a 15-minute aerial experience with bird's-eye views of Strip landmarks.
Tickets for Savory Bites & Neon Lights start at $299 per person. For more information and to book a reservation, visit either company's website or call (702) 405-4300.
________________
BUDDY V'S RE-OPENS AT THE VENETIAN
Buddy V's Ristorante...
... reopened after undergoing a renovation this summer.
The Italian restaurant has menu updates, new hours, a new Happy Hour and more.
Located in the Grand Canal Shoppes at The Venetian, hours for dinner are Sunday–Thursday from 4-9 p.m. and 4-10 p.m. Friday and Saturday.
Lunch is available noon-4 p.m. Saturday and Sunday.
There are new vegetarian options, five varieties of pizza pies with perfected artisan-style dough proofed for two days and hand-stretched to order, and nightly specials.
Happy Hour is back in the bar and lounge 4-6 p.m. daily at the bar, lounge or indoor "patio."
Guests can get a variety of small bites for $6.
Domestic bottled beer, red and white house wine, Prosecco, and sangria are available for $5 each.
Buddy V's focuses on la famiglia with "Kids Eat Free" every Sunday and Monday. Kids 10 and under can enjoy their choice of Spaghetti & Meatballs, Fettucine Alfredo, Spaghetti Bolognese or Chicken Tenders & Fries with purchase of adult entrée.
Kids will also receive a souvenir light up cup with their meal.
Wine lovers can rejoice with a little vino on Wine Wednesdays with 50% off all bottles.
Now through the end of the year, Buddy V's offers a free cannoli with the purchase of an entrée.
Buddy V's is also now available for delivery through third-party companies and pickup at the restaurant. Renowned baker Buddy "Cake Boss" Valastro opened his first restaurant inside Grand Canal Shoppes at The Venetian partnering with veteran restaurateurs Elizabeth Blau and Chef Kim Canteenwalla, who also own Honey Salt.
______________________
PT's WING & SPORTS ADDING NEW MENU SELECTIONS
PT's Wings & Sports...
... The STRAT's prime spot for sports viewing, has added several new menu selections, including appetizers and entrées with Southern flair, new desserts and hand-crafted cocktails.
The updated menu also features a variety of new pizzas.
______________________
PR%F AWARDS 2020 HAS NEW PARTNERS, DATES AND
CATEGORIES
The PR%F Awards...
... an international and domestic spirits, wine, and beverage competition has moved its dates to Dec. 1 and 2, 2020.
Designed to award accolades to many emerging beverage brands and established favorites, the PR%F Awards platform brings visibility to its spirits brands with a "buyers only" judging platform and partnership with F&B's publication, "Food and Beverage Magazine. "
The PR%F Awards private judging competition will take place Dec. 1-2 at Green Valley Ranch Resort with a prestigious panel of experts.
PR%F Awards 2020 has extended its beverage collection of categories to include an array of wines and sparkling wines, New World whiskey, spirited and non-spirited seltzers and ciders, frozen concoctions, coffee liquors and more.
To enter visit:
______________________
NONPROFIT 24MEALS RECRUITS PROFESSIONAL
CHEFS
The impact of the pandemic is devastating more and more individuals and families, yet it is noteworthy when one local family generates a movement.
The nonprofit 24Meals...
... started in March by the Fresinski family of Henderson to provide chef-prepared meals delivered along with uplifting messages of encouragement has quickly grown.
The organization now serves chef-prepared, home-cooked meals to more than 150 households each week and has delivered more than 6,500 meals to date.
Thus far, its efforts have been made possible by donations of food, cash, and volunteers to cook and deliver meals, as well as support from Wilder Gourmet and the Fresinskis' own financial contributions.
Katinka Fresinski, who owns an event staffing company, and her husband Matt, an executive chef on the Las Vegas Strip, started this movement when the pandemic shut down the hospitality industry.
Their first family quarantine project was cleaning out their pantry.
They were able to prepare 24 meals to give away, and their 11-year-old son wrote inspirational messages on each individually packaged meal's to-go lid.
The families who received the first batch of meals wanted to help other families and asked to donate to the cause, and 24Meals was born.
The family project quickly evolved as the Fresinskis began to receive food donations from all over the valley.
They created a "Chef's Challenge," whereby chefs are nominated to make 24 meals of their choice utilizing all the ingredients in a "mystery box" provided to them containing donated ingredients.
They, too, are encouraged to write inspirational messages on each box and post their final dishes on social media.
Each chef is also asked to nominate another chef and gift at least one ingredient for the next chef's mystery box.
So far, 68 chefs have participated, and more are needed to help.
The public can support 24Meals with food and cash donations, delivery service, etc. For information, visit:
______________________
CARMINE'S CELEBRATING NATONAL PASTA MONTH
The National Day Calendar has October as National Pasta Month, and Carmine's inside The Forum Shops...
will celebrate with a menu special.
From Oct. 17 (National Pasta Day) through Oct. 24, Carmine's is bringing back the Capellini Marechiara Pasta Special with green lip mussels, littleneck clams, shrimp, scallops, Italian hot peppers, pomodoro tomatoes, roasted garlic, basil, parsley, Carmine's white wine and finished touch baby arugula for $54.
Serving four to six people, it will be available for dine-in, takeout and delivery.
______________________
HALLOWEEN DINNER WHODUNIT
A Touch of Mystery known for producing murder mystery dinners will hold its annual Halloween whodunit at Lawry's on Thursday-Friday, Oct. 29-30 at 7 p.m.
The theme for the musical mystery is "The Family Reunion."
William Johnson is returning from his honeymoon around the world and has requested his family join them in Las Vegas for a surprise celebration introducing his young bride Ashley, who is the age of his youngest daughter.
The plot will thicken and intertwine with a three-course dinner and the cast engaging guests in conversation even while dining.
Reservations are available online; cost is $115 inclusive.
Due to Covid-19 restrictions tables will be at least six feet apart and available for parties of two to six.
_______________________
GOLDEN STEER STEAKHOUSE ADDS
MEET-THE-MOMENT INNOVATIONS
Golden Steer Steakhouse

...
...a celebrated dining destination for generations founded in 1958, is introducing a series of state-of-the-art culinary options which integrate flawlessly with the ever-changing landscape of the modern restaurant scene.
The new offerings by the Golden Steer include:
1

. Direct-to-home shipping of its signature USDA Prime wet-aged bone-in ribeye, filet mignon or combination packs
2

. Complete meal kits designed for at-home grilling, cooking and enjoying at a game-day football watching party
3

. Virtual Private Dining cook-alongs conducted by a Golden Steer chef via webinar. Befitting Golden Steer's dedication to detail, each package of steaks is shipped with special trimmings.
Marking the arrival of the NFL's Raiders to Las Vegas, the Golden Steer is offering a selection of at-home meal kits ideal for football watch parties. The kits include the famous Golden Steer Blend patties with all the fixings.
In addition, the restaurant is offering a Private Dining webinar experience, which provides a personal cooking class for small groups in their own homes guided by a Golden Steer chef. Each guest receives a box with all the necessary ingredients, cracks open a bottle of sommelier-selected wine.
______________________
7FIVE BREWING CO. LAUNCHES SHIVER GIVER IPA
As a company, 7Five...
...is known for great beer, celebrating the spirit of Las Vegas, and telling inspiring stories.

With the launch of each beer, the brand unveils a new chapter of their story – the story of the underdog.

This time, it is about a victory.
As 7Five launches

Shiver Giver

,

a Red India Pale Ale

(IPA), the company is encouraging the Vegas community to remember moments in their lives that gave them shivers.
For Ryan Reaves, Las Vegas Golden Knights Right Wing and Co-Founder of 7Five Brewing Co., he can remember a few when a moment sent shivers down his spine.
Shiver Giver has launched in locations around Las Vegas, and to celebrate 7Five is profiling seven Las Vegans and their Shiver Giver moment.
Their seven stories will be launched via the brand's Instagram channel, @7FiveBrewing.
Features include José Sosa - Master Barber; DJ Tambe - Tattoo Artist; Philip Sahagun - Martial Arts Champion; Ulziibayar Chimed Sahagun – Contortionist; Kendell Galor - Las Vegas Golden Knights Reconditioning Specialist; Mitch Klein - CEO and Co-Owner of Threads of eNVy; and Reaves.
Shiver Giver and 7Five beers are brewed at Able Baker Brewing in Downtown Las Vegas.
Shiver Giver is available in draft at select establishments as well as 16-ounce 4-pack cans; with a 6.75 percent ABV and 55 IBU.
______________________
CARSON KITCHEN HAS NEW BRUNCH
Carson Kitchen...
is added a Sunday brunch and will be serve from 11 a.m. to 4 p.m. every Sunday.
Items include Oatmeal Brûlée ($10) served with bourbon, smoked pecan, fruit compote, chantilly cream; B.E.C. ($12) served with pork belly, easy egg, white cheddar, herb mayo, and arugula; Spam Benedict ($15) served with fried green tomato, poached egg, and garlic herb hollandaise; Oxtail Hash ($12) served with potato, bell pepper, red wine demi, and a sunny egg; Shrimp & Grits ($13) served with Fresno chile, cilantro, mint, shallot, and nuoc cham; and more.
Curated cocktails include The Dude Abides ($12) made with citrus vodka, almond milk, cold brew liqueur, and orange bitters or That's My Jam ($12), which is a classic bloody mary made with bacon jam vodka and fresh lime. Reservations suggested.
______________________
WATER STREET HAS NEW RESTAURANT
A new restaurant named Biscuits & Bourbon...
... has opened at 108 S. Water Street in Henderson.
Menu highlights include buttermilk fried chicken sandwich, grilled cheese, St. Louis ribs, brisket, pork belly burnt ends and cocktails like Old Fashioned, apple cider punch with Jim Beam Bourbon and peach jam and the Six Shooter Manhattan with Old Overholt Rye.
Reservations encouraged.
______________________
ELDORADO CANTINA OPENS THIRD LOCATION
El Dorado Cantina...
...is set to open a third location in Spring Valley in the second quarter of 2021.
The 4,500 square-foot space can accommodate 158 guests and patio seating will be available.
The new location will be located at the space formerly occupied by No Regrets in the Centra Point at The Curve shopping center, 8349 West Sunset Road, near the 215 Beltway.
______________________
DIN TAI FUNG RESTAURANT OPENING AT ARIA
Din Tai Fung...
... the highly coveted dumpling and noodle hotspot celebrated from Taipei to Los Angeles for perfecting the art of the Xiao Long Bao, will open its first Las Vegas location at ARIA Resort & Casino on October 19.
The late Pulitzer Prize winner Jonathan Gold once described Din Tai Fung's precisely handcrafted Xiao Long Bao as "small miracles."
The Shanghai-style soup dumplings feature the highest quality Kurobuta pork and broth that bursts upon the first bite, fragranced with aromas of fresh ginger and green onion.
Din Tai Fung at ARIA will be located on the casino floor, adjacent to Lift Bar, and will be open nightly from 4 p.m. - 11 p.m.
Reservations are highly recommended.
______________________
NEVADA BREW WORKS OPENS IN ART DISTRICT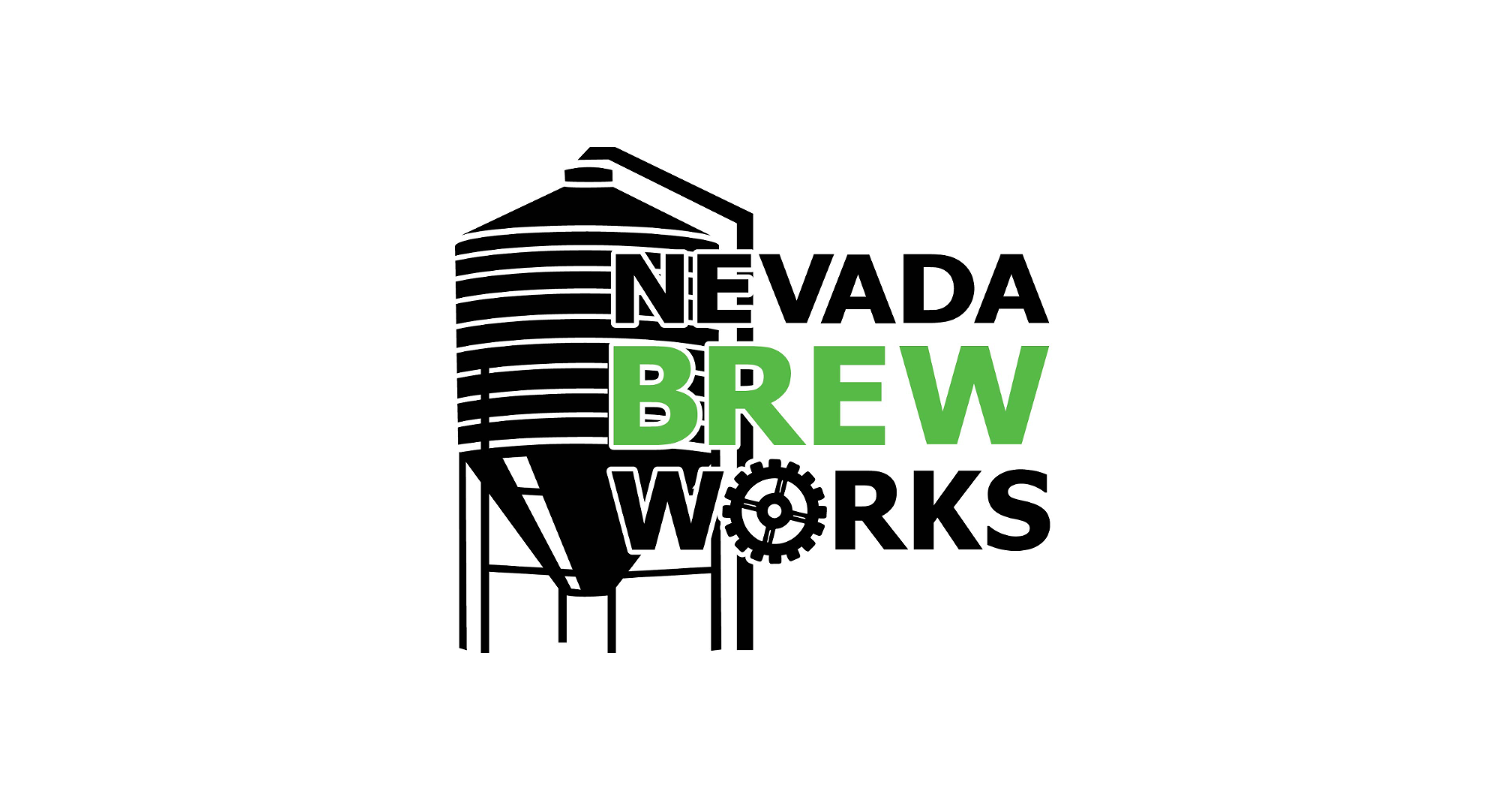 ... opened

in the Arts District at 1327 S. Main Street

.
It's a recognizable new business because you cannot miss the grain silo situated on the corner of Imperial and Main with big lettering on it now reading "Nevada Brew Works."
Hours are

Monday-Saturday 11 a.m.-1 a.m., and Sunday 10 a.m.-1 a.m

.
Like so many entrepreneurs, owner Jason Taylor was caught off guard by this year's devastating pandemic.
Plans for the project started back in 2018 and construction for the brewery began in January 2020.
When March 17 came around and everything was shut down, there was no real turning back despite challenges ahead starting with not being able to full capacity.
In addition, bar tops in the taproom are closed and people can't line up to order food directly from the kitchen.
WYNN BUFFET CLOSES
Back in June, The Buffet at Wynn was the first buffet on the Strip to reopen with almost 90 all-you-can-eat dishes served at the table instead of the buffet line.
The experiment didn't work out and

it closed

.
The change had diners ordering from a menu, with servers bringing dishes to the table and the option to reorder as many times as desired within a two-hour period.
T
he buffet featured tables spread apart for social distancing, touchless technologies, and both disposable single-use and QR code downloadable menus.
BEER ZOMBIES ON THE MOVE
... is a Las Vegas based craft beer lifestyle brand, brewing project and all-around craft beer ambassador.
Founded in 2013, it has grown to include a yearly festival, beer dinners, tap takeovers with plans to open a fourth location in Downtown Summerlin.
The new spot, possibly opening by mid-September, will be entirely separate.
The menu will have eight to 10 items.
The first location was adjacent to Skinny Fats at 8680 W. Warm Springs Road.
Another draft room opened at 6261 Dean Martin Drive three days before the pandemic shutdown.
BIG SUR OYSTER BAR AT SOUTH POINT REOPENS
WITH UPDATED MENU
Big Sur Oyster Bar inside South Point...
... is now open noon–midnight daily and debuting a new menu with updated pricing and an expanded seating area adhering to all social distancing guidelines.
Some of the new items include the tropical crab cocktail, tempura shrimp, Big Sur lump crab cake, honey lemon glazed salmon and more.
Oysters of the day are served by the half dozen or dozen and offered at market price.
Prices on the all-day menu have been reduced.
Now available daily from

noon–4 p.m

. is the exclusive items and prices during the "

What the Shuck

"

happy hour

.
There are also half priced raw oysters and clams.
_____________________
FARM TABLE DINNERS RETURN WITH NEW FORMAT
Returning from a summer family visit to Cape Cod, James Beard nominees Elizabeth Blau and Kim Canteenwalla are bringing back the popular

Farm Table Dinner series

with a Cape Cod-inspired dinner in conjunction with the third anniversary of their cookbook, "
Honey Salt Food & Drink – A Culinary Scrapbook."
The series relaunched

with festivities at their Honey Salt restaurant at 1031 S. Rampart Blvd

.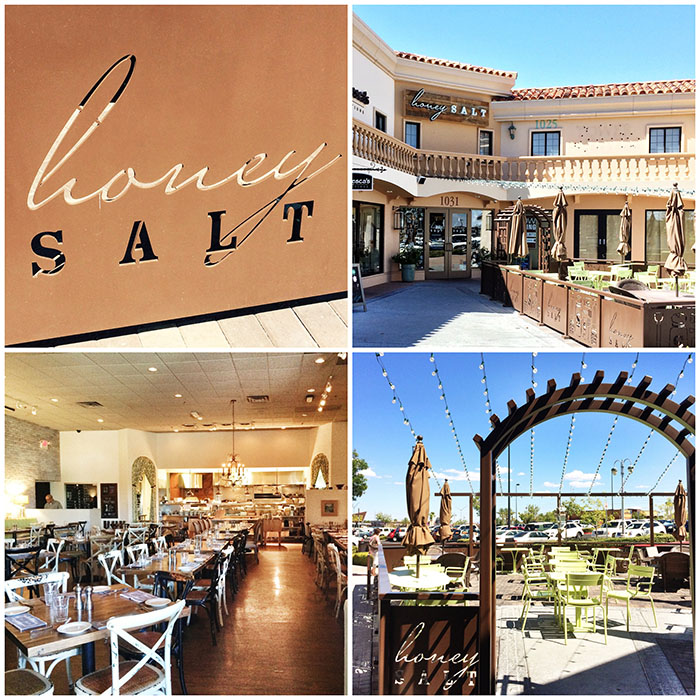 https://www.honeysalt.com/
The format might look a little different due to safety protocols. Instead of family-style all culinary favorites will be served individually, and groups will max at six.
All guests will need to wear a mask while not at their table.
_____________________
LAWRY'S PRIME RIB PARTNERS WITH THREE SQUARE
FOOD BANK
During the month of September, Lawry's The Prime Rib at 4043 Howard Hughes Pkwy close to the Strip is teaming up with Three Square Food Bank to benefit their mission to provide wholesome food to hungry people in the community.
For each

$10 donation to Three Square,

up to $50, VIP Rewards guests will receive a $25 bonus reward on their loyalty account to use the next time they dine at any Lawry's restaurants.
Non-loyalty members will receive $25 rewards should they donate a minimum of $10 and sign up for the VIP Rewards program. For the first time, guests will also be able to donate to Three Square when placing take-out orders online.
With unemployment at an all-time high and children not returning to classrooms due to the Coronavirus,
Three Square estimates more than 447,000 Southern Nevadans, including approximately 171,000 children, will experience food insecurity this year.
_____________________
DOLCE IS NEW SUPPER CLUB AT LAVO
Dolce is a new decadent supper club experience taking place every Sunday at

LAVO

inside

The Palazzo

.
Starting at 9:30 p.m., the restaurant will transform with live entertainment and a DJ while guests can enjoy signature Italian dishes including the famed meatball, along with seafood, pasta and prime meats while taking in performances.
As the night progresses, interactive desserts, along with decanter and bottle service emerge.
Capturing the attention of every table in the room will be the new Tartufo Fantasia, a Neapolitan Gelato Cake, Sicilian Pistachios and Popping Candy Chocolate Shell, unveiled by poured flaming hot syrup.
This tantalizing dessert can be enjoyed on its own or combined into a full tasting complete with additional sweets and paired with Champagne and spirits.
__________________
ROLLING IN DOUGH BAKERY OFFERS BIRTHDAY
A COVID-19 advisory is not to have candles on a cake for someone to blow out.
Rolling in Dough Bakery...
... is offering a free side cupcake – specifically for the candles – with every birthday cake purchased.
SICKIES GARAGE OPENS SHOP AT TOWN SQUARE
The garage-themed dining concept, Sickies Garage Burgers & Brews...
...

opened its first southwest location in Town Square

with an over-the-top menu of 50 burgers and 50 beers, along with a vast selection of other items.
The address is 6629 Las Vegas Blvd. South, Las Vegas.
Adding to the experience will be a fun funky garage-themed space beneath classic cars, trucks, and motorcycles.
Each hamburger patty is made from fresh, hand-formed Angus beef, American Kobe beef or ground turkey.
Some examples of the creative offerings:
Glazed Doughnut Burger
American cheese and peppered bacon on a glazed doughnut bun
Macaroni and Cheese Burger
topped with extra cheesy macaroni and bacon bits
fan favorite

Sickies Burger

stacked with bacon, egg, pulled pork, and onion rings.
The menu also features wings, appetizers, sandwiches, wraps, salads, and malts.
An expansive chicken wing selection features 24 sauces.
Sickies Garage will be open daily 11 a.m. to midnight

.
Diners can sign up for Sickies Garage Rewards and earn

free

"Sick Bucks" and menu items starting with their first visit. Currently their Las Vegas site is under construction, but you can send them an email requesting that you wish to be added to their Rewards mailing list by clicking this link:
The story behind this restaurant is organic. In the early 2000s, like-minded friends would meet to tinker on their car-motorcycle-truck projects or to just talk shop.
Grilling at the garage sparked an avenue for creativity, crafting experimental burgers with unusual toppings.
Becoming known as "Sickies Garage," these friends would often play hooky from work to be together by calling in "sick."
Eager to have their own special burger, the offerings grew into a list of 50 burgers and 50 brews.
In 2012 these friends opened their first full-service restaurant in Fargo, N.D.
New locations followed in Bismarck and Grand Forks, N.D., and Sioux Falls and Rapid City, S.D.
This year, Sickies Garage will also have new outlets in Omaha, Neb., Las Vegas, and Orlando, Fla.
___________________
LAGASSE'S STADIUM WON'T REOPEN
While Lagasse's Stadium at The Palazzo has been closed since the COVID-19 shutdown, the word is it will not reopen.
The closure of the sports bar and restaurant is permanent making Emeril Lagasse the first celebrity chef to close one of his restaurants on the Stip.
What will happen to the space is unknown.
Lagasse opened the sports-themed restaurant in 2009 with a stadium seating area, more than 100 screens and sports betting.
On the bright side, Lagasse is continuing to operate Delmonico Steakhouse in the Grand Canal Shoppes at The Venetian and Emeril's New Orleans Fish House at the MGM Grand.
______________________
AMORE TASTE OF CHICAGO OPENS NEW LOCATION
IN HENDERSON
Amore Taste of Chicago

...
... has opened a second larger location in Henderson.
The business was launched in 2008 close to the intersection of Durango Drive and Flamingo Road and that location is currently closed for renovations.
The new location at

4330 E. Sunset Road

took over a closed TGI Fridays building and has a bar and a private room for 12 to 14 people after COVID.
Amore's specialties include deep dish or stuffed pizzas, Italian beef sandwiches, chicken parmigiana, and cannoli for dessert.
______________________
CRAFTHAUS BREWERY OFFERS NEW LOW CALORIE
BEER.
CraftHaus Brewery launched Nevada's first low calorie, electrolyte IPA.
Both of its taprooms will carry the beer on tap and in 12-ounce, six-packs across the valley.
As a more health conscience beverage choice of active people, this is the brewery's first beer in a low-calorie category.
Staying true to their craft beer roots, the beer clocks in at 4% alcohol by volume and 45 International Bittering Units from Cascade and Mosaic hops.
Electro-Lite, IPA is a seasonal brew expected to be available for approximately three months.
TWO NEW EATERIES OPEN AT UNIVERSITY GATEWAY
Not only are new properties going up on the Strip and downtown with

Circa

under construction,

the University Gateway Building across the street from UNLV – University of Nevada Las Vegas has opened with retail space, office space for UNLV administration, and residential apartments

.
Two new eateries:
Pizza Forte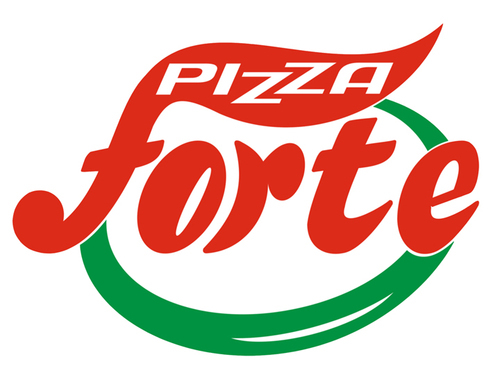 and...
Sushi Joe's
...

opened on the first floor of the high-rise building at 4700 S. Maryland Pkwy

.
Retail outlets already open there include

Peet's Coffee

and eateries

Crumbl Cookies

,

Ike's Love & Sandwiches

, and

Roberto's Taco Shop

, as well as the convenience of a branch of America First Credit Union.
Brew Tea Bar

...
...will open later this summer with more retail shops to be announced soon.
Pizza Forte offers New York-style pizza and square, Roman-style pan pizza by the slice with toppings including homemade sausage and fresh vegetables, as well as gluten-free options.
The venue also offers house-made meatball sandwiches and three varieties of Hofmann hot dogs.
Pizza Forte was created by the family behind Ferraro's Italian Restaurant & Wine Bar.
Chef Joe Richardson is the award-winning, culinary mastermind behind Sushi Joe's.
After years of training and working for the most prolific names in the restaurant industry in Las Vegas and the Caribbean, Richardson brings a cutting-edge to the menu.
Sushi Joe's features the freshest offerings including bento boxes, sushi rolls and specialties such as Yellowtail Crudo and Brisket Gyoza, as well as the Omakase dining experience at the Chef's Table.
University Gateway also houses the yoU, luxury apartments on floors 4 through 7.
Resident amenities include: a rooftop, resort-style pool and spa and lounge with fire pits, barbecue grills and sundeck; fitness center; game room; concierge services; coworking space; all utilities, a smart home system and internet connection available included in the lease; 24-hour onsite police presence; and a view of the Strip.
____________________
NATIONAL CHEESE EXPERT TAKES OVER VALLEY

CHEESE & WINE
Diana Brier, ACS CCSE is the new owner and director of cheese for

Valley Cheese & Wine

...
...the longest running cheese and wine shop in the Las Vegas Valley.
Well-respected cheesemonger, artisan cheesemaker, and affineur, Brier, nicknamed by her peers as the "

Wonder Woman of Cheese

," is one of only 45 people in the United States to hold a Certified Cheese Sensory Evaluator Certificate from the American Cheese Society.
Through her career, she has worked with some of the country's leading brands and creameries, such as Whole Foods, Deer Valley Resort, Rogue Creamery, and most recently, Las Vegas' own MGP Food.
Brier will introduce new epicurean experiences along with educational programming, centering around cheese, while keeping in place the shop's already highly regarded wine offerings.
Previous owner Solenne Peyronnin will stay on as director of wine to continue curating the shop's wine selection along with providing her revered wine education.
Valley Cheese & Wine will also be offering new regular programming, including Happy Hour, Wine Down Wednesday and more starting later this summer.
The shop's décor will also get a facelift, with changes to the education room taking priority.
With the addition of an air purifier, the space will become a Clean-Air Tasting Room – allowing for a more accurate tasting and learning experience.
Valley Cheese & Wine

at

1570 W Horizon Ridge Pkwy #140 in Henderson

is open daily 10 a.m. to 8 p.m. Monday through Saturday and 10 a.m. to 2 p.m. on Sunday.
____________________
FINGER LICKING FOODIE TOURS CREATES NEW
EXPERIENCES
T
he Finger Licking Foodie Tour company in a few years created a premiere reputation for dining tours Downtown and on the Strip.
Since COVID-19, adjustments have had to be made especially since groups are not allowed at this time.
Good news, the foodie company has packaged safe private experiences which you can view online for details and reservations.
With an online link to a virtual guide..
...the memorable experience will include a visit to three top restaurants, immediate VIP seating, and experiencing 10 signature dishes served fresh shortly after arrival.
Cost is

$79

per person with gratuity included.
In addition, a

15% discount

is offered on beverages or additional menu items guests may order.
_________________
ITALIAN AMERICAN CLUB REOPENS
Local hangout the Italian American Club just reopened its dining and lounge areas.
Unfortunately,

all entertainment scheduled for July in the showroom had to be cancelled

.
_______________________
MINT WILL INTRODUCE NEW BUFFET OPTION
With the fate of buffets in limbo,
The

Mint Indian Bistro

with two valley locations and one near the Strip at

730 E. Flamingo Road

has developed a solution for their popular Lunch Buffet.
The food is laid out like before at the buffet station with the only difference being the patron orders from a Contactless Buffet Menu, and staff serve the food at the customer's table.

Hot, fresh dosas and naans are also be served at the table. No more disposable plates and no waiting.

Patrons are asked to reserve a table before they arrive.
______________________
Minus5° Ice Experience

and

1923 Prohibition Bar

...
...

at The Shoppes at Mandalay Place have reopened with updates hours of operation Wednesday-Sunday 3 to 11 p.m. and all-new décor

.
Minus5° Ice Experience

...
s been maintained at 23 degrees Fahrenheit for the duration of the citywide shutdown and underwent a complete makeover, now featuring all-new ice décor.
New displays include paying homage to Las Vegas' new pro-football team the Raiders, Elvis and murder hornets, an interactive Plinko game, and more.
Adjacent to Minus5° Ice Experience is the brand-new, prohibition-themed

1923 Prohibition Bar

...
... a private, hidden, modern speakeasy serving bourbon spirits and signature barrel-aged specialty cocktails. The elegant venue will feature live burlesque shows, live rock band karaoke and bourbon education and tasting classes.
______________________
RESTAURANT CLOSINGS
Morel's French Steakhouse & Bistro

...
...with a patio on the Strip, weekend brunch, cheese and charcuterie bar representing 60 farmhouse and artisanal selections, and raw bar decided to permanently close after 12 years at The Palazzo.
Carnegie Deli at The Mirage

...
...

at the MGM Grand ...also closed.
...closed, and

Herringbone

...
... converted into Salt & Ivy.
Ricardo Zarate closed his

Once

restaurant at the Grand Canal Shoppes.
Other COVID-10 dining closures include...
...

three

PizzaRev locations...
...

both

Miller's Ale House

outlets...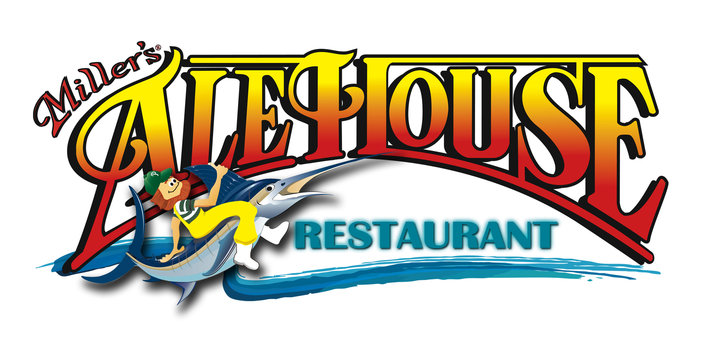 ...

four

Sin City Brewing Co

. venues...
...

Ricardo's Mexican Restaurant

...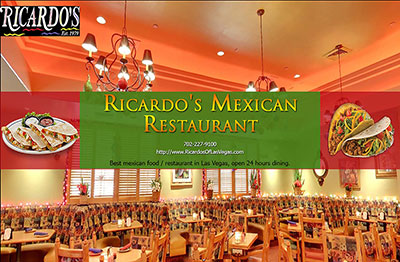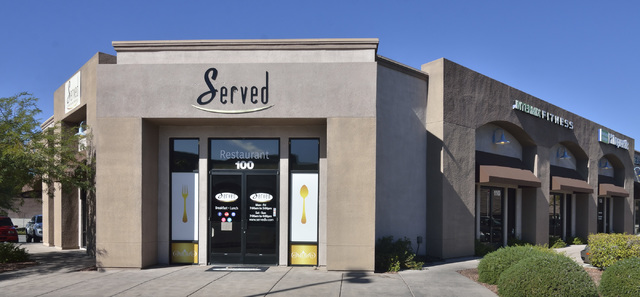 __________________
Oscar's Steakhouse at the Plaza

...
... distinguishable by the hotel's glass dome is open serving dinner 5-10 p.m. Thursday-Sunday along with the lounge and its popular happy hour from 5 to 7 p.m.
Two restaurants at South Point restaurants have won Awards of Excellence from "Wine Spectator" magazine for the eighth consecutive year.
Don Vito's

and

Silverado Steak House

have won for their expansive wine collection and program.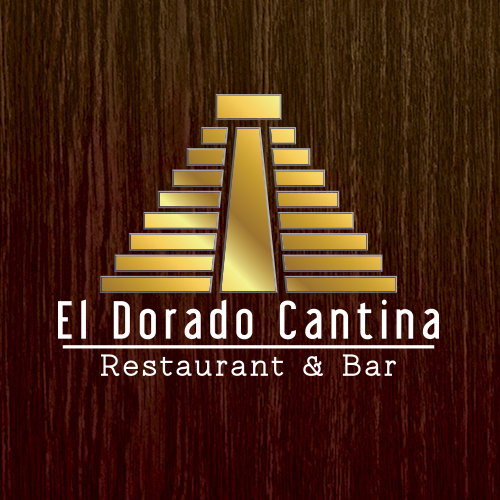 ...on Sammy Davis Jr. Drive has reopened this week with dining 3-11 p.m. daily until further notice and the location at Tivoli Village has been open since May 15.
Both locations offer Happy Hour specials 3–6 p.m. Monday through Friday.
_____________________
... located in the newly updated hotel lobby is the latest addition to the

Sahara Las Vegas

culinary program to open.
The new grab-and-go eatery offers a fresh menu with items made in-house including cold-pressed juices, focaccia pizzas, pastries, salads and sandwiches.
Hours daily are 7 a.m. to 7 p.m.
Prendi features a unique-to-Vegas Focaccia Bar featuring a variety of focaccia pizzas.
The distinctive menu is curated by Executive Sous Chef Lyle Kaku and Pastry Chef Christina Roed. Kaku brings nearly 20 years of experience including posts with Wolfgang Puck and at the Fairmont San Francisco prior to joining the Sahara. Roed's culinary talent is demonstrated through more than a decade of experience as a pastry chef at Las Vegas resorts including Ritz-Carlton Lake Las Vegas and Mandarin Oriental.
______________________
MOON PALACE IS NEW QUICK SERVE AT THE PALAZZO
Moon Palace at The Palazzo

...
... is a new concept from David Chang and the team behind Majordōmo Meat & Fish at The Venetian.
Moon Palace aims to serve quick, tasty food in a fast-paced environment. The eatery centers around a compact menu of Tastys, Hot Chips, and Half Dips.
To order at Moon Palace, guests line up along an open kitchen where they can watch the cooking team griddle Tastys and frying Hot Chips.
Guests can take their food to go or grab a seat at one of 20 stools along a counter top with a view of the kitchen.
______________________
ARISTOCRAT OPENS FIRST EVER 'BUFFALO BAR' AT
RAMPART CASINO
Aristocrat Technologies is launching the first ever

Buffalo Bar at Rampart Casino in Summerlin

.
The newest evolution of the fan-favorite brand, Buffalo, offers space with a wide variety of Buffalo themed slots and keno. Located just off the casino floor, the Buffalo Bar features 1,095 square feet of gaming and nine bar seats with corresponding Aristocrat bar-top games and in addition offers the signature "Hairy Buffalo" cocktail.
______________________
EL DORADO CANTINA OPENS SECOND LOCATION
...

opened its second Las Vegas location at Tivoli Village

serving its popular authentic Mexican cuisine featuring sustainably sourced, organic, non-GMO ingredients.
Hours are 24/7 with Happy Hour running 3–6 p.m. and 1–3 a.m. daily.
The 6,200-square-foot restaurant's interior celebrates the lifestyle and culture of ancient Latin civilization in a stylized and modern way.
Dark wood, richly appointed booths and furnishings, stained-glass fixtures, gold and red accents, and one-of-a-kind hand-painted art installations are surrounded by El Dorado's signature red rose walls.
The venue accommodates up to 268 guests including two private dining rooms and outdoor patio seating. Hand-painted frescos designed by local muralist and tattoo artist Brett Rosepiler of the ISI Group, adorn the front patio space adjacent to the entrance.
El Dorado Cantina is introducing several new additions to the menu including a variety of vegan selections and the inclusion of several Latin-inspired dishes crafted by their new corporate culinary team. Plans to launch Sunday brunch service are in the works.
___________________
RESTAURANT LINEUP FOR CIRCA UNVEILED
Excitement mounts for the

opening in December 2020 of the new Circa Resort & Casino

...
... currently under construction on Fremont Street.
The restaurants will include

Barry's Downtown Prime

,

8 East

,

Project BBQ

,

Saginaw's Delicatessen

, and

Victory Burger & Wings Co

.
Barry's Downtown Prime

will showcase vintage glamour and evoke a throwback vibe of the 50s and 60s with the finest steaks and seafood, fresh tableside preparations, creative cocktails and a memorable service experience.
8 East

will be the first pan-Asian restaurant from Chef Dan Coughlin. 8 East will offer Coughlin's creative takes on pan-Asian cuisine spanning Chinese, Japanese, Vietnamese, Korean and Thai dishes and communal dining.
The beverage program curated by Sonny Ahuja and Don Welch of Downtown's Bin 702 will highlight rare Japanese whiskies and sakes, and specialty cocktails.
Project BBQ

by Chef Rex Bernales will be the first permanent food truck and Carolina barbecue joint situated on Circa's exterior on the Fremont Street Experience. The menu will offer pulled brisket, pork, chicken and more.
The overindulgent "Garbage Bowl" will include handmade potato chips covered in signature meats with a trio of Carolina BBQ, beer and cheese sauces, then topped with applewood-smoked bacon and coleslaw.
Saginaw's Delicatessen

will mark Detroit restaurateur Paul Saginaw's first new restaurant outside of Michigan, where he's famous for Ann Arbor's famed Zingerman's Deli, which he opened with partner Ari Weinzweig in 1982.
Saginaw's menu will include his famous Reuben and several more of his creative sandwiches as well as Zingerman's Coffee.
Victory Burger & Wings Co

. from American Coney Island's Chris Sotiropoulos and Grace Keros, who are third-generation owners of Detroit's 102-year old business, will be the first new concept from the brand's founding family in more than a century.
Victory Burger & Wings Co. will overlook the sportsbook and serve specialty burgers, wings and appetizers. The star of the show will be the Victory Burger, featuring a ½-pound patty made with a proprietary blend of Angus beef, short rib and brisket topped with a secret sauce. Circa will be Downtown Las Vegas' first ground-up casino resort since 1980 and feature a massive pool open 365 days a year and the world's largest sportsbook.
___________________


THE COSMOPOLITAN UNVEILS REDESIGNED

VESPER BAR
The Cosmopolitan has reintroduced the newly designed

Vesper Bar

...
...a staple of the resort's renowned mixology program and serves as a complement to the luxury casino-resort's lobby and guest arrival experience.
Named after the legendary Vesper cocktail in the James Bond novel "Casino Royale," Vesper Bar's redesign reflects the iconic mystery of 007 with modern décor, bold accents and an innovative menu.
Located off the main lobby on the first level of the hotel's Chelsea Tower, Vesper Bar is open 24 hours daily.
The atmosphere is highlighted by mirrored tiles, bold patterned carpet, plush lounge seating with rich upholstery in velvet jewel tones alongside contemporary fixtures, undulating brass pipes above the entire space, a main bar finished with deep red Rosso Levanto marble and a multi-tiered custom brass bottle display, and artwork curated from the 1960s-70s.
______________________
BUGSY & MEYER'S STEAKHOUSE WILL

OPEN AT FLAMINGO
When

Bugsy & Meyer's Steakhouse opens in early 2020 at the Flamingo

...
... the new $10 million restaurant will pay homage to the hotel's more than 70-year history.
The name is a nod to Benjamin "Bugsy" Siegel and business partner Meyer Lansky, who famously opened the Flamingo back in 1946 creating the first resort-style hotel on the Strip. The Lansky family is involved in the new steakhouse, even assisting in creating original merchandise.
The new vintage dining venue will be located across from the Flamingo Wildlife Habitat main entrance, in the former Center Cut, Café To Go and Laurel Lounge spaces.
The atmosphere will help transport guests back in time starting with a discreet entry through the "bakery" façade and past the kitchen and dry aged meat cooler.
Once actually inside the steakhouse, an eye-popping dining experience awaits.
The restaurant will boast a variety of
ambiances
, including the main bar, patio dining, a bustling main dining room, three private dining rooms and a raw bar. "The Count Room" will be a luxurious speakeasy and intimate private bar lounge with an expanded specialty cocktail menu and vintage images lining the walls from when the Flamingo first opened.
The oval main bar will be a focal point with rich woods, greenery, airy textures like linen coupled with bright leather and specially curated flamingo artwork. It will have booths and tables surrounding it, making it a destination for pre-dinner, small bites or late night.
The main dining room will highlight a mix of light and dark woods with bright jewel tones and artwork popping with vintage black and white historical images.
Large booths will be anchors around the dining room, with traditional tables and half booths peppered throughout.
The three private dining rooms will embrace a collection of three themes which can stand alone but are cohesive when combined. Individually they seat between 16 and 24 guests, but as one room can accommodate close to 60.
The menu will have a vast variety of dishes including small bites at the bar, steakhouse classics and throwbacks, table side presentations, a raw bar and more. Seafood will also be a cornerstone especially with the raw bar kitchen in the main dining room.
______________________
FARMABLE KITCHEN & SPIRITS OPENS AT TOWN
SQUARE
Town Square has a new restaurant featuring Southern fare such as chicken and waffles, fried green tomatoes and orange-blossom-honey biscuits.
Farmtable Kitchen & Spirits

...
... has taken over the former Big Whiskey's American Restaurant & Bar on the north west side of the outdoor shopping mall.
Also offered are bakery items, coffee drinks, a full bar, and kids' menus.
The restaurant is open daily for breakfast, brunch, lunch and dinner

.
Hours are

Monday-Thursday 7 a.m.-10 p.m

.;

Friday 7 a.m.-midnight

;

Saturday 9 a.m.-midnight

; and

Sunday, 9 a.m.-10 p.m

.
____________________

SAN FRANCISCO'S DANDELION CHOCOLATE OPENS
AT THE VENETIAN
San Francisco's

Dandelion Chocolate

...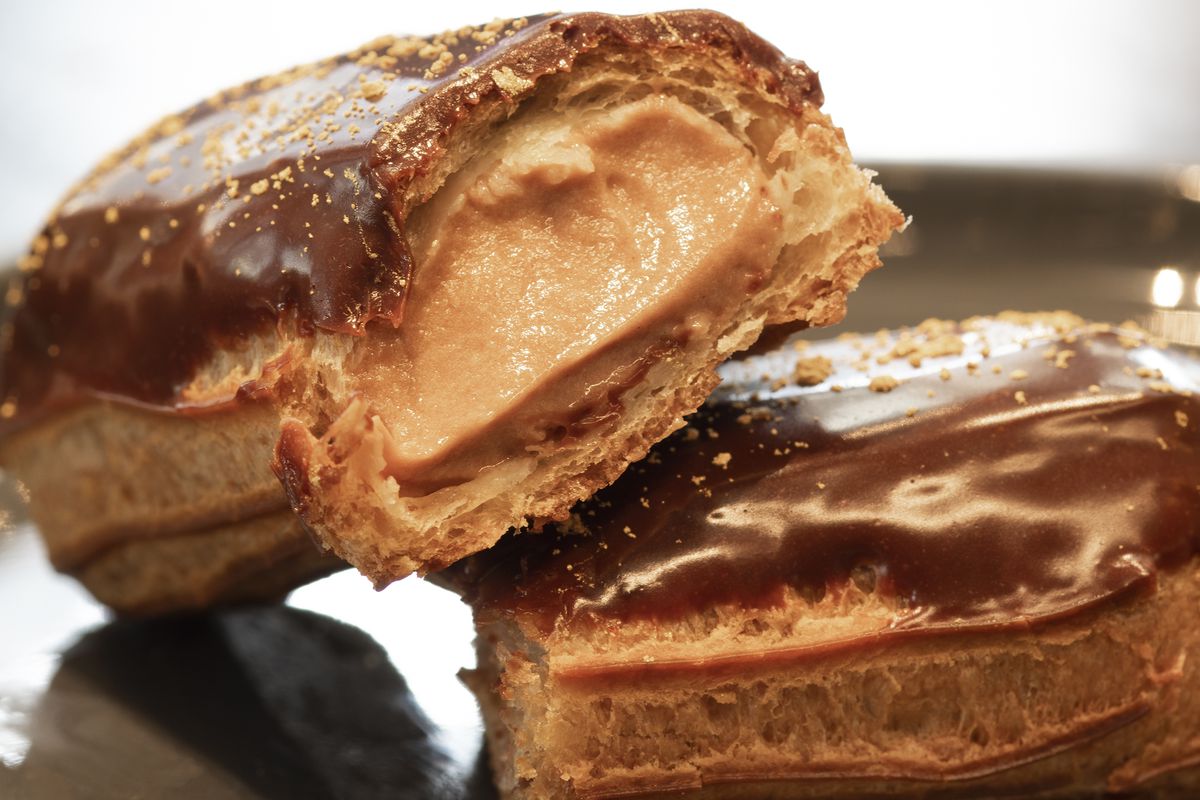 ...

has opened its first Las Vegas café and retail store in The Venetian

.
It's also the company's first permanent U.S. location outside of San Francisco, which operates six locations in Japan and one in Taipei.
The "bean-to-bar," small batch chocolate maker offers single-origin chocolate bars, alongside house-made pastries, confections, hot chocolate, and coffee drinks.
The café, which also has chocolate-themed gifts, is

open daily from 6 a.m. until 9 p.m. in a space next to the hotel lobby

.
...
at Warm Springs and Durango recently opened.
The locally owned shop offers coffee, teas, smoothies, snacks, and more in the shop or at the drive thru.
Founders' all-day food menu will feature toasts, waffles, quiches, and breakfast bowls.
Hours will be daily 6 a.m. until 9 p.m

.
SANTOS TACOS ANNOUNCES A NEW MEZCAL BAR
Santos Guisados Tacos & Beers

downtown at

616 E. Carson Avenue

opened earlier this year.
It's Las Vegas' first guisado taco shop and recently introduced a new mezcal bar and cocktail menu in its new expanded bar.
Santos' new beverage program features small batch mezcal from Oaxaca, crafted Sangritas and house-made specialty salts.
The cocktail menu has been developed by master mixologist

Michael Carlisi

, who lived in Oaxaca and worked directly with the regional spirit. Born and raised in the Bay Area, Carlisi has been involved with some of the most formative restaurant and bar entities in northern California, such as Comal (where he won best margarita award), Slanted Door, The Douglas Room and Cesar.

TOASTED GASTROBRUNCH DEBUTS IN LAS VEGAS
... Las Vegas' first Gastrobrunch concept featuring restaurateur Sami Ladeki's creative and playfully decadent breakfast and lunch cuisine, opened last week at

9516 W. Flamingo Road off Highway I-215 freeway

.
Hours are daily 7 a.m.
–3 p.m.
with breakfast and brunch service

.
Breakfast cocktails, Bloody Marys and flaming coffees complement staples such as Red Velvet Pancakes, Shrimp & Grits, and innovative versions of Egg Benedicts and French Toasts like the Short Rib Benny and Elvis French Toast.
The menu is very creative and entertaining to read with eye-catching names like Eggs in Purgatory and Duck Confit Toast.
Most dishes cost between

$11

and

$16

.
Ladeki also owns Sammy's Woodfired Pizza & Grill locations, which is apparent if you get a to go bag, which has both restaurants' logos.
Portions are very generous so you may need a container.
BINION'S OPENS NEW WHISKEY LICKER UP SALOON
... a full-service saloon with a rotating bar as its centerpiece, opened downtown at
Binion's
.
The 10,000+-square-foot facility is located directly above the existing Whiskey Licker Bar and Patio on the southwest corner of the property.
The rotating bar overlooks Fremont Street and first street stage, with two open air balconies.
The setting is located within feet of the Slotzilla Zoom Line and all under the bright lights of the Fremont Street Experience.
Whiskey Licker Up offers drinks, fresh food dining from a scratch kitchen, dancing, live entertainment and virtual reality pods. The menu includes food choices like a classic "Licker Up" burger, Grilled Pear salad, or Ahi Poke Cones.
_________________________
BELLAGIO UNVEIL LAKESIDE SUPPER CLUB
Bellagio

will launch of

The Mayfair Supper Club

...
...an elegant restaurant featuring contemporary American cuisine and nightly live entertainment, over New Year's weekend.
Inspired by top supper clubs in London and around the world, The Mayfair will redefine the traditional "dinner and a show" set to the backdrop of The Fountains of Bellagio.
MGM Resorts partnered with London and New York-based Martin Brudnizki Design Studios to create whimsical moments, which will transport guests to a fanciful and flexible environment.
The Mayfair also will serve as the ideal location for booking special events.
_________________________
PIZZERIA SIXTH+MILL AT VENETIAN
... opened its second location last week serving lunch and dinner at Grand Canal Shoppes inside The Venetian.
Created by Matteo Ferdinadi and Chef Angelo Auriana of FactoryPlaceHospitalityGroup, sixth+mill joins sister restaurant Factory Kitchen, which opened in the former B&B Ristorante space earlier this year.
_______________________________
SMOKED BURGERS STARTS KARAOKE, FOOTBALL
BRUNCH AND MORE
Smoked Burgers & BBQ

at The Forum Shops at Caesars Palace...
... is starting "

Liquid Courage Karaoke

" nights.
The twice weekly sing-off is in partnership with established karaoke operator, 15 Minutes of Fame Entertainment, and held

every Tuesday from 8 to 11 p.m. and Friday from 9 p.m. to midnight on the open-air Stripside patio

.
Each week, restaurant patrons will take turns belting out tunes along with special guest contestants who will be auditioning for NBC's "The Voice."
In addition, the patio bar will host the first event in its new "

Bartender Brawl

" series, taking place every Tuesday.
For this eight-week contest, local flair bartenders will compete to win the grand prize: a cruise to the Bahamas provided by 15 Minutes of Fame Entertainment. Each week, three participating bartenders will perform a demonstration and the winner will be selected by crowd support and applause. The eight weekly winners will compete in a semi-final event on Nov. 12 at 10 p.m. while four bartenders will move on to finale night, held on Nov. 19 at 10 p.m.
At this event, local celebrity judges will select the grand prize winner.
Smoked will launch its first all-you-can-eat football brunch menu featuring breakfast favorites for

$49

. Also,

10%

off a bil

l is available for guests who present their sports betting ticket from any Caesars Entertainment property within seven days of the printed date and fans who present their entry ticket for any local professional sports team within seven days of the printed date.
TREVI AT CAESARS EXTENDS HAPPY HOUR
TREVI Italian Restaurant

inside the Forum Shops at Caesars Palace...
... will have an

extended Happy Hour from 2 to 7 p.m

. offering food and drink discounts.
FIREFLY ANNOUNCES NEW LOCATION IN SOUTHWEST
Restaurateurs Chef John and Tabitha Simmons are expanding their

Firefly* Tapas Kitchen + Bar

, which has been a staple in the Las Vegas community for 16 years, later this month when they open

a new outlet

at

7355 S. Buffalo Drive

.
The 2,400-square-foot space with an airy color palette featuring a combination of bold bright hues and warm earth tones under a sky-lit dining area will accommodate up to 80 guests inside and will have a large outdoor "backyard" patio.
The

new

Firefly*

will initially be

open from 4 to 10 p.m. Sunday through Thursday and until 11 p.m. on Fridays and Saturdays

.
Hopes are to expand into lunch, brunch and late-night hours.
_____________________________
CAKED LAS VEGAS OPENS
... formerly known as The Cupcakery Summerlin location,

opened at 7175 W. Lake Mead Boulevard in the Rock Springs Shopping Plaza

.
The complete one-stop bakeshop is owned and operated by Ricardo Gudino, who was featured on the Food Network's "Cupcake Championships."
Caked Las Vegas offers weekly specials "Flavors of the Month," in addition to a daily selection of vegan, gluten free and sugar free options.
In addition to the vast cupcake menu, there are ready-to-go celebration cakes and cake slices; custom order cakes for any occasion; Rice Krispies treats; cookies; tarts; cheesecake; cannolis; eclairs; and fudge brownies.
Hours are Monday through Friday 8 a.m.-8 p.m., Saturday 10 a.m.-8 p.m., and Sunday 10 a.m.-6 p.m

.
_____________________________

VIRGIL'S BBQ HAS NEW HAPPY HOUR AND
Virgil's Real Barbecue at The LINQ Promenade

...
... has

a new happy hour 3-6 p.m. daily and weekly summer promotions

.
"

Hump Day Blues

" are

each Wednesday

featuring an apple bourbon glazed baby back rib special,

$23.95

and blues themed music starting at 9 p.m.
Old Camp Country Night

takes over Frid

ays with a Southern Style Fish Fry for

$30

a

nd live country music bands

.
Summer Sundays

feature a

Hawaiian BBQ complete with a Kalua Pig platter for two

for

$39.95

, along with drink specials and live Island style reggae pop.
_____________________________

Some New Local Eats to Explore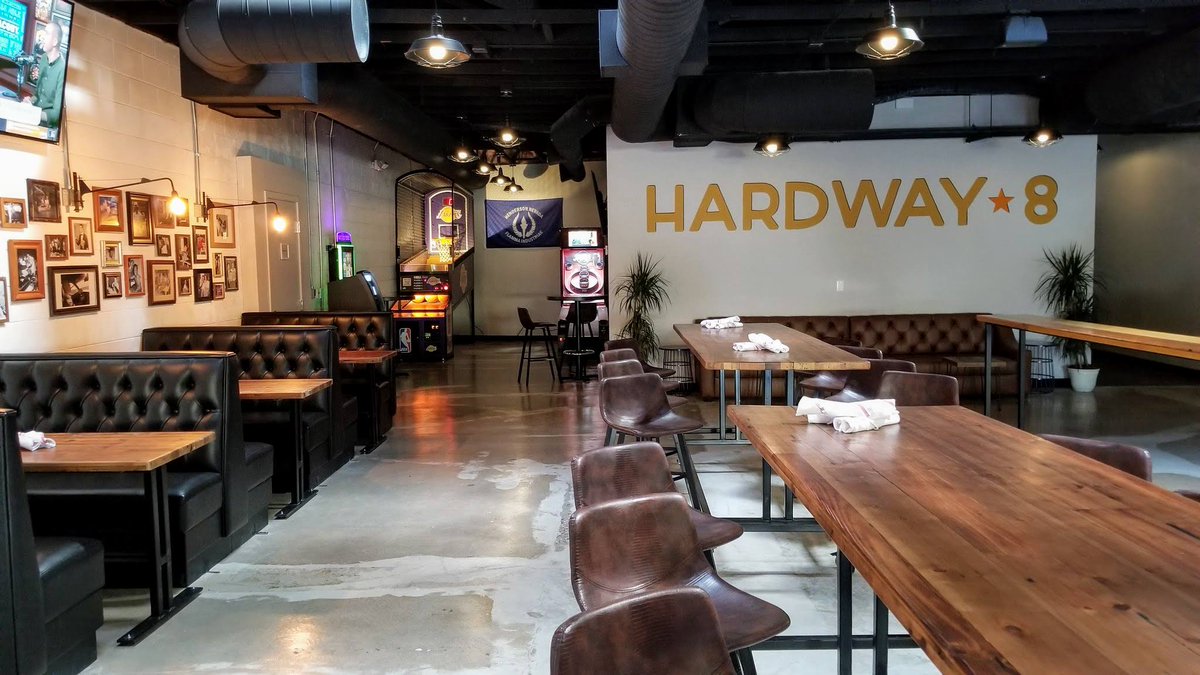 A sports bar with an elevated menu helps redefine downtown Henderson
The new arch on Water Street says it all.
Downtown Henderson is primed for a comeback and the addition of Hardway 8 is helping speed up the process. The sports bar -- operated by the same team behind Starboard Tack east of the Strip -- is heavy on local pride.
The name is borrowed from a UNLV basketball team that made the Final Four in 1977 and the bar tops are built from bleachers used at the old Las Vegas Convention Center arena.
There's even a mural on the wall dedicated to Sin City's history as a destination for jai alai.
And while the concrete bricks almost make the place feel like a high school gym, Hardway 8 is actually warm and inviting.
Shoot hoops, play Skee-Ball, or just hang out with a beer and listen to live music. No matter what, you're going to wolf down some of the best bar food in town, thanks to a menu designed by consulting chef Johnny Church.
Standouts include Fish & Chips made from North Atlantic haddock with just a light coating of batter, and a cottage pie stuffed with wine-braised short rib.
If cocktails and privacy are more your thing, grab a seat at the speakeasy-ish "trophy bar" in the corner.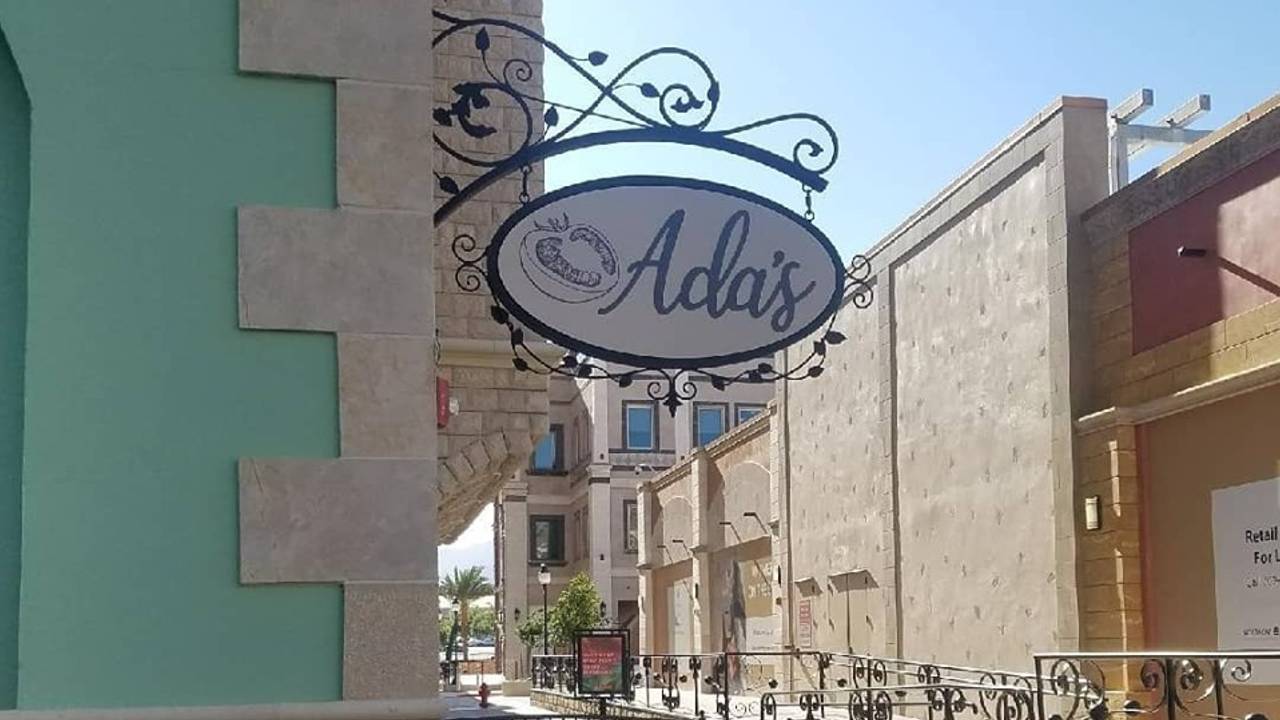 After scoring one of the best new restaurants of 2018
with

Esther's Kitchen

, James Trees keeps on pace -- and even ups his game -- with Ada's at Tivoli Village.
Those familiar with Esther's will recognize the vibrant pasta dishes, fresh baked bread served with anchovy butter, and intriguing yet affordable wine list.
But...

pizza is the main attraction here

, prepared in an open custom kitchen that adds plenty of energy to a light, casual dining room.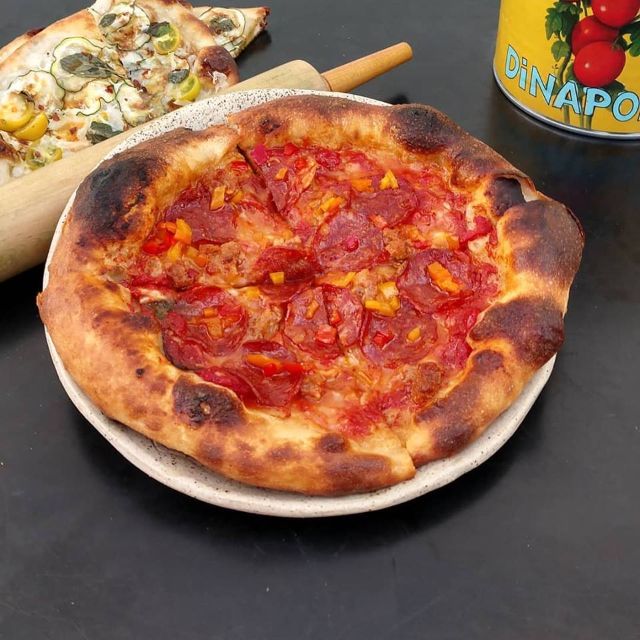 James Trees and his team perfected their own recipe with flour sourced from Utah that's less than two weeks old.
Prepared with a higher-than-average amount of salt and olive oil (and natural starters in place of commercial yeast), the final result has a crunchy bottom and chewy bread-like crown.
As the other signature item,

ice cream

thrives with fresh flavors.
The chocolate chip spearmint, for example, uses five pounds of mint leaves for every two gallons.
Round out any meal with a cocktail from the roaming gin cart and a salad made with ingredients sourced just steps away at the Tivoli Village farmers' market.
Locale

Carving out a niche in Mountain's Edge with meats, pasta, and years of Strip experience, Locale is one of the most important restaurant openings of the year.
It gives the growing Mountain's Edge community a dining destination of its own that isn't part of a chain.
Local produce suppliers announced by name on the menu.
Chicken is ordered intact from Bo Bo Farms in New York and butchered in-house.
It makes for a tender Pollo al Forno -- cast-iron roasted in the pizza oven and served with the claw attached, as if beckoning you to come eat it.
There are even more reasons to love almost every dish -- the trio of dipping sauces for the fresh mozzarella, the onion marmalade that sweetens the fried pork cheek, the bright burst of fresh mint in the braised rabbit ravioli.
Yet the biggest surprise is the limited presence of steaks on the menu.
That could change in the future, since the restaurant has an eye on opening a dry-aging facility down the line.
For now, the grass-fed Cape Grim strip from Tasmania more than makes up for it.
By the way, it's pronounced "

low

-

cal

-

eh

."
_____________________
SC PRIME STEAKHOUSE & BAR AT SUNCOAST
OFFERS NEW MENU
SC Prime Steakhouse & Bar at the Suncoast
...
... has unveiled a new, elevated menu featuring their new partner with premier cuts from Creekstone Farms along with seafood dishes, tasty appetizers and sweet desserts.
SC Prime also hosts social hour daily at its bar from 4–6 p.m.
__________________________
RED ROCK'S BLUE RIBBON SUSHI BAR & GRILL NOW
OPEN FOR LUNCH
Blue Ribbon Sushi Bar & Grill

at Red Rock Resort...
...i

s now open for lunch daily at noon until 2:30 Monday-Friday and 4 p.m. Saturday and Sunday

.
The all-new lunch menu is featuring contemporary Japanese cuisine created by Bruce and Eric Bromberg, brothers, chefsand co-founders of Blue Ribbon Restaurants.
__________________________
FASHION SHOW IS FIRST VEGAS LOCATION FOR
IKE'S LOVE & SANDWICHES
Ike's Love & Sandwiches

...
...

debuted its first Las Vegas location inside Fashion Show Las Vegas

.
Ike's Las Vegas expansion follows the recent announcement of plans to grow to more than 100 locations by the end of 2020.
This year alone, Ike's has already opened 10 new restaurants and has 64 restaurants across California, Arizona, Nevada, Hawaii and recently Texas.
Ike Shehadeh is the founder and face behind the brand.
Each location opens with its own exclusive sandwich

, imaginatively named for the community.
For Las Vegas, Ike's is introducing the inaugural

High Roller Menu

with three decadent sandwiches:
... the "

Howard Hughes

" valued at

$100

...
... for smaller appetites the "

Queen of Hollywood's Royal Cheesesteak

" at

$69
...The "

Bugsy Siegel

" also

$69

.
New regular-priced sandwiches have been added in Las Vegas: "

Don't Put Me On The Backburner

" and vegetarian option "

Silver Slipper

" paying homage to the former casino, "Silver Slipper."
The ample menu includes more than 500 vegan, vegetarian and gluten-free sandwich options.
Ike's Love & Sandwiches first opened in 2007 under the name "Ike's Place" in San Francisco and quickly developed a cult and celebrity following, due to the creative offerings on Dutch Crunch bread with "Ike's Dirty Secret Sauce."
Ike's Love & Sandwiches is

open daily 10 a.m.-9 p.m. Monday-Saturday

, and

10 a.m.- 7 p.m. on Sunday

.
_________________________
LAVO ITALIAN RESTAURANT NEW WEEKEND BRUNCH
Lavo Italian Restaurant

in The Palazzo...
... just launched a new
weekend, Saturday-Sunday, Lavo Endless Italian Brunch Buffet from 10 a.m.-4 p.m
.
_________________________
VALENCIAN GOLD RESTAURANT OPENS
... opened

at 7960 S. Rainbow Blvd., Suite 8000A

.
Two American Chefs Paras Shah and Jeffrey Weiss trained in Spain and returned to the states with a vision to bring paella to the people.
____________________
BOTH ARIZONA CHARLIE'S LAUNCH '50+ PERKS
SENIOR DAY'
This month both

Arizona Charlie's

Boulder and Decatur...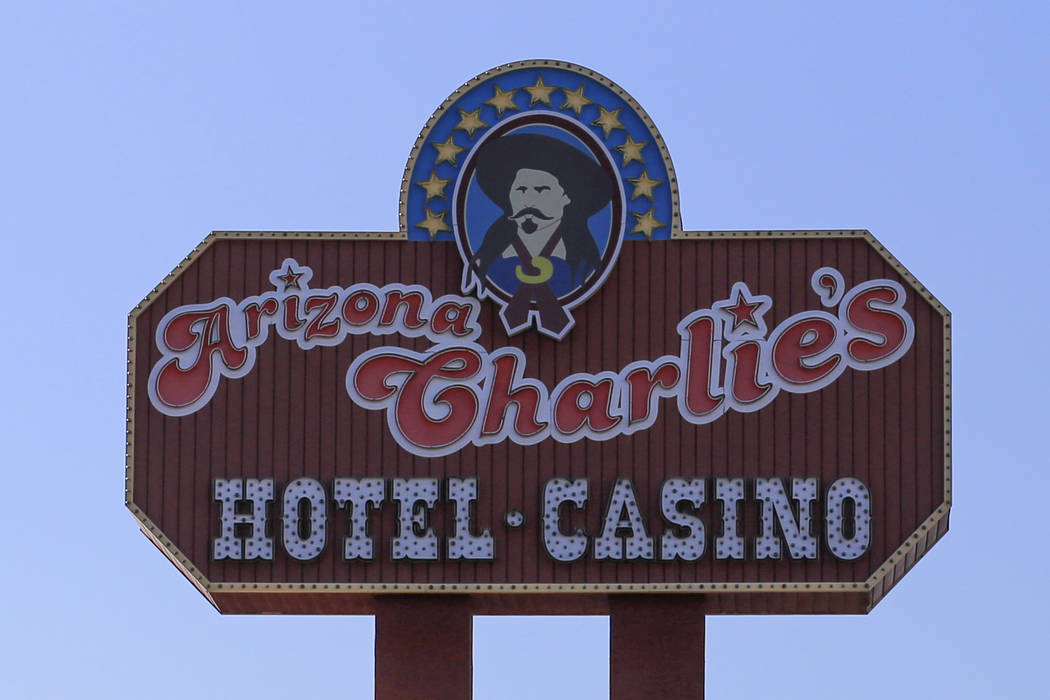 ...have launched a new "

50+ PERKS Senior Day

" promotion for guests

every Monday

.
Seniors are offered an array of promotions on Senior Days, including:

20% off

at the

Sourdough Cafe

at both properties;

one

complimentary bingo blue pack with six bingo cards

; and

a

complimentary kiosk game

where guests may spin the chance to win prizes including free slot play, bonus points and a mystery gift

.
Plus

,

on the third Monday of every month, seniors will have the opportunity to participate in a free Senior Slot Tournament' with the chance to win up to $500 in free slot play.
To take advantage of Arizona Charlie's "50+ PERKS Senior Day" promotion, guests must be 50 years of age or older and be a True Rewards member.
____________________
TWO NEW FOOD OUTLETS OPEN AT EXCALIBUR
FOOD COURT
Two new outlets...
and
Einstein Bros. Bagels and Frites, the Strip's first French fry concept...
...opened at the

Excalibur's Castle Walk Food Court

.
Both are Feel Good Brands, which has operated multiple franchises for more than 20 years in the Las Vegas Valley.
This is the first Einstein location on the Strip and to celebrate this outlet only is offering an exclusive bagel sandwich – the All Knighter through July 31.
____________________
LA CAVE AT WYNN UNVEILS NEW GARDEN LOUNGE
.... which opened in 2010, has revealed its new garden lounge, a stylish refresh of the restaurant, along with several new dishes and wines.
The most striking enhancement change is to La Cave's garden lounge, which is now enclosed in operable glass windows and offering a picturesque setting. The open-air design brings the outdoors inside with views of gardens and a pool, along with an enchanting floor-to-ceiling "living wall" filled with colorful succulents..
Corporate Executive Chef William DeMarco, who developed the original La Cave menu of American small plates, has added several new menu items including:
chicken and caviar made from chilled crispy wings, caviar and crème fraiche
$29
sea scallops with chorizo and sunny side-up quail eggs $19; short rib tacos,
$18
baked meatballs served over creamy polenta
$14
La Cave added several new wines to its expansive list of 350 bottle selections and 50 wines by the glass.
The restaurant o

pens daily at 11:30 a.m., and offers a butler-style brunch served every Saturday and Sunday from 10:30 a.m. to 2 p.m

.
____________________
EUREKA! STARTS 'STEAL THE GLASS' WEDNESDAYS
...located inside the historic Emergency Arts Building downtown is the all-American restaurant featuring an all-scratch kitchen and bar specializing in craft beer and small-batch spirits in a rustic industrial environment.
Proudly, Eureka! supports Las Vegas' proliferating craft beer scene, and spotlights a different brewery every Wednesday for "

Steal the Glass

."
For this weekly occasion, Eureka! partners with a local craft brewery to create branded glassware for guests to take home when they order the featured craft beer of the day.
The experience can include one featured beer or a "tap takeover" where the brewery taps multiple beers from a featured brewer.
"

Steal the Glass

" takes place from

6 p.m. to midnight every Wednesday while supplies last

.
Of the 40 craft taps at Eureka!, more than half belong to local breweries.
____________________
NEW NACHO DADDY HOT SAUCES AVAILABLE ONLINE
Las Vegas-born and raised beginning in 2010,

Nacho Daddy

...
...has impressed guests with its three Las Vegas locations for nearly a decade.
In addition to nachos, the modern Mexican kitchen serves all-day breakfast, healthy salads, fajitas, Mexican-American collisions, vegetarian options and a full vegan menu.
Nacho Daddy also has the sauce.
Made famous in its restaurants, Nacho Daddy now sells two varieties of hot sauce, the
Nacho Daddy Stinger Original Hot Sauce
and the
Nacho Daddy Stinger Scorching Hot Sauce
(with real scorpions).
Both varieties of sauces are available for purchase in store, at the company's website...
...and on Amazon.
____________________
DEL FRISCO'S UNVEILS NEW HAPPY HOUR MENU
... is introducing a happy hour menu served in the chic bar and lounge area

Monday through Friday from 4:30 p.m. – 6:30 p.m

. with limited seating available.
Del Frisco's Mai Tai is $15.50 and can be paired with the new elevated comfort food items:
Dry-Aged Burger; Corn Dog Battered Lobster Tails; Alaskan King Crab Cocktail; Salmon Crudo; Portabella Blue Crab Stack; Citrus Spring Scallops; and Sweet Potato Truffle Fries.
Hong Kong's
Mott 32 on The Palazzo casino floor at The Venetian ...
...has introduced

Dim Sum & Drink Sum

featuring a fixed selection of

dim sum, cocktails and wine from 5–7 p.m. and 9–11 p.m

. daily
inside the restaurant's bar and lounge.
________________________________
ALL YOU CAN EAT MONDAYS AT ROY CHOI'S BEST

FRIEND RESTAURANT
Roy Choi is bringing

limitless Korean BBQ

to the Strip with the launch o

f All-You-Can-Eat (AYCE) Mondays priced at

$65

at his Best Friend restaurant inside Park MGM

.
AYCE allows guests to choose two plates of BBQ at a time with the opportunity to mix-and-match and concludes with a chef's selection of a special dessert for the table.
Best Friend also features half-off any sake and champagne magnums on Mondays. Restaurant hours are daily from 5:00pm to midnight.
______________________
HARD ROCK INTERNATIONAL DEBUTS NEW MENU
GLOBALLY
Hard Rock International has announced its most extensive menu innovation in the company's history with more than 20 new offerings debuting in locations globally, including
Hard Rock Cafe Las Vegas Strip.
The new menu spotlights steak burgers headlined by the world's first edible 24-Karat Gold Leaf Steak Burger™, which will benefit Action Against Hunger, as well as Instagram-worthy boozy milkshakes and sliders and shareables.
The global menu launch coincides with Hard Rock's Founders' Day as a tribute to the original legends who opened the doors to the first café at Old Park Lane in London on June 14, 1971.
The company has venues in 73 countries including 184 cafes, 237 Rock Shops, 28 hotels and 11 casinos.
_________________________
BBD'S AT PALACE STATION INTRODUCES NEW BEER
TOUR PROGRAM
Guests at

BBD's inside Palace Station

...
... who purchase a craft beer and mention the secret passphrase "

In loving memory of Cliff Burton

" to their server or bartender...
... will receive a

complimentary behind-the-scenes tour of the draft system and keg room

.
The tour will focus on the custom designed draft system, two keg rooms with differing temperatures, and the bottle cellar.
Beyond just the equipment, the staff is dedicated to the system and other necessary details like line cleaning, BBD's brought the Glanola Cleaning System to Nevada, which allows the team to clean the lines "on demand," and the style-dedicated glassware to optimize each type of beer for 100 percent pure flavor delivery, and to enhance the overall beer-drinking experience.
_________________________
LETICIA'S COCINA & CANTINA OPENS AT SANTA FE
STATION
Mexican-inspired restaurant

Leticia's Cocina & Cantina

...
...with a casual sit-down atmosphere is now open at

Santa Fe Station

.
Following in the footsteps of its sister location inside Fiesta Henderson, guests can enjoy flavorful farm-to-table dishes, house made tortillas and sauces, entrees, tacos, burritos, sopas, ensaladas, chef specials and more.
Hours are

Monday-Thursday 11:30 a.m.-9 p.m

.,

Friday and Saturday 11:30 a.m. to 10 p.m

., and

Sunday 10 a.m.-9 p.m

. with

brunch served 10 a.m.-3 p.m

.
_________________________
NEW RESTAURANT HATSUMI MAKES IT DEBUT
DOWNTOWN
Executive Chef and owner Dan Krohmer of Other Mama Hospitality officially opened the doors to his newest restaurant concept,

Hatsumi

...
... Downtown in the heart of the Fremont East District and within the recently revitalized Fergusons Downtown market square.
Offering Japanese style hospitality and cuisine, Hatsumi is now

open for dinner from 5 to 10 p.m. Thursday–Monday

.
Reservations are recommended

, especially if ordering the chef's tasting menu option.
The menu is subject to change daily and comprised exclusively of the freshest meats, seafood and produce available.
For the ultimate culinary journey, an omakase-style chef's tasting menu is available for a set price starting at

$55

and quantities are limited.
Nightly tasting menus can be prepared to accommodate vegetarians and vegans if desired.
The full bar beverage program has of the largest selection of sakes in downtown, assorted Japanese beers and a curated domestic and international wine list.
________________________
TRUE FOOD KITCHEN TO OPEN AT THE FORM SHOPS
IN 2020
...a restaurant and health-driven lifestyle brand founded in Phoenix, Ariz., in 2008, has 28 locations in 11 states.
True Food Kitchen is set to open in Spring 2020 on the street level of The Forum Shops near the spiral escalator with an adjacent "True Bar."
True Food Kitchen and True Bar will feature approximately 11,314 square feet of combined indoor and patio dining space for accommodating more than 315 guests.
he distinctive "True Bar" will sit atop the nearby Reflecting Pool and offer a selection of the scratch bar's handcrafted cocktails, freshly pressed juices, organic teas, and natural refreshers, such as the Medicine Man, Hangover Rx and Kale Aid.
_____________________


ROCK & REILLY'S OFFERS NEW WEEKEND BRUNCH
... a 24-hour Irish rock pub

located in the Hawaiian Marketplace on the Strip

, has a brand-new weekend brunch service available

every Saturday and Sunday from 8 a.m. to 1 p.m

.
All entrees are either

$10

,

$11

, or

$12

and you can add a choice of bottomless mimosas or bloody marys featuring SKYY Vodka for $20 more.
The brunch can also be enjoyed on the patio.
The brunch features traditional breakfast favorites, a variety of Benedicts, Quinoa Bowl, different Toast offerings, and more.
__________________________
HAKKASAN LA
UNCHES 'ALL THAT AND DIM SUM'
A new venture by the

Hakkasan Restaurant

at the

MGM Grand

.
The new concept is

a late-night 10 p.m. dinner happening every Thursday

and featuring a specialty menu with small bites, creative cocktails and sake.
The detailed prix fixe menu, which will change throughout the season, is divided into sections beginning with "All That" featuring calamari, stir-fry mushroom lettuce mushroom wrap, and pan-seared Shanghai dumpling. "And" introduces crispy duck canapé and tuna.
"Dim Sum" includes Wasabi prawn, scallop shumai, asparagus prawn dumpling, and crispy morel mushroom puff.
Dessert is the chef's selection promising to surprise, impress and render the diner helpless to resist.
Service is attentive and informative about each course.
Dinner price starts at

$70

.
___
____________________________
BUDDY V's RISTORANTE AT THE VENETIAN HAS NEW
REVAMPED BRUNCH MENU AND ENTERTAINMENT
Buddy V's Ristorante inside the Grand Canal Shoppes at The Venetian

...
...has new menu items and revamped its weekend Saturday-Sunday brunch.
Nicholas Cole and The Baker Boys
perform three nights a week Tuesday–Thursday 5:30-9:30 p.m., in addition to Sunday brunch.
Buddy V's is also updating Happy Hour with

$5

domestic bottles

as well as

$6

small bites

.
New hours for Happy Hour are 3-5:30 p.m. daily in the lounge and 11:30 a.m.-5:30 p.m. on the indoor "patio."
___
____________________________
CIPRIANI LAS VEGAS OFFERS NEW LUNCHEON MENU
...i

nside the new Wynn Plaza Shops

, is introducing

a new three-course lunch menu available for

$29

from 11:30 a.m. to 4 p.m. every day
.
With this new menu, guests can mix and match new items and classic Cipriani dishes.
This is the brand's first venue on the West Coast.
___________________________________

BROKEN YOLK CAFÉ OPENS IN TOWN SQUARE
The breakfast and brunch spot is

open daily from

6 a.m. to 3 p.m

.
Over the past 40 years, The Broken Yolk Cafe has won countless awards in the "Best Breakfast" category from publications.
The Broken Yolk Cafe has 15 locations in San Diego locations and a total of 34 throughout Southern California, Arizona, Illinois, Florida and Southern Nevada. Ten more locations are planned to open by late 2019.
_______________________________
NEW SOCIAL HOUR AT "BLUE RIBBON" IN
COSMOPOLITAN
B
lue Ribbon Las Vegas inside The Cosmopolitan

...
... has introduced an all-new revamped

Social Hour menu Monday-Friday from 5-6:30 p.m

.
Menu is an array of small bites including ½ dozen Oysters, Baked Clams, King Crab Egg Shooters, Steak Tartare, Sweet Potato Poutine and more alongwith a wide selection of beers, wines and specialty cocktails.
_______________________________
CRAFT + COMMUNITY IS NOW OPEN AT HARD ROCK
Craft + Community inside Hard Rock Hotel & Casino

...
... took over the space formally occupied by Culinary Dropout.
The new restaurant is operated by The Morton Group and features a relaxed atmosphere serving comfort foods and curated drink menu.
The restaurant with garage-style doors opening directly onto the 3,000-square-foot pool patio is located on the casino floor with more than 6,000-square-feet inside and seating for more than 320 guests.
The menu offers such items as avocado toast, beer-battered fish-n-chips, and the C+C burger. Live music will also be featured.
Craft + Community opens at 11 a.m. on weekdays and 10 a.m. on weekends remaining open until 11 p.m. and midnight on Saturday and Sunday

.
Brunch is served Saturday and Sunday 10 a.m.–3 p.m. and happy hour runs Monday–Friday 3–6 p.m

.
_____________________________
... is a new fast casual dining experience

at SLS

featuring authentic, traditional Mexican dishes with a modern twist and sharable bites.
There's also a variety of street tacos with hand-crafted tortillas made fresh daily.
For the sweet tooth, there are house-made churros served with a trio of sauces.
____________________________
DON'T TELL MAMA


... located at

517 Fremont Street

is open at Neonopolis downtown
.
The cozy piano bar lounge features singing servers and live piano accompaniment for open-mike opportunities.
____________________________

NEW MENU ITEMS AT SHARKY'S MEXICAN KITCHEN
Sharky's Modern Mexican Kitchen

...
... at

5070 Blue Diamond Road

has introduced four new menu items.
With a commitment to serve clean ingredients, selections include chicken tinga burrito, guajillo-braised pork and quinoa bowl, a flavor-packed quesadilla, and pork nachos.
Happy Hour is daily from 3-6 p.m

.
_____________________________
TRIPLE 7 BREWERY ALL NEW BREWHOUSE
...Is offering a robust lineup of unique, high-quality beers each month throughout the year, all brewed inside Triple 7's all-new brewhouse.
Beer enthusiasts ordering one of the freshly-brewed beers for at least four months can earn the perks with Triple 7's new "

Brewtifully Crafted Collection

" rewards program.
To participate in the program, guests need to request a punch card to earn rewards.
_________________________________
OPEN TABLE NAMES THREE RESTAURANTS IN VEGAS
AREA AS "MOST ROMANTIC IN AMERICA"
... and

Mesquite Gaming's Katherine's Steakhouse inside the Casablanca

a 90-minute drive from Las Vegas made the list for the third straight year.
The acclaimed steakhouse made the list along with

Hugo's Cellar at the Four Queen

s and

Joe Vicari's Andiamo Italian Steakhouse at The D Las Vegas

.
____________________________
... Las Vegas' first guisado taco shop, opened downtown at

616 E. Carson Avenue

.
The décor for the 40-seat restaurant draws its inspiration from Mexican churches showcasing traditional and non-traditional Mexican saint and angel décor highlighted by playful celebrity saint candles.
An entire wall is illuminated in candlelight, and there's a mural by local artist José "Killz" Lopez.
With Santos, Las Vegas hospitality veteran, Eduardo Cordova pays homage to the homestyle dishes he enjoyed while growing up in Mexico, featuring a taco format made with homemade tortillas.

The eatery opens daily at 11 a.m

.
____________________________________
MANZO IS OPEN AT EATALY AT PARK MGM
...an intimate Italian butcher's restaurant with a wood-burning grill, is now open and nestled quietly i

nside the bustling marketplace Eataly at Park MGM

.
Manzo in Italian means "beef," thus the new outlet focuses on prime cuts from sustainable butcher farms cooked over live coals.
The restaurant's central point is the custom-built, three-tier wood-burning grill, where a careful selection of white oak, apple wood and coals are used.
Manzo's signature dish is the 40-ounce "Ribeye Appesa," suspended over the grill, slow-roasted and reverse-seared to perfection.
Guests can sit at the bar or directly in front of the grill to get a closer look at the preparation.
The menu also includes dishes featuring fresh pastas made in-house by Eataly's own pasta makers.
Manzo is open 5 to 11 p.m., Tuesday through Sunday and has an intimate private dining room for up to 10 guests

.
_______________________________
THE STOVE STARTS BOOZY-BRUNCH CONCEPT, THE
MIMOSA GARDEN
Celebrated chefs

Antonio Nunez

and

Scott Commings

have introduced a new boozy-brunch concept at their restaurant

The Stove Las Vegas

...
...

in Henderson at 11261 Eastern Avenue

.
The two chefs wanted to introduce a patio-style social setting in

The Mimosa Garden

to encourage conversation between nibbling light bite offerings and sipping impressive champagne.
The social-oriented brunch is held

every Thursday-Sunday from 7 a.m. to 3 p.m

.
Guests can partake of unlimited house bubbles, French champagne upon request, and even a champagne-meets-bong challenge.
The coveted Chambong experience is priced at

$10

each or

$17

for two

. Bottomless champagne is

$17

per person, or

$7

per glass with house-made flavors including blackberry, orange, pineapple, peach, hibiscus or cranberry.
_______________________________
NOMAD RESTAURANT IN THE NEW NOMAD HOTEL IS
SPECIAL
T
he new

NoMad Restaurant

...
...inside the new

NoMad Las Vegas Hotel located at 3772 Las Vegas Blvd. South

...
... is the true meaning of "

grandeur

."
The majestic library setting-dining room features 23-foot ceilings with the surrounding walls completely covered with book selves packed with 25,000 books and many of them from David Rockefeller's private collection, which you're allowed to handle.


The spectacular interior design was meticulously overseen by French architect Jacques Garcia and inspired by the renowned Royal Portuguese Cabinet of Reading in Rio de Janeiro and the iconic Library of NoMad New York.
The menu celebrates American classics in a grand and continental way with a balance of accessibility, theatricality and luxury. This is truly one memorable restaurant experience!
The phone number of the hotel is (702) 730-700. Check out these web sites:
__________________________________
Virgil's Real Barbecue at The LINQ Promenade

...
is now serving

breakfast daily Monday-Friday from 8-11 a.m

. and

brunch on Saturday and Sunday from 8 a.m. to noon

.
_________________________
BLUE RIBBON OPENS AT RED ROCK
New restaurant

Blue Ribbon Sushi Bar & Grill

...
...debuted inside

Red Rock Resort

.
Blue Ribbon Restaurants, co-founded by brothers and chefs Bruce and Eric Bromberg, was started in 1992 and now operates more than 20 culinary destinations across the country.
This new endeavor marks the return of Blue Ribbon Sushi with an all-new Japanese-style restaurant and bar featuring an indoor and outdoor dining experience complete with a traditional 12-seat walnut sushi bar, a roofed cocktail bar with patio seating, and a festive outdoor beer garden known as a Kanpai Garden.
AsfourGuzy Architects out of New York City drew their design inspiration from a meandering Tokyo street scene highlighting recycled walnut wood bars, cedar huts, communal tables, laser cut illuminated metal screens, chochin paper street lanterns and vibrant glazed Japanese tile work.
Operating hours will be

daily from 4:30 p.m. to 11 p.m. and midnight on Friday and Saturday

.
________________________________
NEW SADELLE'S RESTAURANT OPENS AT BELLAGIO
... SoHo's vintage-style restaurant from Major Food Group, opened

in Bellagio overlooking the resort's conservatory

.
Major Food Group's other Las Vegas dining experience, which opened in 2015, is Carbone at Aria.


Sadelle's brings an elevated perspective to all-day dining daily o

pening for breakfast at 6 a.m

. and segueing through

lunch and dinner until midnight

with approachable cuisine usually found in cafés and bakeries.
The 10,000-square-foot environment envelops guests with a combination of colorful pastels and touches transporting diners back in time to a grand café along an old European boulevard.


Design highlights begin with an impressive entrance featuring a bakery cart, crystal chandelier, herringbone parquet floors and paneled blush walls.
The main dining room can shift seamlessly from a bright airy lunch spot to an intimate nighttime destination.


The elevated bar-and-lounge is highlighted by a demilune bar, clamshell lounge chairs and serpentine sofas.


A private dining room offers a nod to Art Nouveau with the upholstered walls having a feathery botanical print and the carpet radiating a starburst pattern.


___________________________________
"BEST FRIEND" OPENS AT PARK MGM
Roy Choi's first Las Vegas restaurant
Best Friend
...
____________________________
NEW HOME FOR DIABLO'S CANTINA
Diablo's Cantina

...
...has a new home at the

Luxor

in space

formerly occupied by Tacos & Tequila

.
Diablo's boasts vibrant Mexican fare rooted in the culture and traditions of Mexico City.
_______________________________
DINING ROOM REMODELED AT "TOP OF THE WORLD"
The Top of the World restaurant

on the 106th
floor of the Strat...
... has unveiled its remodeled dining room along with new food and wine menus.
The dining tables transitioned from white tablecloths to tables with a Kinon surface, with candle holders reminiscent of street lights, new chairs and reupholstered furniture.
The remodel also includes a redesign of the lobby, improved lighting, and a full sound system upgrade.
_____________________________
LA COMIDA DOWNTOWN HAPPY HOUR
Mexican restaurant

La Comida

downtown...
...

has added a variety of Happy Hour offerings available daily from 3 to 6 p.m

.
The eatery's signature margaritas and rotating select shots are

$5

, along with import, domestic and draft beers for

$4

.
Appetizer selections including nachos are

$5

.
Bottomless mimosas are available daily for

$19

.
_____________________________
EATALY OPENED AT PARK MGM
.... just opened its second location on the West Coast at

Park MGM

.
Today there are nearly 37 Eataly stores around the globe with the first outlet opening in Torino, Italy, in January 2007. Most stores are situated in Italy.
In 2010, the first U.S. store opened in New York City. Today there are two locations in New York City, one in Chicago, one in Boston, and one in Los Angeles.
The idea behind Eataly is for it to be a destination gathering all the high-quality Italian food and drink under one roof where you can eat, shop, and learn.
_________________________________
FAVORITE BISTRO OPENS AT THE LINQ
PROMENADE
French restaurant

Favorite Bistro

...
... opened its doors and patio at the

LINQ Promenade

.
It is the first U.S. location from pedigreed restaurateurs

Thierry Bourdoncle

and

Ariane de Senneville

of Group Bourdoncle.
The 2,500-square-foot Favorite Bistro is replacing the French white tablecloth look with a lively ambiance including social banquettes, bistro tables, and patio dining space.
The menu will feature a variety of options as well at the Hangover Burger.
Brunch will be served on Saturday and Sunday from 8 a.m. to 4 p.m

.
Dining hours will start with breakfast from 8 a.m.-4 p.m. Monday-Thursday, lunch 11 a.m.-4 p.m., and dinner 4-10 p.m. and until 11 p.m. on Friday and Saturday

.
The bar will remain open until 1 a.m. and 2 a.m. on Friday-Saturday and offer a 3-5 p.m.
Happy Hour and a late-night Happy Hour from 10 p.m. to closing.
___________________________
CUT BY WOLFGANG PUCK REVEALS NEW LOOK AND
MENU
CUT restaurant

by Wolfgang Puck...
....after 10 years at The Palazzo The Venetian Resort has a new look with an expanded bar and lounge and enhanced food and beverage offerings.
At the expansion forefront is the bar and lounge, which doubled in size.
The lounge now seats 90, while the extended bar seats 20 and has a newly added shellfish and crudo bar on ice at one end.
Some new design elements include a rich and leathered stone bar, new custom plush seating paired with sophisticated acrylic top tables, textured walls and ceilings, wood flooring and a redesigned banquet room.
The bar has an expanded whiskey and brandy selection with a dramatic whiskey display behind the bar, new barrel-aged cocktails, a roving cocktail cart with bottle service, and a more extensive wine list with 1,400 selections.
____________________________
GREEK SNEEK AT MGM GRAND INTRODUCES NEW
HAPPY HOUR MENU
The new Morton Group restaurant, Greek Sneek in MGM Grand...
...is introducing

a new happy hour menu available exclusively at the bar Monday-Thursday 5- 7 p.m

. with special pricing on wine, beer and signature flatbreads.
Mediterranean-style flatbreads are $11 and drinks $6.
_______________________________
PUB 365 OFFERS NEW BRUNCH
PUB 365 inside the Tuscany

...
... now offers

brunch on Sunday from 10 a.m.- 2 p.m

. featuring bottomless mimosas

$12

.
________________________________
BOBBY MAO'S OPENS AT GALLERIA AT SUNSET
The Galleria at Sunset mall's newest dining experience is

Bobby Mao's Chinese Kitchen + Mexican Cantina

taking over the space formerly occupied by Chevys Fresh Mex at the main entrance next to Red Robin.
This is the first location in Nevada for Bobby Mao's, which offers a selection of

Chinese and Mexican fare

.
Restaurateurs Bobby and wife Tina come from Palm Desert, Calif., where they operate Bobby Mao's Chinese Kitchen.
This spot has a main dining room bar and lounge space with TVs, couches, booths and a misted outdoor dog-friendly patio.
In addition, every hour is Happy Hour with an expansive selection of specialty cocktails, including $10 Top Shelf Margaritas, $6 house wines as well as beer.
Hours are daily starting at 11 a.m

.
_________________________________
MASSO OSTERIA AT RED ROCK SUNDAY BRUNCH
Chef Scott Conant's Italian eatery

Masso Osteria at Red Rock Resort

...
.... started a weekly Sunday brunch with activated food stations, bottomless drinks, and a live DJ from 10:30 a.m. to 2:30 p.m.
The live station offering is

$42

and includes a choice of one main dish.
Bottomless drinks including a Bloody Mary bar, Bellinis or Mimosas are

$25

.
___________________________
GHOST DONKEY IS NOW OPEN AT THE

COSMOPOLITAN
Rounding out the offerings at Block 16 Urban Food Hall,

Ghost Donkey

, New York City's famed mezcal and tequila bar,

has opened at The Cosmopolitan

.
It is located on the second level of the Boulevard Tower with an intimate speakeasy style setting.
Ghost Donkey features an extensive selection of mezcal and serves expertly selected tasting flights alongside specialty crafted cocktails.
In addition, Ghost Donkey serves a selection of late-night snacks.
Hours are 4 p.m. to midnight Sunday through Thursday and until 4 a.m. on Friday and Saturday

.
____________________________
NEW FREED'S DESSERT SHOP OPENS
The new

Freed's Dessert Shop at 6475 N. Decatur Blvd

...
.... is now open providing a second location in the valley for the family-owned bakery featured on Food Network's "

Vegas Cakes

."
____________________________
POP UP PIZZA AT THE PLAZA DEBUTS REFRESHED
MENU AND EATERY
Pop Up Pizza at the Plaza

has revealed a refreshed menu and eatery, complete with a new Brooklyn-influenced mural by local mixed media artist, refurbished seating and aesthetics.
The mural titled "The New Style," is by Derek Douglas, professionally called SNIPT, a Las Vegas based-artist who has become best known for creating mixed media Pop Art mashups.
The mural's title references one of the artist's favorite tracks from the Beastie Boys' "Licensed To Ill" album.

Located just off the casino floor, Pop Up Pizza opened six years ago as the first gourmet pizzeria downtown.
The new pizza menu was created by Michael Vakneen, who will also be competing next month in the U.S. Caputo Cup national pizza competition, entering the new Old School Cheese pizza.
________________________________
RODIZIO GRILL AT GALLERIA AT SUNSET MALL
Rodizio Grill, the first Brazilian "churrasco" steakhouse in the United States in 1995, opened its first Nevada location this fall at the Galleria at Sunset mall in Henderson.
The restaurant will offer rotisserie-grilled meat carved tableside by traditionally dressed Gauchos, a gourmet salad bar, fresh seasonal fruits and vegetables, and hot side dishes.
__________________________________
LILY BAR AT BELLAGIO BEGINS COCKTAIL PROGRAM
Upscale Lily Bar and Lounge at Bellagio

...
...has launched an innovative new cocktail program curated by Hakkasan Group's chief mixologist, Tim Weigel, and a dedicated live entertainment concept, Lily Live.
Hand-crafted cocktails have interesting names such as

Lucky For You

,

Pillow Talk

and

Letter From Paris

.
Every Tuesday and Thursday at 10 p.m., Lily Live offers live music from classic and traditional pop genres.
_________________________________
'
SHIRAZ OPENS ON WEST SIDE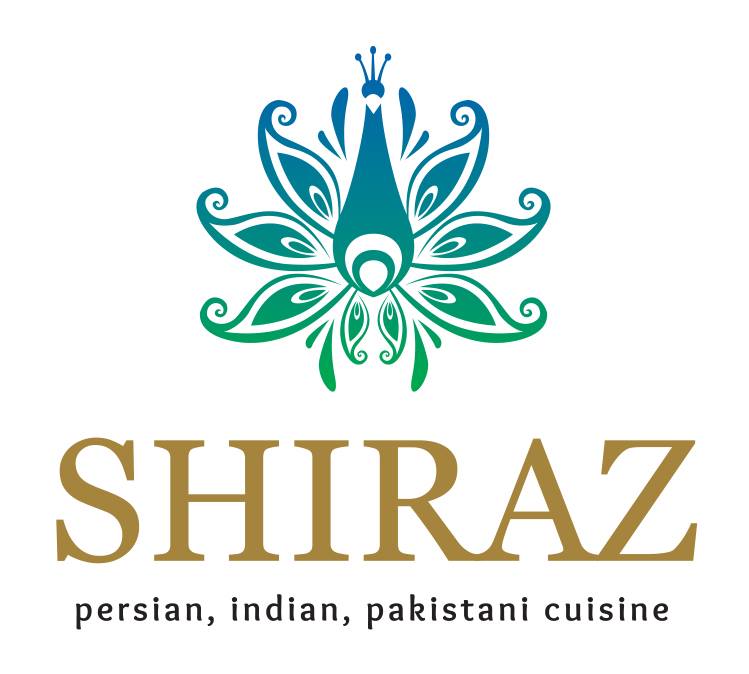 ...owned by longtime restaurateur

Raja Majid

and named after the ancient Iranian City, has opened

at the corner of Decatur and Sahara

featuring authentic Persian, Indian and Pakistani halal cuisine.
The menu offers an innovative take on Mediterranean food, a variety of vegetarian options, and dishes cooked by traditional methods, including tandoori specialties and Indian breads made in a clay oven known as a tandoor.
Le Cordon Bleu Las Vegas grad Chef Jainine Jaffer oversees the kitchen while Jozef Letasi, who has more than 10 years of bartending at various locations on and off the Strip, handles the beverage scene. Shiraz has partnered with Ace of Steaks to provide kosher catering for private events.
The restaurant is open

Sunday through Thursday 11 a.m. to 10 p.m

. and

Friday and Saturday 11 a.m. to 2 a.m

.

with live music.
______________________________
BOATHOUSE ASIAN EATERY AT PALACE STATION
The all-new Asian-inspired restaurant,

Boathouse Asian Eatery

...
... created by brother-sister team Cat and Tu Do with partner Hans Mogensen from Northern California,

has opened at Palace Station

on the new casino floor where the Feast Buffet was recently unveiled. It is part of the resort's $192 million modernization makeover.
The contemporary atmosphere features indoor and outdoor seating, a 14-seat sushi bar, six-seat noodle bar, and large cocktail bar, which offer seating for 200-plus guests.
Lunch and dinner are served daily with hours 11 a.m. to 11 p.m. and until 2 a.m. on Friday and Saturday

.
The restaurant's presentation is farm-to-table style.
The design is clean with crisp lines, wood accents and high ceilings. A wall-to-wall custom octopus mural designed to symbolize good fortune welcomes guests and hand-painted art appears throughout the interior.
Boathouse Asian Eatery at Palace Station is the company's seventh restaurant concept on the West Coast.
The trio launched their first restaurant in 2004. They are expected to open Mumfresh Asian Eats, a casual quick-serve venue with a teppanyaki-inspired menu inside Palace Station's Marketplace later this year.
________________________________
GO GREEK YOGURT OPENS AT VENETIAN
Go Greek Yogurt

opened its first location outside of Southern California at

The Venetian

.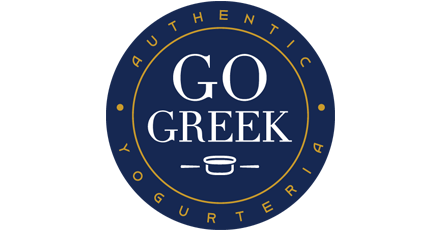 The fresh yogurt bar will feature master "yogurtiers" who customize each dish both fresh and frozen.
The thick and creamy Greek yogurt is imported by air from Greece while finishing ingredients and various toppings are also imported from Europe.
________________________________
MEAL WITH A MERMAID AT THE SILVERTON
New at the

Silverton

is

Meal with a Mermaid

...
,.. on

Saturday and Sunday at 11 a.m. and noon

.
Guests can have a 45-minute brunch or lunch next to the 117,000-gallon aquarium, while a mermaid swims in the aquarium and interacts with them.
The meal includes a beverage, starter, and choice of entrée and for children a kid's buffet.
Reservations necessary.
Cost is

$30

adults

and

$15

children

2 to 12 years old.
__________________________________
LADIES DRINK FREE AT SILVERTON HAPPY HOUR
Shady Grove Lounge at the Silverton...
... has started ladies drink

free

from

5-7 p.m. daily

.
All house wine, domestic draft beers and well cocktails are available.
_________________________________
ALL YOU CAN DRINK AT ROCK & REILLY'S
Rock & Reilly's

, located at the Hawaiian Marketplace on the Strip...
... offers a

daily

"

All You Can Drink

" deal from

noon to 2 a.m

. with unlimited same-day re-entry.
For

$50

, guests can enjoy an open bar with selective offerings including: five draft beers; premium liquor; Reilly's Ginger Whiskey; a selection of well liquors; and four specialty cocktails.
A

$30

"All You Can Drink" option with fewer selections is available daily from noon to midnight.
_______________________________
Known for its farm-fresh ingredients, modern atmosphere and community involvement,

Rolled Ice Cream

...
...founded in 2017 opened its fourth location at

4870 Blue Diamond Road, Suite 100

.
Menu items remain consistent with previous locations featuring more than 40 unique rolled creations, the ability to create your own roll, and dairy-free options.
Hours of operation are

Monday through Thursday from noon-10 p.m

. and

Friday through Sunday from noon-11 p.m

.
______________________________
ETHEL M ADDS WINE TO THEIR SIGNATURE
CHOCOLATE TASTINGS
New at the Ethel M Chocolates' factory store in Henderson...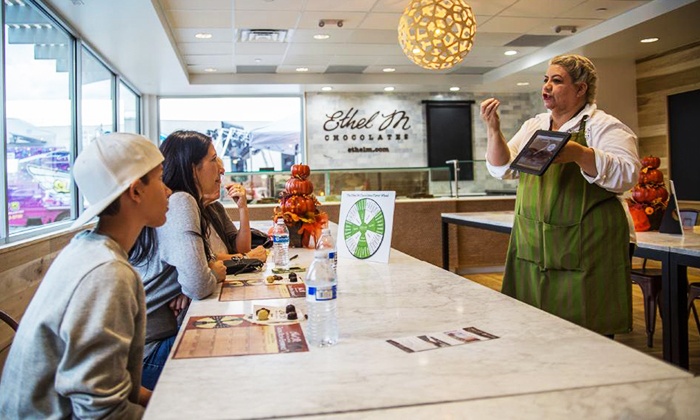 ...is the addition of wine pairing at chocolate tastings.
Visitors can now sip Trinchero Family Estates' wine alongside fan-favorite candies such as Ethel M's signature Pecan Caramel Raptures and Lemon Satin Crèmes.
Tastings with wine are held five times daily from 11 a.m. to 7 p.m. on the odd hours, and cost

$25

per person

.
Non-alcoholic chocolate tastings are available five times daily from 10 a.m. to 6 p.m. on the even hours, and cost

$15

per adult and $6 per child

.
Subject to change are tasting times, wines and chocolate flavors.
______________________________
MOB MUSEUM SELLING HOMEMADE "MOONSHINE"
The Underground at The Mob Museum

...
... is now selling its house-distilled moonshine and proprietary vodka starting at

$19.95

for 750 milliliters

and

$5.99

for 50 milliliters

.
The Underground Moonshine corn whiskey is made with double-distilled, 100-percent corn mash on-site and measuring 100-proof.
The Underground Vodka, handmade in Nevada, is 80-proof.
______________________________
RIO INTRODUCES THE WALL GAMING LOUNGE
The Rio jumps into the esports arena by introducing

The Wall Gaming Lounge

, the first phase of Las Vegas' newest interactive space by Hybrid One.
The Wall

, a multi-phased, 24,000-square-foot project

located in the Masquerade Village area

, is the first permanent esports venue for Caesars Entertainment.
The Wall boasts ample gaming and lounge space highlighted by 30 high performance Alienware gaming PCs along with some console gaming stations.
Graffiti artwork inspired by all of today's hottest games provides the gamer's vibe.
There is a focus on cash tournaments and daily challenges. The Wall features a self-serve beverage wall and mobile food/drink ordering.
The Wall at the Rio is highly interactive and allows guests to enter the space and feel immersed in a highly-visual and dynamic gaming atmosphere.
Visitors can compete like an esports professional or spectate in a social, ultramodern atmosphere.
With completion expected this fall, the next phase will feature additional chef-driven food and beverage offerings from The Wall, and competitive gaming experience.
The Wall is open Thursday-Sunday from 4 p.m.-2 a.m

.
Free

self-parking is available

.
_____________________________
"THE STOVE" OPENS AS BRUNCH SPOT NEAR
ANTHEM
Combining forces, two established chefs

Antonio Nunez

and

Scott Commings

opened

The Stove...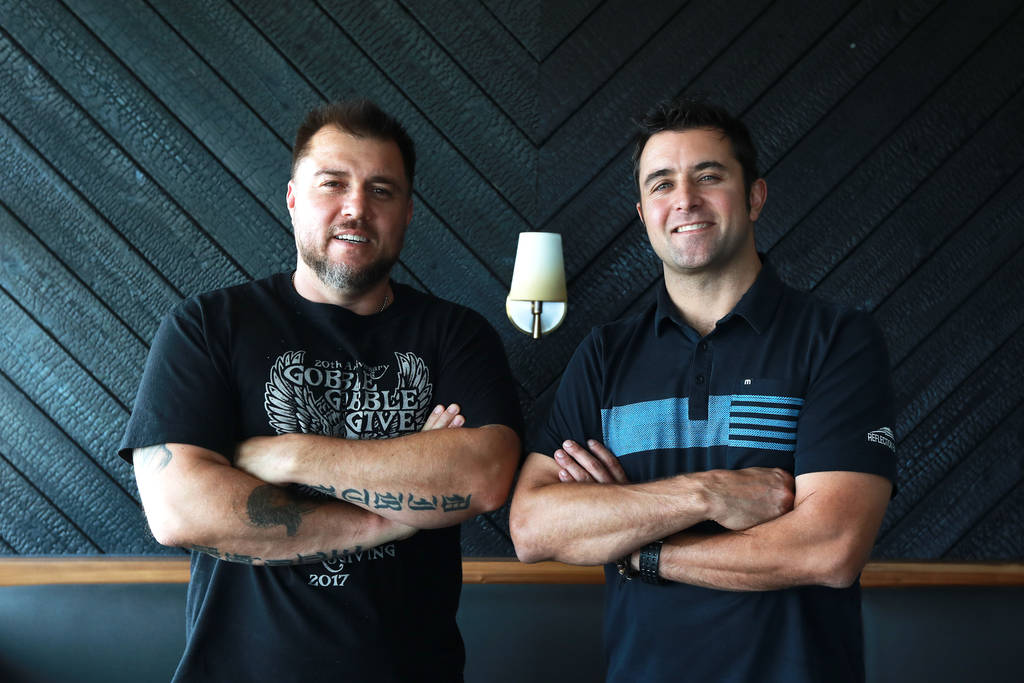 ..

.

in space formerly occupied by Standard & Pour, one of the final restaurants Kerry Simon started before his death in 2015.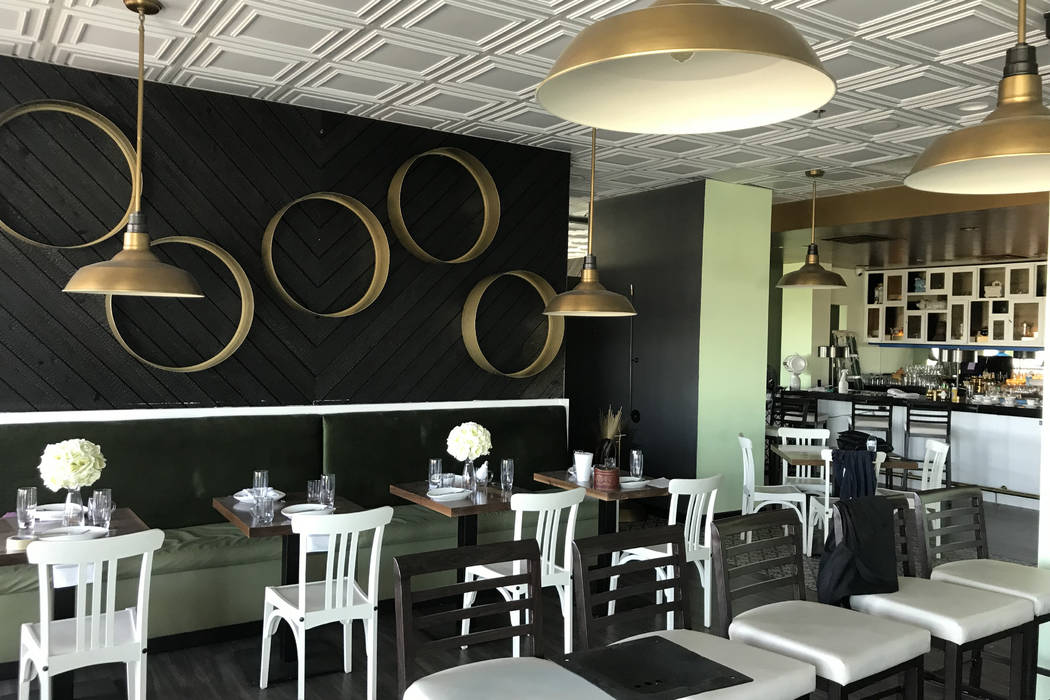 The new breakfast and lunch restaurant at

11261 Eastern Ave. in Henderson

has a menu of American cuisine with regional influences and include vegan dishes.
The Stove also has an 8-foot living garden wall providing vegetables and herbs for use in the kitchen.
The second-story eatery with a

Coffee Chill Room

,

dining room

, and

Twisted Tea Room

is open daily from

7 a.m. to 5 p.m

.
A patio offers al fresco dining with views of the valley, while a private dining room hosts up to 45 guests seated.
Nunez recently left his partnership at Kitchen Table in Henderson, and started Culinary Management with Commings, a winner of Gordon Ramsay's popular "Hell's Kitchen" reality competition program and chef and partner at Downtown Grand's Freedom Beat restaurant.
__________________________________
NEW DELI AT RAMPART CASINO
Clubhouse Deli is now open at Rampart Casino and JW Marriott
...
... adjacent to the recently updated Race & Sports Book area and new gaming lounge, featuring signature and custom-made sandwiches, salads, snacks, desserts, breakfast, and hot menu items.
____________________________________
HUSSONG'S CANTINA NEW MENU
Hussong's Cantina at The Shoppes at Mandalay Place

...
...now has an exclusive menu collaboration with Chef Katsuji Tanabe from Bravo's "Top Chef" Season 12.
Katsuji, born and raised Mexico, is the son of a Japanese father and a Mexican mother.
He recently opened The Nixon Chops & Whiskey, a Mexican steakhouse, in Whittier, Calif.
____________________________________
EMERIL'S FISH HOUSE AT MGM GRAND
Emeril's New Orleans Fish House in the MGM Grand
...
... has launched a four-course spring tasting menu for
$65
featuring signature and new dishes with seasonal ingredients.
The menu is
available from 4-10 p.m. with optional wine pairings starting at
$30
.
__________________________________
PIZZA AT MINT TAVERN
The recently opened retro 24-hour gaming

MINT Tavern

...
...has added a pizza program offering nine-inch individual pies in four flavors with 100 percent natural ingredients priced from

$8.50-$9.00

.
Another change is and a

new Happy Hour Monday-Friday, 5-7 p.m., with

$3

domestic drafts, well drinks and house wine and eight-inch pizza for

$6

.
____________________________________
THE SUGAR COOKIE OPENS SECOND VALLEY OUTLET
The Sugar Cookie

's second location...
... has opened in Henderson at

10960 Eastern Ave. Suite 109

offering gourmet sugar cookies in a variety of different flavors including lemon, cherry, chocolate, red velvet, coconut, and many more.
For the opening last week, the business rolled out two new flavors:
Cinnamon Roll with cream cheese frosting and candied walnuts and Chocolate Caramel with sea salt.
The Sugar Cookie also makes cookies in mini size, frosted or non-frosted, shortbread, and can turn any pair of cookies into an ice cream sandwich.
The first Las Vegas location is at 4624 W. Sahara Ave.
________________________________
"PORTION CONTROL" OPENS 2ND LOCATION ON ST.
ROSE PKWY
Healthy casual eatery

Portion Control

...
...

o

pened its second location inside Suite 150 at 2560 St. Rose Parkway

with its guilt-free gourmet menu.
Designed to achieve optimum health, Portion Control offers inspiring alternatives for classic American comfort foods.
The extensive clean eating menu includes breakfast, lunch, dinner and healthy snacks for dine-in, take out and meal prep services

.
Portion Control Henderson hours will be

Monday through Saturday 8 a.m. to 8 p.m. and Sunday 10 a.m. to 4 p.m

.
________________________________
HOOTERS OPENS LARGEST STEAK 'N SHAKE
LOCATION
Hooters just off the Strip just opened

, the third Steak 'n Shake location will transition to being open 24 hours daily. It will also offer a breakfast menu.
The Hooters location offers seating for more than 200 guests and an inside takeout counter. It is modeled after prototypical Steak 'n Shake locations with the red and white décor and traditional diner style but with a Las Vegas twist.
A hostess greets customers at the front entrance, and diners can sit at the bar and place their bets at one of the bar gaming stations.
In addition, the new location features a Milkshake Bar serving hand-scooped milkshakes.
Founded in 1934 in Normal, Ill., Steak 'n Shake serves premium burgers and shakes in more than 600 restaurants across the country and the world.
Steak 'n Shake is the leader in the "better burger" segment of the restaurant industry, serving hand-crafted, premium Steakburgers.
__________________________
NEW YORK'S SADELLE'S OPEN AT BELLAGIO
Sadelle's in New York
... New York City's popular vintage-style restaurant and bakery established in 2015,

opened at Bellagio

.
The all-day dining concept will transition from a breakfast-centric haven to a power lunch hotspot to a relaxing dinner locale.
___________________________
CHINA TANG OPENS AT MGM GRAND
Opening in The District at MGM Grand, renowned Hong Kong-based Lai Sun Group makes its Western Hemisphere with the debut of

China Tang

...
...which offers a dining experience reviving the glory of the Tang Dynasty regarded as China's golden age of cosmopolitan culture and cuisine.
China Tang serves some of the finest cuisine from Canton, with a touch of Sichuan, a dash of Beijing and a repertoire of dim sum.
Since introducing its first Chinese restaurant Island Tang in the heart of the financial hub in Central, Hong Kong in 2008, Lai Sun Dining, a subsidiary of the Lai Sun Group, now operates nearly 20 restaurants worldwide.
China Tang's atmosphere evokes 1930s Shanghai glamour and draws inspiration from Art Deco nostalgia with a globally curated art collection.
Each evening, the dining room comes alive with Chinese musical entertainment and a noodle pulling performance.
China Tang is open 5-10:30 p.m. for dinner on weekdays, lunch and dinner on Saturday and Sunday 11:30 a.m.-midnight, and Sunday 11:30 a.m.-10:30 p.m

.
___________________________________

BURGERIM EXPANDING
New to the burger scene,

Burgerim

...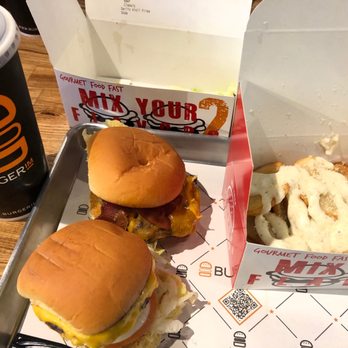 ... with a Las Vegas-location at

9635 Bermuda Road

has ramped up expansion efforts anticipating a total of 130 outlets by the end of 2018.
The Los Angeles-based company serves completely customizable 2.8 oz. gourmet burgers with 11 different patty options.
______________________________
EUREKA! IS NEW RESTAURANT IN FREMONT EAST
DISTRICT
...opened

on Fremont Street across from the El Cortez

with an industrial and modern design featuring nearly 5,000 square feet encompassing a spacious interior and patio.
Opening hours are 11 a.m. on weekdays and 10 a.m. on weekends and run until midnight or 1 a.m. accordingly

.
The new 170-seat restaurant is offering such dishes as

Osso Buco Riblets

,

Fresno Fig Burger

and

Loco Moco

as well as weekend brunch highlights

Bread Pudding French Toast

and

Steak N' Eggs

.
Eureka! features an elevated collection of the best local craft beers including Hop Nuts, Lovelady Brewing, Able Baker and more, along with small batch whiskeys and classic cocktails.
FLOCK & FOWL OPENS AT THE OGDEN
...a popular eatery known for its "perfect plate of chicken rice," has opened its second valley location on the ground floor at

The Ogden, a 21-story downtown high-rise, in space formerly occupied for a couple years by Itsy Bitsy Ramen & Whisky

.
In addition to the restaurant's staple – chicken rice - the new location features an expanded, globally-inspired menu and

longer hours from 11 a.m. to 11 p.m. and midnight on Friday and Saturday

than its original location on West Sahara Avenue close to the Golden Steer Steakhouse. Flock &
Fowl's new 2,500-square-foot restaurant is owned by restaurant power couple,

Sheridan Su

and

Jenny Wong

.
______________________________
THE PUB AT ARIA
Todd English P.U.B. is gone

next to Aria and the makeover is now...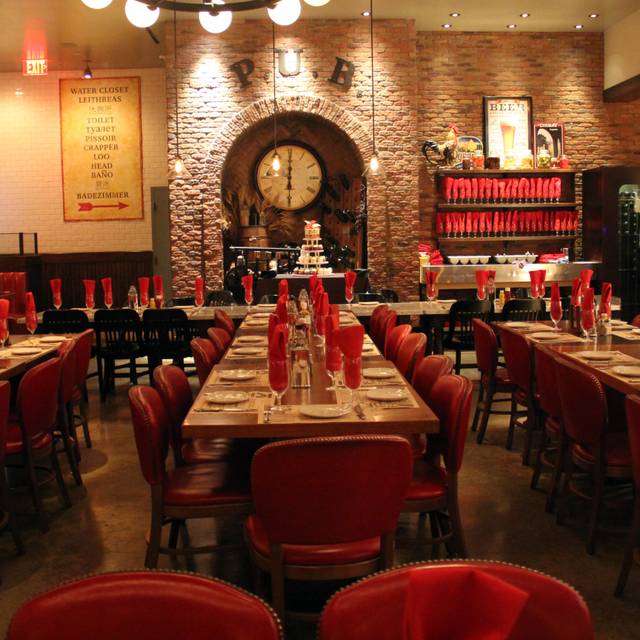 ______________________________
GUADALAJARA BACK AT BOULDER STATION
A locals' Mexican favorite reentered the dining scene at

Boulder Station

.
Cabo Mexican Restaurant was changed back into Guadalajara with its menu of authentic Mexican dishes served with generous portions.
Guadalajara was a staple at Palace Station since it opened in 1990, and at Boulder Station, opening in 1994.
In 2011, parent company Station Casinos transformed both locations into Cabo Mexican Restaurants.
____________________________
MANCHU WOK NOW OPEN AT THE PLAZA
...

opened in the food court at the Plaza downtown

offering fast and fresh Chinese cuisine.
Manchu WOK has more than 130 stores worldwide with signature dishes – like General Tso's Chicken and Orange Chicken.
Hours will be

Sunday through Thursday 10:30 a.m. to midnight

and

Friday through Saturday until 1 a.m

.
___________________________
LOLLI & POPS OPENS FIRST NEVADA LOCATION
... a growing mass-premium candy company, will open its first location in Nevada with a brand-new store at

Las Vegas' Fashion Show

.
The new store is the 46th location for the San Francisco-based company, which is on schedule to open more than 30 more stores across the United States by the end of 2018.
At the Fashion Show location, guests will be greeted with a display of colorful French macarons, marzipan fruits and a gummy bear bar with more than 15 flavors.
The 2,200-square-foot outlet will feature the brand's old-fashioned sweet shoppe aesthetic featuring soft mint green walls with gold accents and turn of the century inspired decor including a calligraphy-accented chalkboard.
"Magic Maker" staff will be dressed in bow ties, striped aprons, and straw boater hats.
_________________________
TROPICANA AND SUNCOAST HIGHLIGHT ASIAN

DINING
Located off of the casino floor, the

Tropicana

will soon debut an all-new restaurant concept,

Red Lotus Asian Kitchen

, early in 2018 featuring an approachable Asian-inspired menu offering lunch and dinner as well as grab-and-go options.
The newest dining experience at the

Suncoast

is

Peng Zu
showcasing Asian favorites in a contemporary atmosphere evoking the casual noodle shops of Hong Kong and Shanghai. Suspended overhead are 50 authentic, screen-printed parasols from China converted into an eye-catching ceiling feature.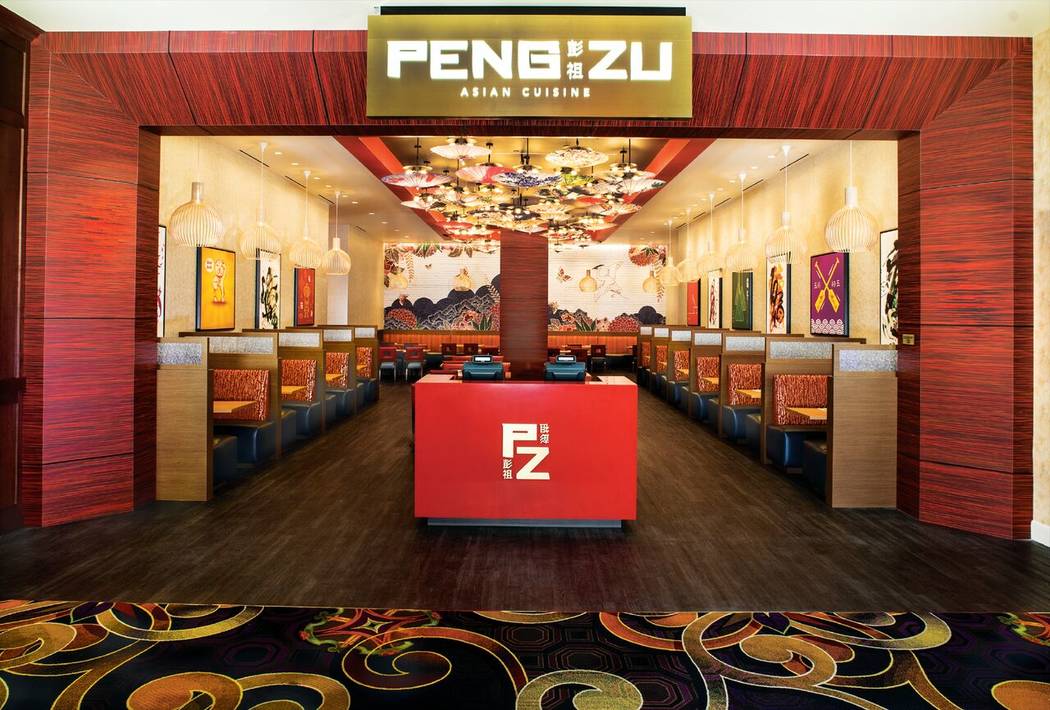 The bright restaurant's back wall features a wall-to-wall custom art installation designed with imagery and symbolism representing joy, longevity, and good fortune.
Founded on the legend of Peng Zu who lived in China 800 years ago, the restaurant serves a signature soup as well as dinner specialties prepared fresh to order.
Peng Zu serves dinner daily beginning at 4 p.m

.
______________________________
PALMS OPENS A.Y.C.E. BUFFET
The Palms, which is now part of the Station Casinos' family, opened

A.Y.C.E.

(All You Can Eat), the reimagined buffet concept in a swanky environment.
The A.Y.C.E. Buffet is part of the Palms' $485 million renovation plan, which will touch virtually every aspect of the property.
Worldly cuisine will be presented in an innovative, technique-focused fashion in an open food hall setting with communal tables.
The new buffet will feature seven different food stations:
...The Greenery.
...The Hearth centering around a brick oven.
...The Roastery with a central rotisserie.
... The World Pan.
... Smoke & Fire.
...The Revival focusing on wellness.
...Sweet & Light.
Adult beverages will include a mix of "ready-to-drink" canned beverages, a selection of draft beers, and wines by Canyon Road Winery.
A.Y.C.E. will be open daily for breakfast, lunch and dinner from 8 a.m. to 9 p.m. and will offer a Bottomless Mimosa Brunch on Sundays from 8 a.m. to 4 p.m

.
___________________________
SHAKE SHACK OPENS FIFTH SOUTHERN NEVADA

LOCATION
Modern day "roadside" burger stand

Shake Shack
...
...

opened its fifth location in Southern Nevada at Las Vegas North Premium Outlets

, the open-air village-styled shopping destination at

905 South Grand Central Parkway

.
In addition to Shack classics, there will be a selection of frozen custard concretes and as part of the company's mission to Stand For Something Good, the new outlet will donate 5% of sales from its Pie Oh My concrete to Three Square.
In keeping with Shake Shack's commitment to green architecture and eco-friendly construction, the new location is constructed with recycled and sustainable materials such as table tops made from reclaimed bowling alley lanes.
_______________________________
MINUS5 ICE EXPERIENCE DEBUTS NEW ICY LOOK
AFTER RENOVATION
... which launched America's first ice experience, has unveiled a

n all-new winter wonderland experience at its flagship location inside The Shoppes at Mandalay Place

.
The recent overhaul features a

lunar landing complete with astronaut and space backdrop

,

an ice castle that pays tribute to the hit series "Game of Thrones

;" an

under the sea experience from Atlantis featuring King Neptune

, and more.
______________________________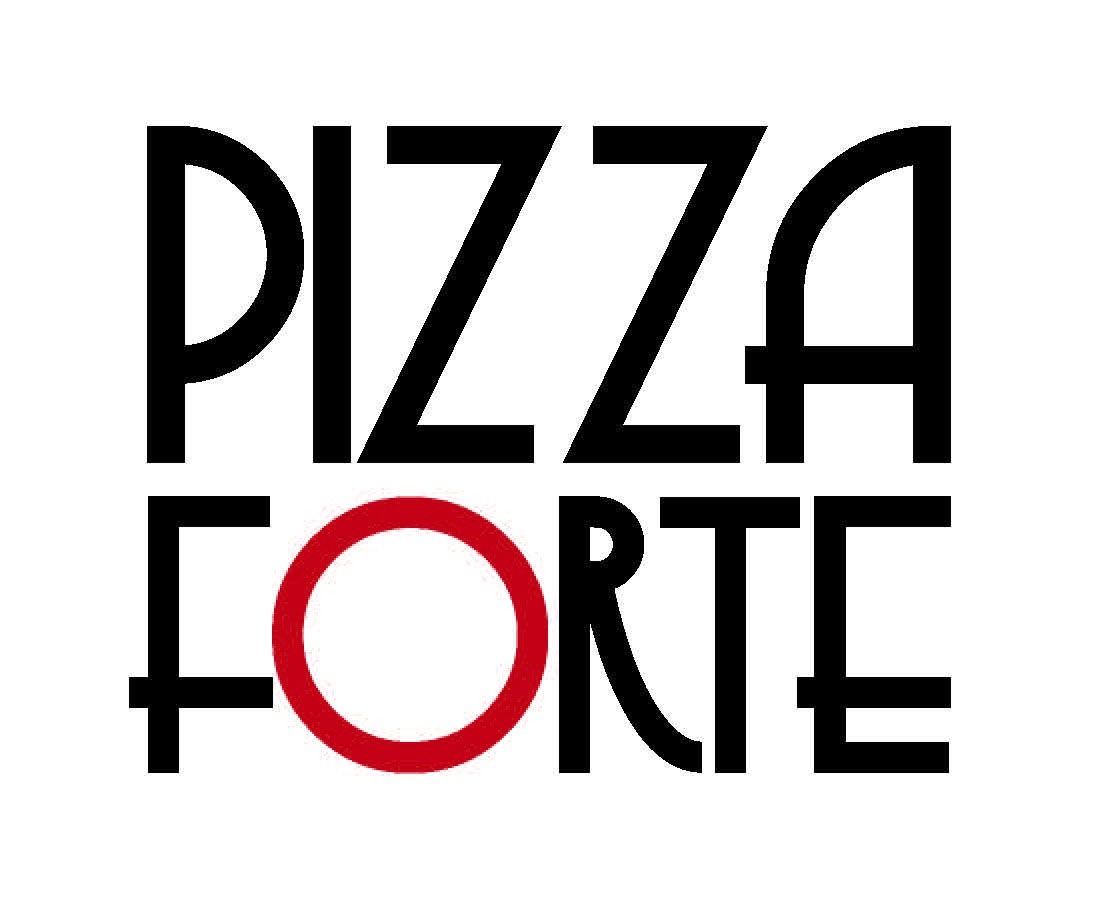 ...has opened its 2nd location in the

T-Mobile Arena

at the main entrance of the first floor as well as on the main concourse of the sports and entertainment venue.
________________________________
ALL-AMERICAN RESTAURANT CONCEPT OPENS
DOWNTOWN


...opened in the Emergency Arts Building in Downtown Las Vegas.
The company's co-founder Paul Frederick says they build their restaurants with their values in mind…Energy, Discovery, and Community.
The new 70-seat eatery will add contemporary charm to the Fremont East District with an industrial and modern design, spacious interior and nearly 5,000-square-foot patio.
Eureka! specializes in American classics with a modern twist with a diverse selection of appetizers, all-natural Angus chuck burgers, signature plates, innovative salads, and desserts accompanied by an all-American beverage program. Eureka! will be open daily at 11 a.m. and feature a weekend brunch and daily "hoppy" hours.
CAFÉ SANUKI OPENS IN CHINATOWN
The newest restaurant in Chinatown is

Café Sanuki

...
...a Japanese Noodle Bar, with dishes highlighting the Udon noodle.
The owner has taken factitious efforts to make his dining experience completely authentic following the special precise preparation in a time-honored tradition in Japan following a specific set of rules.
To do so, he traveled to the village of Sanuki, Japan, to learn from Udon Master Mr. Minemoto, and has imported machinery to make the noodles, as well as ingredients from the area.
Ordering is cafeteria style and a display of sample dishes when you enter helps your selection.
Café Sanuki is located at 4821 Spring Mountain Road facing Decatur Blvd

.
It is open daily for lunch and for dinner at 5:30 p.m. with a break between the meals.
____________________________
IMPOSSI-BOWL BURGER DEBUTS AT BROOKLYN
BOWL
Brooklyn Bowl at the The Linq Promenade has a seriously sustainable upgrade to its menu with the addition of

The Impossi-bowl Burger

.
It is the fourth location in Las Vegas to offer the carnivore-duping plant-based patty by Impossible Foods made from all-natural ingredients, including wheat, coconut oil and potatoes.
The key is in the heme, an ingredient found in plants but that is also particularly abundant in meat. This is what makes the meat sizzle with that distinctive meaty aroma and flavor.
Brooklyn Bowl, a LEED Certified green building, has placed sustainability high on its list of priorities since it opened in March 2014.
Compared to cows, the Impossi-bowl uses 95 percent less land, 74 percent less water and creates 87 percent less greenhouse gas emissions, so it is a natural fit for the eco-conscious venue.
______________________________
THE HALAL GUYS OPENS AT CAESARS PALACE
The New York City staple,

The Halal Guys

...
... opened its second Las Vegas location and first on the Strip

inside the Forum Food Court at Caesars Palace

.
It is also the first halal restaurant of its kind to open inside a United States casino resort.
The Halal Guys is open for lunch, dinner and late into the night.
The menu features signature sandwiches and platters with a choice of chicken, beef gyro, chicken and gyro combo or crispy falafel.
Meals including vegetarian-friendly dishes are made to be customized with toppings, smooth hummus, smoky baba ghanoush, golden fries and more. Guests can drizzle or drench their meals with white sauce or spice things up with the fiery hot sauce and there's baklava for dessert.
_______________________________
... has a new spiked coffee menu available for the cooler season.
New

$10

alcohol-infused coffee beverages include the

S'More

,

Pumpkin Spice

and

Salted Caramel

.
_______________________________
BAVETTE'S STEAKHOUSE & BAR DEBUTS AT PARK
MGM
Renowned Chicago restaurant group Hogsalt Hospitality has opened

Bavette's Steakhouse & Bar

...
... as part of the

Monte Carlo's makeover into Park MGM

.
Paying homage to Gilded Age opulence, the ambiance features glowing chandeliers, sultry jazz, rich woods, red banquettes, and a mix of vintage art and murals by acclaimed artist David Plunkert.
In speakeasy fashion, in the back of Bavette's is a hidden parlor bar. Bavette's is

open daily at 5 p.m

. serving decadently reimagined steakhouse fare with some French flair.
_________________________
GEN KOREAN BBQ HOUSE AT GALLERIA MALL
OFFERS NEW APPROACH
When you think of visiting the Galleria at Sunset mall for shopping, add dining to the special offerings there.
Three restaurants sit side by side, Larsen's Grill, World of Beer and GEN Korean BBQ House, on an upper level with outside entrances directly facing the free parking lot.
... the first in the valley with another one planned on the west side of town, offers all-you-can-eat Korean barbecue at set prices

$15.99

for lunch and

$20.99

for dinner

.
It's a different experience and

not a buffet

.
You sit at a table or booth with you own tabletop grill and cook your food, which makes for a fun experience especially when dining with friends.
The food is plentiful and menu options boundless consisting of freshly prepared meats, seafood, and vegetables, and many side dishes.
If you visit during peak times, be prepared to wait since they don't take reservations.
Hours are daily

11 a.m.-midnight

.
____________________________

TROY LIQUOR BAR IS NEW AT GOLDEN NUGGET
Golden Nugget

has a new nightlife experience with the venue,

Troy Liquor Bar

...
... which replaces the second-story Gold Diggers nightclub and opened Nov. 24.
Imported from Manhattan's trendy Meatpacking District, Troy Liquor Bar is located right off the Fremont Street Experience entrance and

open Thursday through Sunday at 9 p.m

.
The venue has new porcelain tile walls, plush lounge seating, bottle service, one-of-a-kind artwork, a diverse rotation of DJs, dance floor and a state-of-the-art sound system.
The second-level balcony offers views overlooking the Fremont Street Experience.
Also at the new sleek cocktail retreat, blackjack tables will be featured.
______________________________
NEW BUFFET AND GRILL OPEN
The Tropicana's new dining experience opened and will be the all-you-can-eat

Savor, the Buffet

.
The restaurant will offer up to four live action stations featuring various cuisines such as American, Asian, Italian and Mexican and showcase fresh, made-to-order pizza and pasta stations.
S
avor will be open daily from 7 a.m. to 10 p.m
. with prices starting at
$21.95
for breakfast,
$26.95
for lunch, and
$31.95-$34.95
for dinner
.
To-go options will also be available.
The Wrangler Grill,

a new rodeo steakhouse inspired by Mexican musical artists and rodeo stars...
... opened at the

Silver Nugget in North Las Vegas for breakfast, lunch and dinner at affordable prices

.
Hours are

8 a.m. to midnight

daily.
Current promotions include
a two egg breakfast for
$1.99
and
prime rib dinner for
$5.99
.
___________________________
Cravings buffet at The Mirage

...
... introduced Chef's Table offering a new VIP treatment. The personalized experience includes a dedicated team delivering table side presentations and exclusive multi-course culinary creations.
The group's epicurean adventure is available nightly from

4 to 9 p.m. for

$49.99 and $52.99

Friday-Sunday

.
Alternative offerings are available for guests with dietary restrictions as well as the buffet's 11 international stations with unlimited soft drinks, beer and wine.
____________________________
Black Tap Craft Burgers & Beer

...
...opened its newest location at The Venetian adjacent to the poker room and feature patio dining overlooking the resort's outdoor canals.
It will be Black Tap's first expansion in the United States beyond its four New York locations.


The restaurant with its signature CrazyShakes is helmed by Michelin-starred chef Joe Isidori and lauded restaurateur and nightclub developer Chris Barish.
____________________________
Las Vegas' new doughnut boss reality television star

Brett Raymer

of the hit show "

Tanked

"

opened his doughnut and ice cream experience to Henderson

.

Donut Mania

...

...at 725 S. Green Valley Pkwy. Suite 120.


Telephone
(702) 260-6434
.
...with another location in Spring Valley and plans to expand to a third location, is home of the doughnut ice cream sandwich.