______________________________
Pumpkin Pie
A Page in the History of America
After you've devoured the turkey, cranberry sauce, stuffing, mashed potatoes, and green bean
casserole, if you're like so many of us, you'll likely sit back, wait a few moments, have a cup of coffee, and finally have dessert...
...and American tradition...
...a piece of pumpkin pie, probably obtaining one from a local casino since that appears to be a favorite "gift" they offer year in and year out...
...

a pumpkin pie that undoubtedly you will likely spend

$200

to get
That's what this "history" article is all about !
How did it become an American tradition?
Most believe It all goes back to approximately 1620 when the early English settlers settled the Plymouth colony in southern New England.
How often have you seen this picture of the first "Thanksgiving" with the settlers and Native Americans joining in a feast of togetherness?
Well now, enjoy the tale, but that's about as true as the moon consisting of cream cheese, because the original colonists had no stomach for it...
...until starvation confronted them, and the Native Warnpanoago tribe made them aware of a certain type of "orange squash" that allowed 60 of them to survive their first year of colonization in the Americas as a way to make bread without a great deal of flour.
Some scholars believe that pumpkins originated in South America some 7,000 years ago as a type of squash, making its way north to the New England area. Others believe it is native to North America.
Native Americans originally prepared pumpkin slices and roasted them directly on hot coals...and the pilgrims, through their European influence, "doctored" them up with milk, honey, and spices before baking them on hot ashes, creating a pudding that produced a sweeter (and palatable) taste.
There was no crust; merely a pudding that was placed in the shell of a pumpkin stuffed with sliced apples.
By 1654 the "orange squash" still hadn't reached much popularity when a New England ship captain stated that the area had prospered with people preparing "apples, pears, and quince tarts instead of their former Pumpkin pies".
By the early 18th century pumpkin pie began its popularity when a woman named Amelia Simmons combined a pair of original pumpkin pie recipes, one of which was similar to today's custard version.
Believe it or not, pumpkin pie would even have a political significance as the early and mid-19th century developed.
As the nation grew closer to civil war, pumpkin pie would eventually be entwined in the debate over slavery.
Abolitionists from New England would make mention of their favorite dessert in novels and poems which in turn brought strong objection from the South, referring to it as a "Yankee dessert" and a move toward imposing Yankee traditions on them...
...especially after President Abraham Lincoln in 1863 declared Thanksgiving a national holiday.
When the Civil War concluded, the Thanksgiving holiday would be looked on as means of healing the nation's wounds bringing it together in a common feast on the fourth Thursday of each November.
As time proceeded pumpkin pie would become an American tradition, and in 1929 the Libby Company of Chicago introduced a canned pumpkin that would become a fixture in its own right, replacing the need to roast and strain the "orange squash".
Today, modernization has allowed us to purchase the pumpkin pie rather than prepare it ourselves.
So...if you still do make your own pumpkin pie, know as you open that can, or if you purchase one from a grocery store, or receive one from a local casino...
...that its past was filled with centuries of Native Americans, colonists, editors, anti-slavery proponents and culinary entrepreneurs whose combined efforts allow you to enjoy a delicacy that is every part of the American spirit as Yankee Doodle Dandy.
Anthem Opinions sends our wishes for a wonderful holiday to all of you, a people who have endured for almost 400 years since those daring Pilgrims crossed the shores of the Atlantic Ocean...
...surviving due to the generosity of an existing Native American population...


...in search of what the most precious gift man can obtain....
Dick Arendt
Anthem Opinions
__________________________
Vegas Loses a member of the Fabulous
Anthem Opinions is sad to inform our readers of the passing of yet another Las Vegas icon....
Together with his brother, Frankie, and sister, Chrissi, The Scintas had long been a mainstay in local Las Vegas entertainment.
In 2013, sister

Chrissi

...
... was forced to exit the group due to problems with her throat, and now, due to multiple stokes, brother Joey's passing leaves Frankie as the sole original member of The Scintas.
Joey Scinta was 69 years old.


Frankie will continue the tradition of

The Scintas

...
with Janine Valentine...
...each Friday, Saturday, and Sunday at The Plaza in downtown Las Vegas.
Our sincere condolences to the Scinta family.
Anthem Opinions Administration
__________________________
Think
England's Stonehenge is amazing ?
You don't have to go far to find one of our own....near Phoenix, Arizona....
The Anthem Veterans Memorial
This Memorial even has a plaque pedestal to explain it all.
Archaeologists of the future won't have to "guess" what this site is all about!
Once a Year

, at

11:11 AM

, the Sun shines perfectly on this Memorial.
At precisely

11:11 A.M

., on the 11th

Day of the 1th

Month (

Veterans Day

), the Sun's rays
pass through the ellipses of the five Armed Services pillars to form a perfect solar spotlight
over a mosaic of

The Great Seal of the United States

.
The Anthem Veterans Memorial,
located in Anthem, Arizona

, is a monument dedicated to
honoring the service and sacrifice of the United States armed forces.
The pillar provides a
place of honor and reflection for veterans, their family and friends, and those who want to
show their respects to those service men and women who have and continue to courageously
serve the United States.
The memorial was designed by Anthem resident

Renee Palmer-Jones

.
The five marble pillars
represent the five branches of the United States military

.
They are staggered in size (from 17' to 6')
and ordered in accordance with the Department of Defense prescribed precedence: the
United States Army, the United States Marine Corps, the United States Navy, the United States Air Force,
and the United States Coast Guard.
Additionally, the brick pavers within the Circle of Honor are inscribed with the names of over
750 U.S. service men and women, symbolizing their support for our Armed Forces.
The pavers
are

red

, the pillars are

white

, and the sky is

blue

to represent America's flag.
The circle represents
an unbreakable border.
Anthem resident and chief engineer,

Jim Martin

, was responsible for aligning the memorial
accurately with the sun.
41703 Gavilan Peak Parkway
Anthem, Arizona 85086
_____________________________
Pictures only Seniors Will Understand...and...Appreciate
(Part Two of Two)


Grandma Let Us Do Everything. Well, maybe that hasn't changed so much, but we LOVED eating off the beaters!


Sometimes Your Food Came On Roller Skates!

We got DOWN at the Sock Hop!
Sunday Drives Were A Thing: That's right - on Sunday, many of us would load up the family car and just go cruising over to the neighbors or just around town!

There Was One TV. And, surprise, we didn't argue all night about who should get to watch their favorite show. Most of the time, we all liked the same shows!


The Playgrounds were VERY Different: At recess, we'd swing from the monkey bars with wild abandon and often even stand on the swings and go as high as possible. And still, we survived!
(Can You Imagine Your Grandkids doing this today?)
TV Had "Sign Off" Messages. Remember these?
TV would go off at midnight and sometimes even go as far as playing the National Anthem all night.

Just One Hula Hoop Wasn't Enough: Some of us could do multiple at a time!



We didn't Text, But We Did Pass Notes! And we were experts at not getting caught!



We Had Xylophones That We Kept on a Pull String. That's right - there was nothing like the Pull a Tune!



We Got Bottled Cokes and Loved Them: That's right - no cans or plastic bottles back then. We were 100% excited when we'd find a cooler like this to get that ice cold bottle.


To Sun City Anthem resident,

John Schmidt

...thanks for allowing us to appreciate what we had.
____________________________
Anthem Opinions sends our thanks to resident,

John Schmidt

, for allowing us to take this trip down memory lane.
Pictures only Seniors Will Un
derstand...and...Appreciate
(Part One of Two)


Cars Were Colorful!
Most cars these days look fairly bland, but in the 50's, our cars were big, bright, and fun!

We Got Dressed Up for Birthday Parties. And sometimes there was even a pony there!



We Played in the Streets: We didn't have to text our friends back in the day - we'd all just come outside and get to playing!



Gas Was Very Cheap: On some days, it was only $0.20 a gallon, and beyond that, the people at the station could also fix just about anything!


Ben Franklin 5-10 Was Everything: We loved going to these stores. They had just about anything and everything you could think of.
If it Wasn't the Ben Franklin, it Was the A&P

!

Our Skates Got "Locked" with a Key. They were also made almost entirely of metal and very hard to skate on!



The Drive-In Was The Place to Be: This 1950's photo from South Bend, Indiana shows how popular they were!


Car Seats Were More Like Couches: That's right - they were big, long, and you could slide all the way across!
(Guys...we're talking about the car seats...not the passenger)

The Freezer Actually Had to be DEFROSTED!: That's right, every now and then you'd have to manually defrost the freezer - sometimes took all day with a lot of scraping!.


Tomorrow...Part Two of Two
____________________________
A Thrill on Blueberry Hill
Delivered by his grandmother, a mid wife in a small Louisiana Creole home,

Antoine Domino Jr

. would enter the world on February 26, 1928, in New Orleans.
His father, a renown violinist, set the stage for his subsequent love for music, something that Antoine Jr. at first, did not wish to pursue as a career, but rather a hobby, loosely playing the piano in local bars at the age of 14.
One afternoon while attending a neighborhood BBQ, a local bandleader named

Billy Diamond

was asked to hear Antoine play.
Diamond was so impressed that he subsequently asked Antoine to join his band, "The Solid Senders" at the Hideaway Club in New Orleans.
Diamond enjoyed his piano playing so much that he would later say Domino reminded him of two other renown pianists,

Fats Waller

and

Fats Pichon

.
He also noticed that Antoine had quite an appetite, and from that day, Antoine Domino Jr. would forever be known as

Fats Domino

.
He only had 4 years of formal education before he left grammar sch
ool to work as a helper for an ice deliveryman, but as the years passed, he had other ideas as to his future.
He enrolled in a local community college with the intention of studying "shipping management" after he married at the age of 19.
It was marriage to his beloved

Rosemary

, a marriage that would last for 61 years until her death in 2008...and bear 8 children...
... that he would become close to his brother-in-law, a jazz guitarist named

Harrison Verrett

.
Verrett would convince Domino that a future in music would bring him greater success than a black man entering a world dominated by white managers.
And so...the career of Antoine "Fats" Domino would commence.
He signed his first record with Imperial Records in 1949, performing his first song entitled "

The Fat Man

" with Domino vocalizing while playing the piano.
It ended up selling 1 million copies

....

...considered the first "rock & roll" record to achieve that success.


Domino would cross into the pop mainstream in

1955

with one of his greatest hits:
In

1956

came...his biggest hit...

...selling over 5 million copies.


From 1956 to 1959, it just kept rolling for Domino.


(#4 on Pop Charts)
(#6 on Pop Charts)
(#8 on Pop Charts)
Fats would leave the Imperial label in 1963 after the company was sold. He had recorded 60 hits, 22 of them double sided.


His last hit for Imperial was a song close to his Louisiana heart that was released in 1960.


(#6 on the Pop Charts)
...moving to "ABC Paramount" where attempts to "change" his familiar style failed.


During his golden years with Imperial Records, Domino would earn over $10,000 per week as he toured the country with a sound that has never been duplicated since !


1964 brought the "British Invasion", but that didn't stop "The Fat Man" from filling one arena after another year after year.


He was "rock & roll royalty", and has been credited with selling millions of records in the 1950s, second only to Elvis Presley.


In 1986 he was inducted into the "Rock & Roll Hall of Fame" in addition to receiving a Grammy Lifetime Achievement Award".



Rarely would he leave his Louisiana home on tour because "he couldn't get any food that he liked". He lived in a working-class neighborhood in the "Lower Ninth Ward" and was a familiar sight to many, driving his pink Cadillac.


In

1998

President Clinton awarded him the "

National Medal of Arts

" and in

2004

Rolling Stone magazine would rank him

#25 on its list of the "100 Greatest Artists of All Time

."
One of the saddest moments in his life came in 2005 when he refused to leave his home during Hurricane Katrina. Domino would not leave his wife, Rosemary, who was in ill health.


Initial reports declared he and his family did not survive, and prior to his rescue, his community mourned...



.. but ultimately they were rescued by a helicopter and taken to a shelter in Baton Rouge.



He had lost everything...all his awards, the memorabilia, and his home.


President George W. Bush made a personal visit to him, replacing his "National Medal of Arts" and RIAA and Capitol Records, which owned Imperial, replaced his gold records as well.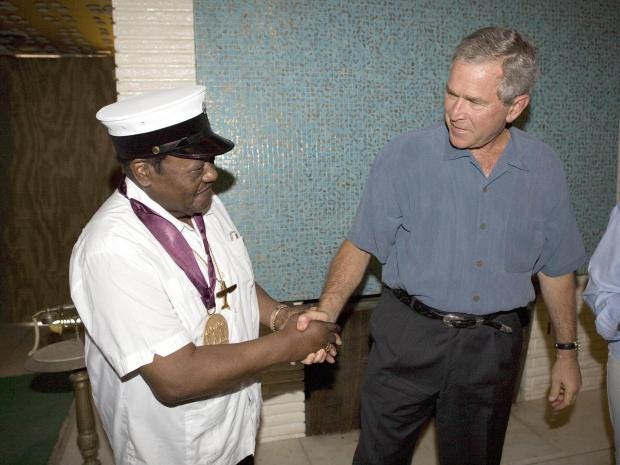 He returned to the stage in 2007, performing to a packed house in New Orleans.


Some the greatest recording artists of all time loved Fats Domino and the influence he provided them.


At an Elvis Presley Las Vegas concert, Elvis stopped his concert when he saw Fats in the audience and said:


"This gentleman was a huge influence when I started out. I can't sing like Fats Domino, I know that

".
Both

John Lennon

and

Paul McCartney

recorded Domino songs, and it's been reported that the song "

Lady Madonna

" was performed in Domino's
style.
As a matter of fact, Fats Domino's last Top 100 recording was performed in 1968...his version of "Lady Madonna".



Fats Domino passed away on October 24, 2017. He was 89 years old.


And I...with the lady who would become my wife, was fortunate to see him in concert while visiting Las Vegas in the late 1980s.


In his typical humble manner, I'll never forget what that little fat man with the crystal clear voice untouched by time would say as he entered the stage being greeted with a standing ovation and applause...


He sat at his piano, looked at the audience and simply said:


"

What do you want to hear

?"
...and two hours later, we still wanted more !


Thanks Fats...losing you was losing yet another part of our youth !


Dick Arendt
____________________________