Tips...Archives...Page One
Mirror Mirror

...

On The Wall
Making A Room the Fairest of All
In a previous article, we gave you some ideas as to how mirrors can make a room look larger.
Now...lets take a look at

how

and

where

to install those mirrors.
Mirrors are not just for shaving or putting on make up anymore; now they are part of essential home decor.
Before you do anything else, you need to evaluate your space.
When evaluating your room or space you need to keep in mind how much wall space you have and what size of mirrors would be appropriate

.
Bedrooms should have at least two mirrors

, one

full length for checking yourself out and one smaller mirror for decoration

.
Mirrors have a way of bringing needed light into a dark room and can create an illusion that a room or space is larger than it actually is...and

C

O

L

O

R

has a lot to do with it !
But...

do you know what color a mirror actually is

?
If you're of the "scientific" persuasion, you might find this video of interest... !
You'll find out that the larger the distance between the mirrors, the color

GREEN

will be predominant.
Check out your local home decorating store, flea market, garage sales, yard sales or antique stores for unique mirrors that properly fit your personality.
Keep in mind that

not all mirrors require a frame

to be beautiful and classy.
In order to save time, look for hanging attachments.
Once you have picked your mirrors and have been able to properly visualize them in your new space, it is time to take a quick trip to your local hardware store.
If you do not own (or can't borrow) a

hammer

,

measuring tape

,

raptor anchors or nails

, you will need to purchase these items.
If you wish to hang several mirrors in a row or as a set, you will want to also purchase

a leveling device

.
It is now time to begin the placement of your mirrors.
If you have purchased a non-framed, full length mirror

,

you may wish to hang this behind a door or on a closet

so that it can be used functionally

.
If your full-length mirror is not necessarily to be used as a functional piece, you may wish to hang it more as a focal point of a room, or a place in the room where light is lacking.
In order to make a space seem larger than it is

, you may wish to

position two identical mirrors on opposite walls facing one another

; when these two mirrors reflect anything (light, objects, movement) they reflect off one another and seem to expand the living space.
When you hang your mirrors you will want to check if you have drywall.
If you have drywall, when you drill your hole into the wall you will want to use raptor anchors

(found at your local hardware store).
Most mirror hanging jobs will not require any extensive drilling at all; usually a hammer and nail will be sufficient.


If your mirrors do not come equipped with wall hooks or cords then you may need to install these.
Use your level to hang a set of mirrors or multiple mirrors in a row.
Place ribbons or decorations on your mirrors, and you are done!
Here are a few ideas how to hang a mirror.
What about a LARGE framed mirror?
Want to build your own framed mirror? No problem !
Things You May Regret When
You're Older
How many can you relate to ?
1

.

Not traveling when you had the chance

.
Traveling becomes infinitely harder the older you get, especially if you have a family and need to pay the way for three-plus people instead of just yourself.
2

.

Not learning another language

.
You'll kick yourself when you realize you took three years of language in high school and remember none of it.
3

.

Stayin
g in a bad relationship

.
No one who ever gets out of a bad relationship looks back without wishing they made the move sooner.
Wrinkles, moles, and skin cancer can largely be avoided if you protect yourself.
5

.

Missing the chance to see your favorite musicians

.
"Nah, I'll catch him/her next time they come through town."
6

.

Being scared to do things

.
Looking back you'll think, what was I so afraid of?
7

.

Failing to make physical fitness a priority

.
Too many of us spend the physical peak of our lives on the couch. When you hit 60 and beyond, you'll dream of what you could have done.
8

.

Letting yourself be defined by gender roles

.
Few things are as sad as an old person saying, "Well, it just wasn't done back then."
9

.

Not quitting a terrible job

.
Look, you gotta pay the bills, but if you don't make a plan to improve your situation, you might wake up one day having spent 40 years in hell.
10

.

Not trying harder in school

.
It's not just that your grades play a role in determining where you end up in life. Eventually you'll realize how neat it was to get to spend all day learning, and wish you'd paid more attention.
11

.

Not realizing how beautiful you were

.
Too many of us spend our youth unhappy with the way we look, but the reality is, that's when we're our most beautiful.
12

.

Being afraid to say "I love you".
When you're old, you won't care if your love wasn't returned...only that you made it known how you felt.
13

.

Not listening to your parents' advice

.
You don't want to hear it when you're young, but the infuriating truth is that most of what your parents say about life is true.
14

.

Spending your youth self-absorbed

.
You'll be embarrassed about it, frankly.
15

.

Caring too much about what other people think

.
As the years pass, you won't give a darn about any of those people you once worried so much about.
16

.

Supporting others' dreams over your own

.
Supporting others is a beautiful thing, but not when it means you never get to shine.
17

.

Not moving on fast enough

.
Older people look back at the long periods spent picking themselves off the ground as nothing but...wasted time.
18

.

Holding grudges, especially with those you love

.
What's the point of reliving the anger over and over?
19

.

Not standing up for yourself

.
Older people don't take "sh_t" from anyone. Neither should you.
20

.

Not volunteering enough

.
Nearing the end of one's life without having helped to make the world a better place is a great source of sadness for many.
21

.

Neglecting your teeth

.
You only get one chance after the first set fall out...unless of course, you want to spend thousands on fake ones.
Brush. Floss. Get regular checkups.
It will all seem so maddeningly easy when you have dentures.
22

.

Missing the chance to ask your grandparents questions before they die

.
Most of us realize too late what an awesome resource grandparents are. They can explain everything you'll ever wonder about where you came from, but only if you ask them in time.
No one looks back from their deathbed and wishes they spent more time at the office, but they do wish they spent more time with family, friends, and hobbies.
24

.

Not learning how to cook one awesome meal

.
Knowing one drool-worthy meal will make all those dinner parties and celebrations that much more special.
25

.

Not stopping enough to appreciate the moment

.
Young people are constantly on the go, but stopping to take it all in now and again is a good thing.
26

.

Failing to finish what you start

.
"I had big dreams of becoming a ____. I even signed up for the classes, but then…"
27

.

Never mastering one awesome party trick

.
You will go to hundreds, if not thousands, of parties in your life.
Wouldn't it be cool to be the life of them all?
28

.

Letting yourself be defined by cultural expectations

.
Don't let anyone ever tell you, "We don't do that."
29

.

Refusing to let friendships run their course

.
People grow apart. Clinging to what was, instead of acknowledging that things have changed, can be a source of ongoing agitation and sadness.
30

.

Not playing with your kids enough

.
When you're older, you realize your kid went from wanting to play with you... to wanting you out of their room in the blink of an eye.
31

.

Never taking a big risk (especially in love).
Knowing that you took a leap of faith at least once...even if you fell flat on your face ...will be a great comfort when you're older.
32

.

Not taking the time to develop contacts and network

.
Networking may seem like a waste of time when you're young, but later on it becomes clear... that it's how so many jobs are won.
As Tom Petty sang, "Most things I worry about never happen anyway."
34

.

Getting caught up in needless drama

.
Who needs it?
35

.

Not spending enough time with loved ones

.
Not spending enough time with loved ones.
Our time with our loved ones is finite. Make it count.
36

.

Never performing in front of others

.
This isn't a regret for everyone, but many elderly people wish they knew...just once...what it was like to stand in front of a crowd and show off their talents.
37

.

Not being grateful sooner

.
It can be hard to see in the beginning, but eventually it becomes clear that every moment on this earth...from the mundane to the amazing ...is a gift that we're all so incredibly lucky to share.
___________________________
Your Kitchen Knives Sharp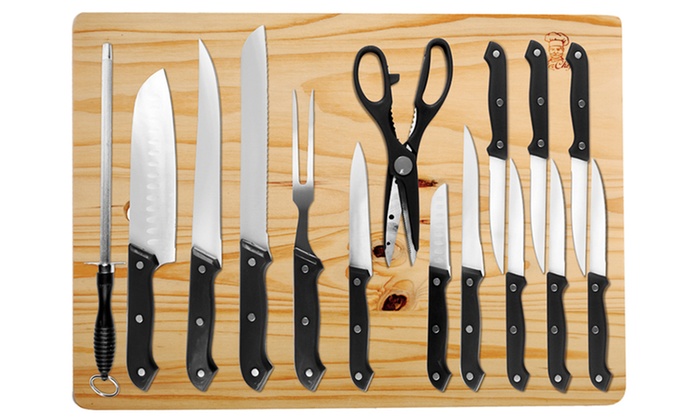 Part of making sure that you have tools that are in good working order is to ensure that they are nice and sharp.


While you can always spend some money to get someone else to do the job for you, it doesn't hurt to learn how you can do the job yourself.


Be aware that sharpening your own tools can very easily lead to a mistake that requires you end up purchasing a new tool

.
In addition, be aware that

each tool will typically require its own unique method for sharpening so the guidelines listed here will give you some general information only

.
There are several items that you can use to ensure that you get a nice sharp edge on your tools. Make sure that you use the right sharpening item for the right tool.
For most tools you will be able to simply use a file to get the job done.
Some tools (such as knives and scissors) will require that you use a special hand held sharpener.
Stay away from using a powered sharpener or grinder until you have plenty of experience with this task.
If you don't, then you can easily end up destroying a tool.
2

.
Follow the factory bevel

.
Run the file, or sharpener, along the pre-made factory bevel.
Gently run the sharpening tool along the beveled edge,

pushing it a direction that is away from you

.
Take a break after each time that you runt he sharpening tool along the edge to check your work.
Once you notice that you have exposed fresh steel all along the edge, begin working away any burs that you may have created.
Be careful that you do not grind too much of the blade away, or you can easily find yourself with a worthless hunk of junk.
Don't be afraid to test the edge of the blade frequently, being careful to not cut yourself while doing this.
After you have achieved the edge that you want, it is time to clean the tool.
This will not only help remove any remaining steel dust (which could damage the tool), it will help to protect the tool from rust.
With the tool now sharpened store it properly so that you can grab it and use it when you need to use it.
We have some videos how to sharpen a knife properly.
______________________________
What's Your Home Worth Today ?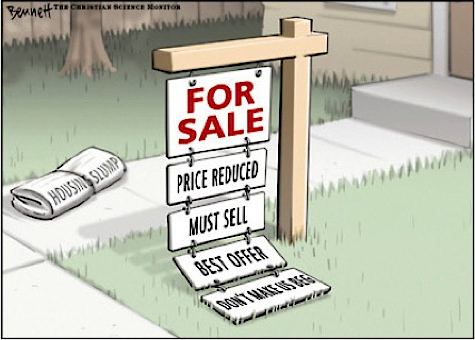 If you've recently purchased your home or are currently in the process of selling it, chances are really good that you know how much your house is worth; however, if you have been living in the same home for a while, chances are you have asked yourself at least once...
"

How much is my house worth

?"
There are several ways that you can go about getting this question answered.
Before listing these different ways though, a small word of warning. Since there is a varying degree of accuracy between these options, you are going to need to be careful with how you use the information.
The easiest way to find out what your home is worth is to go online.
You might check out these

FREE

websites as a starter.
Eppraisal.com
Homegain.com
Realestateabc.com
These estimates can vary pretty wildly, but good enough to give you a general idea.
Unfortunately, you cannot usually use these types of estimates when getting a home improvement loan, and are definitely not good enough to get a
mortgage
loan.
A realtor is a good way to get a fairly accurate price range for your home. Usually these professionals are going to charge you a small fee, but often this is worth it since many banks can use a realtors' estimate when you are asking for a home improvement loan.
The way that a realtor makes their professional estimate is to take the average property value, or sales records, from the surrounding area, and compare your house to similar properties.
Often, they take the average of several similar properties to come up with your estimated price range.
You are still going to be given a range (as in the option above), but this range is going to be much narrower.
The best, and also quite frankly the most expensive option that is available to you is hiring an appraiser.
An appraiser is an expert that has been trained in being able to properly price property.
When a full on appraisal is going on, the appraiser comes out and inspects every inch of your house and property.
The initial examination is going to take several hours, and the results can take up to a few weeks before you get them back. While this process is more time consuming, it is the most accurate available, and the results can be used for any legal purpose.
If you have the time and money, then this is definitely the method you should use.
Here are a few videos for you.
_____________________________
U.S. Vets
Homeless and at-risk veterans receive help with housing, counseling, career development and job placement through this nonprofit organization. The first web link is to the national organization.
Army Women's Foundation
Blinded Veterans Association
http://www.bva.org/
800-669-7079
or
202-371-8880
Disabled American Veterans
877-426-2838
Horses4Heroes
http://www.horses4heroes.org/
702-645-8446
National League of POW/MIA Families
The nonprofit organization, incorporated in 1970, seeks "the release of all prisoners, the fullest possible accounting for the missing and repatriation of all recoverable remains of those who died serving our nation during the Vietnam War."
Nevada Veterans Foundation
Veterans of Foreign Wars
Vietnam Veterans of America
http://userpages.aug.com/captbarb
http://www.loc.gov/vets/