Management Compensation Levels
Land
Sun City Anthem
in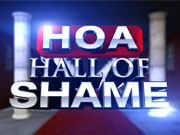 If you missed the Thursday evening 6:00pm broadcast of KNTVs (Channel 13) investigative report conducted by Chief Investigative reporter,

Darcy Spears

...
...we have it for you by merely clicking here:



We suggest you view it. It shows the outrageous income levels paid to senior members of the Sun City Anthem management team....
...incomes that far surpass ANY HOAs in the state of Nevada, as well as, other documented organizations with far more employees.

Note that SUN CITY ANTHEM MANAGEMENT refused to make any comment.
Send it to us at: