Way back in the 60s when I was a college student at the University of
Illinois
, in between classes we would often have speakers who were allowed to "

speak their peace

" regarding the many issues of the times.
We actually believed in the US Constitution, specifically the parts that referred to ...
Those discussions would range from civil rights to the Vietnam war, and in all cases, no matter what position a person took, or whether we agreed or not, we

LISTENED

.
...and when you
LISTEN
, you

LEARN

.
The times would embrace this famous statement !
The topics may have changed over that 50 year span, but the fire and belief behind that statement in our minds has

NOT

.
That is what Anthem Opinions stands for

....
...and to be taken a bit further....can best be stated in the words of a woman who was also a part of the "60's movement",

Gloria Steinem

...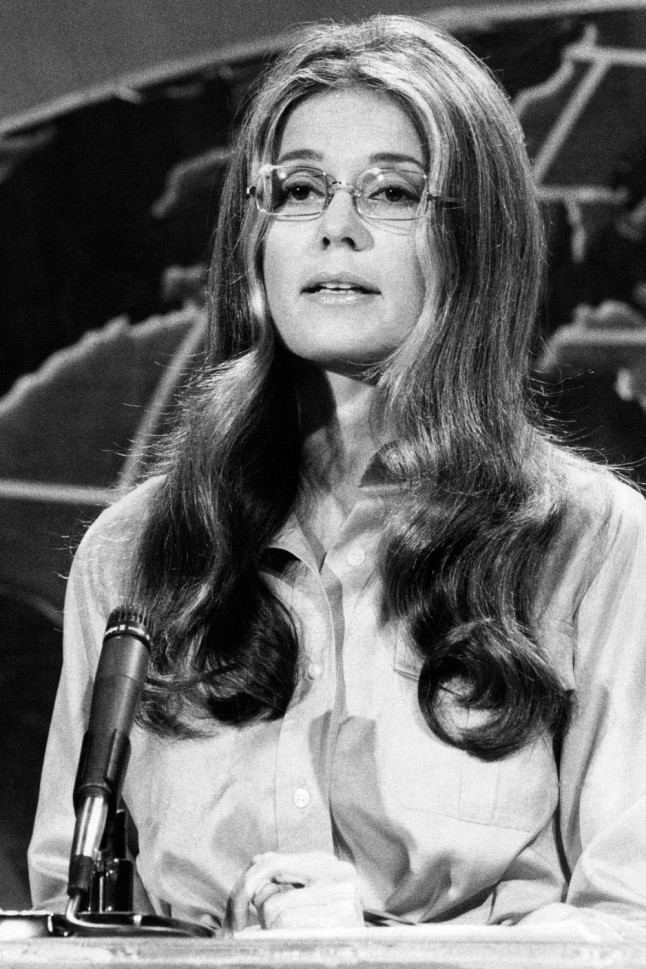 Whether you agreed or disagreed with Gloria Steinem as a whole, I don't believe that there are many people out there who can't agree with the above words...
...especially as we march through our retirement years, residing in an active 55+ community named Sun City Anthem.
In addition to the many topics offered our readers,

Anthem Opinions examines the common sense of decisions that affect the lives of a community

...
...and as a result, a "

Machine

" has been forced to realize there is an element of the population that believes they are entitled to answers to questions that affect their lives.
That "

Machine

" has become so concerned about the increasing following of our publication, they have even gone so far as to publicly condemn it at official Board meetings, and even infer "legal action" against it and any person who has the full right to take issue with their decisions.
A perfect case in point was the alteration of a Document Request form to obtain association information which residents are legally entitled to receive, yet at the same time, are THREATENED IF THEY SHARE IT WITH OUTSIDE PARTIES.
Now we are faced with yet another crisis...a financial crisis...that will affect each and every Sun City Anthem resident....
Another Restaurant that is literally being shoved down the throats of all who reside there by

secretly

....

withholding the truth from the populace

.
That restaurant "deal" is

BAD

for all who believe in financial responsibility...
... a duty that each member of a Homeowners Association Board

BY LAW

must subscribe to as part of their fiduciary responsibility.
...a duty that

if violated

,

CAN

and

SHOULD

result in

PERSONAL RESPONSIBILITY FOR ANY FINANCIAL LOSSES THAT OCCUR

.
All of us were told G2G was history; that despite the numerous freebies offered

WITHOUT THE CONSENT OF THE OWNERS AT THEIR EXPENSE

, was...
...and the Sun City Anthem Board and G2G took it a step further by actually laying blame on Anthem Opinions for its demise...
...stating our publication called for a boycott as the reason....
...a reason that was a

COMPLETE LIE

.
Despite providing proof that the statement was indeed a

LIE

, the Board and G2G, never bothered to admit to that being untrue, and instead...
While blaming this publication for their woes

,

CONTINUED TO NEGOTIATE a deal

...
WITHOUT INFORMING THE COMMUNITY IN ANY WAY

...
...until a surprise announcement was made at the August 2, 2018 Board meeting that a lease agreement was currently being completed...
...an arrangement that once again, will

NOT INVOLVE ANY DECISION BEING MADE BY UNIT OWNERS

.
That act can only be described in one word....

In response to this recent action, though we will

never

call for any form of boycott, we will instead ask residents this simple question:
Will you support any decision or patronize any organization that would purposely withhold vital information to parties who are being subjected to FINANCING ITS EVERY ACTION

?
From a

personal

standpoint, if this is the manner in which parties enter into an agreement, my answer is simply...
Got a comment?
Send it to us at: